Overview
Today, mobile devices are capable of performing most of the same functions as a traditional personal computer. From Internet browsing to word processing, online chat to digital media management, smartphones and tablets are replacing PCs as consumers' default computing devices.
Unsurprisingly, this trend is affecting online shopping and payments in a significant way. Consumers are realizing that their mobile devices are not only fully able to conduct e-commerce but are also, in many ways, more convenient and efficient than PCs at doing so.
Mercator Advisory Group's new report, M-Commerce: Opportunities, Challenges, and Inevitability, details the significance of mobile devices to online commerce, as well as the advantages and challenges of m-commerce that are unique to the mobile platform. The research also compares mobile apps with mobile optimized websites, analyzing how the two approaches to tailoring e-commerce to the mobile platform fit into the mobile strategies of various types of merchants. Finally, the report profiles a number of innovative ways that merchants are utilizing the mobile platform to provide a unique shopping experience for their customers.
"While proximity-based wallets are receiving the lion's share of the publicity, mobile e-commerce (or m-commerce) is witnessing the vast majority of transaction volume," says Dave Kaminsky, senior analyst in Mercator Advisory Group's Emerging Technologies Advisory Service and author of the report. "As m-commerce transaction volume continues to grow, the most important concept merchants need to understand is that they have no control over whether or not they participate. Anytime a consumer accesses an e-commerce site using a mobile device, that merchant is participating in m-commerce. What merchants have control over is the m-commerce experience they provide for their consumers."
---
One of the exhibits included in this report: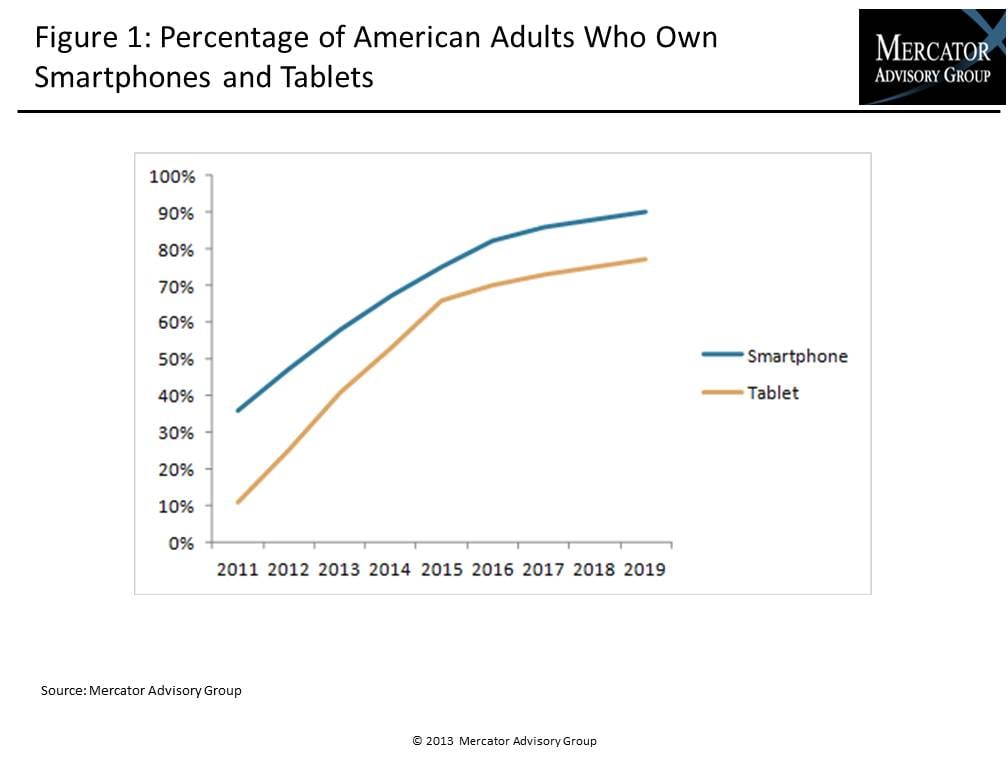 ---
Highlights of the report include:
Detailed explanation of why mobile devices are being used for e-commerce and why that usage will continue to grow rapidly
Analysis of the e-commerce challenges unique to the mobile platform and suggested solutions for overcoming those challenges; includes a list of vendors providing such solutions
Comparison of the relative benefits of mobile apps and mobile optimized websites with a determination of which solution fits best with specific merchants??? mobile strategies
Profiles of innovative uses of the mobile platform by online merchants that provide their customers with shopping experiences unique to m-commerce
This report is 20 pages long with eight exhibits.
Companies mentioned in the report include: Admeris, Affirm, Apple, Augment, Bango, Billtomobile, Boku, Braintree, Dashlane, Fortumo, Google, IBM, iMobile3, LevelUp, MasterCard, MCX, Mopay, Payfone, PayOne, PayPal, Payvia, Shell, Square, Starbucks, Target, Tesco, Visa, Walmart, and Zong.
Members of Mercator Advisory Group's Emerging Technology Advisory Service have access to this report as well as the upcoming research for the year ahead, presentations, analyst access and other membership benefits.
Interested In This Report
Related content
With investment capital tighter in 2023, there's less interest in untested, unproven fintech startups and more of an emphasis on coming out of the chute with products that are read...
Wallet-based digital ID will create a wedge between universal wallets and payment apps, as embedded finance product offerings converge on feature parity over time.
For more than a decade, fintech startups and products have captured outsized attention and investment. In many ways, these companies have set the agenda for driving consumer expect...