Japan Payments Market Update
Overview
Japan Payments Market Update
New research by Mercator Advisory Group strategically examines
size and growth of credit, debit, and prepaid markets
Boston, MA -- In recent years, Japan's payments market has slowed due to declining economic output and consumer spending during the recession. Today Japan remains a cash-oriented society, but consumer adoption of electronic payments has been improving over the years. Particular improvement has been witnessed in the past decade, as emerging electronic money (prepaid cards/devices based on contactless chips) has grown in popularity, changing the way Japanese consumers make payments at convenience stores, train stations, restaurants, and other locations. At the same time, the debit card market has struggled with service and infrastructure issues while the credit card market has continued steady growth.
Mercator Advisory Group's report, Japan Payments Market Update, offers an overview of the overall payment card market in Japan in 2010. Market sizes and growth are discussed, and the various segments -- credit, debit, and e-money (prepaid) -- are compared and reviewed in detail with respect to strategic changes, profitability, regulations, and other considerations. The report also provides an overview of the proximity mobile payment market in Japan.
"The Japanese payments market is different from those in most other advanced economies," Terry Xie, Director of Mercator Advisory Group's International Advisory Service and principal analyst on the report, commented. "Cash is still king there. And though credit penetration is high on paper (more than two cards per person); usage has been low, each card being used fewer than 18 times in 2010. The debit card market in Japan is one of the least developed among the advanced economies due to inherent faults with the service and the system. But e-money has really taken off in recent years, with average usage per card likely to surpass usage of credit cards in several years. In other words, in Japan contactless e-money cards/devices have taken up the role that debit cards play in other markets as a means of electronic payment. This fact will help the development of proximity mobile payments market in Japan, at least with respect to consumer and merchant education, if not the technology itself since it uses different contactless technologies than global contactless payment card standards like Near Field Communication (NFC), MasterCard PayPass, and Visa PayWave."
Highlights of the research findings include:
Comparison of the average spending and consumer payment behavior on the large number credit cards in Japan with those of other developed economies
The changes and revised focus areas for credit card issuers resulting from Japan's new Money Lending Law
Recent changes to the debit card market and the underlying reasons for the changes
The bright highlight in the prepaid market and group helping to fuel it
The timeline for migration from existing legacy proximity mobile payment services to the new global NFC standard, and the entities that have teamed up to streamline the process and coordinate their efforts
One of the 14 exhibits included in this report: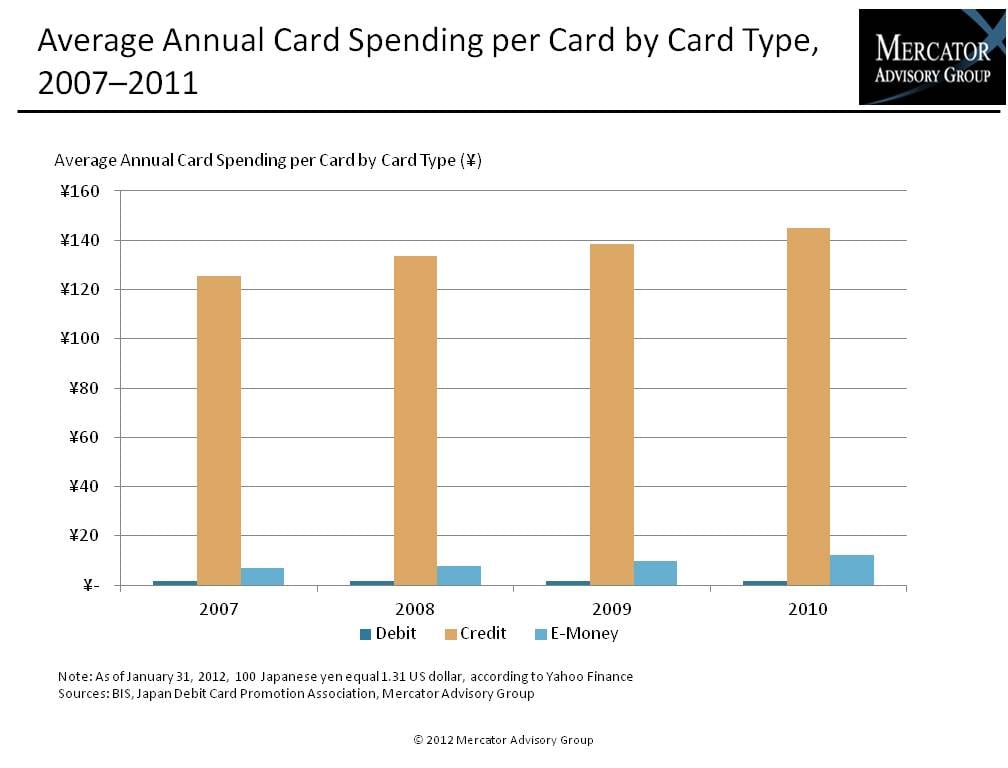 This report contains 25 pages and 14 exhibits.
Companies and services mentioned in this report include: JCB, Credit Saison, Japan Post Bank, Sumitomo Mitsui Banking Corporation, J-Debit, Visa, MasterCard, Amex, Suica, NTT DoCoMo, Seven & i Holdings, Aeon Co. Ltd., NTT DoCoMo, KDDI, and Softbank Mobile.
Members of Mercator Advisory Group's International Advisory Service have access to this report as well as the upcoming research for the year ahead, presentations, analyst access and other membership benefits.
Please visit us online at www.mercatoradvisorygroup.com.
For more information and media inquiries, please call Mercator Advisory Group's main line: (781) 419-1700, send E-mail to info@mercatoradvisorygroup.com.
For free industry news, opinions, research, company information and more visit us at www.PaymentsJournal.com.
Follow us on Twitter @ http://twitter.com/MercatorAdvisor.
About Mercator Advisory Group
Mercator Advisory Group is the leading, independent research and advisory services firm exclusively focused on the payments and banking industries. We deliver pragmatic and timely research and advice designed to help our clients uncover the most lucrative opportunities to maximize revenue growth and contain costs. Our clients range from the world's largest payment issuers, acquirers, processors, merchants and associations to leading technology providers and investors. Mercator Advisory Group is also the publisher of the online payments and banking news and information portal PaymentsJournal.com.
---
Interested In This Report