Internet of Things (IoT) Technology and Consumer Devices: Machine Triggered Payments Continue Growth in U.S. Households
Author(s):
Shreyas Shaktikumar
Overview
IoT Transactions and Payments See Continued Growth in U.S. Households
Mercator Advisory Group released a report covering IoT transactions and payments titled Internet of Things Technology and Consumer Devices: Machine Triggered Payments Continue Growth in U.S. Households.The research explains the current market, discusses the driving factors that influence rate of adoptions, and describes how different stakeholders can gain a foothold in this rapidly growing ecosystem.
The research covers how consumers currently pay for subscription models, leveraging that data to infer how IoT payments have a market-entry template for U.S. households. Mercator also provides an analysis of the industry-level developments in the smart/IoT consumer device sector, including strategies to influence card-on-file choices for smart replenishments. Research also includes data on VC investments in the IoT technology landscape.
"IoT transactions are not a new development, they have already become an integral part of the commercial payments space. However, the explosion of IoT devices and associated auto-replenishment purchases in the consumer marketplace is an emerging phenomenon that necessitates analysis," comments Amy Dunckelmann, Vice President Research Operations, at Mercator Advisory Group. Dunckelmann continues: "Financial institutions and other stakeholders in card-on-file products need to leverage the growth of IoT transactions to create new channels for revenue and data. Consumers are indicating an increasing preference towards auto-replenishment for individual smart devices over traditional shopping patterns. This segmentation of one-time purchases is an expansion opportunity for all financial entities and payments specialists."
This document contains 23 pages and 7 exhibits.
Companies mentioned in this research note include: Amazon, HP, GE, Discover and Canon.
---
One of the exhibits included in this report: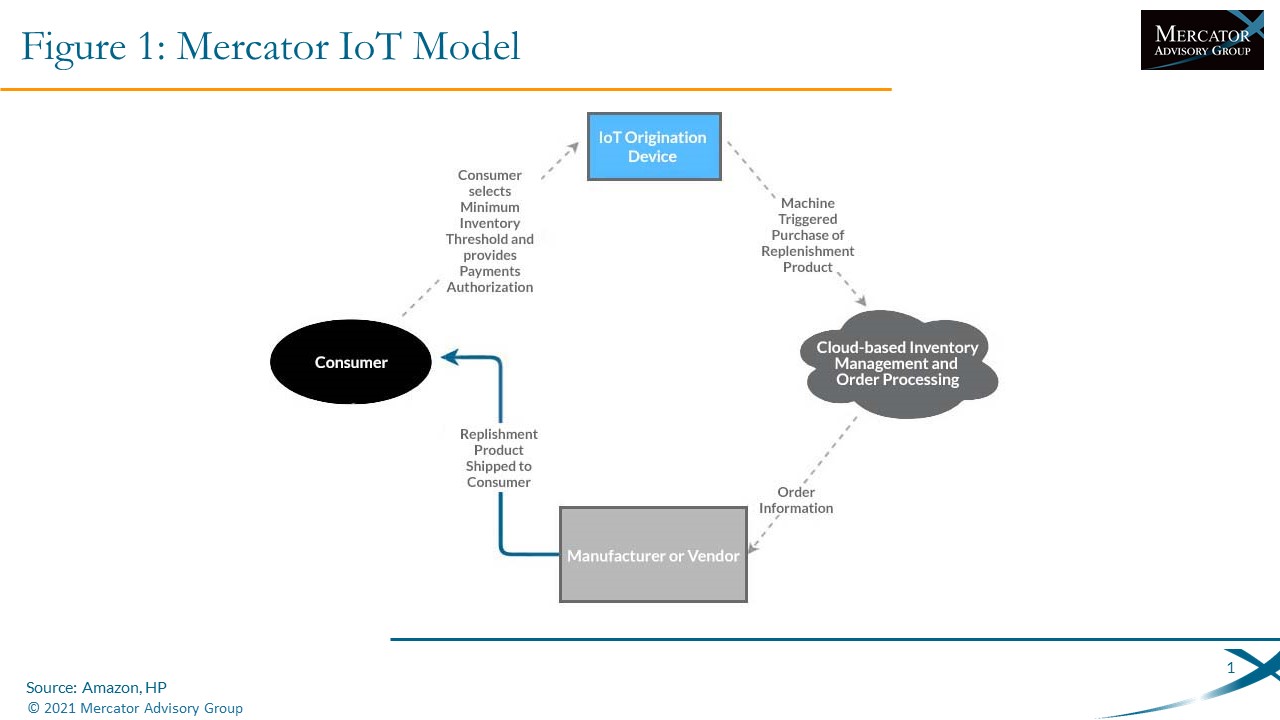 ---
Highlights of the research note include:

Overview of consumer products and the IoT marketplace
Exploration and analysis of factors influencing IoT adoption by consumers and manufacturers
Analysis of VC investments and growth of IoT ecosystem in the U.S.
Estimates on segmentation of household purchases as a direct result of IoT transactions
Discussion on current IoT transactions and successful strategies
Interested In This Report