Overview
Boston, MA
October 2006
International Prepaid Market Readiness 2006: Opportunities and Obstacles
NEW RESEARCH REPORT BY MERCATOR ADVISORY GROUP
Mercator Advisory Group is pleased to announce that its first International Prepaid Market Readiness report is now available. This report is designed to provide an overview of the "state of readiness" for prepaid adoption to assist firms assessing international activity. The report:
1. Examines 72 nations to gauge their market capacity for prepaid payments based on urban population, infrastructure potential (a Mercator Advisory ratio combining telecommunications connections and retail banking ubiquity) and the financial information infrastructure index, a World Bank data series indicator to banking sector risk.
2. Selects the Top 25 nations exhibiting prepaid market readiness and provides further risk assessment for these nations based on the recently released World Economic Forum's global competitiveness 2006 ranking the World Bank's Doing Business 2007 report that evaluates the ease of doing business by country.
3. Contains descriptions of sample prepaid activity in each of the Top 25 countries as well as a number of the 72 candidate nations.
4. Provides global and regional overviews of market activity.
5. Discusses the potential impact of smartcards and mobile payments on prepaid's global spread and includes recommendations on a range of go-to-market issues.
Attributes of the Top 25 countries include:


Market size/population figures, ranging from Eastern European markets with just 1% of China's half billion urban market to China itself.


All Top 25 nations have competent retail banking and telecom infrastructures.


All have both mobile prepaid and at least one other prepaid segment present and have seen strong recent card-based transaction growth ranging from high single digit to over 30%.


Wide variability in financial transparency exists even within the Top 25 as recent news from Russia and Thailand underscores the risks of investing in developing economies.
Globally, prepaid payments are universally led by the beachhead prepaid application of long distance and mobile prepaid minutes. This is the application that establishes prepaid in the consumer's mind. Global mobile growth rates are at an all time high. Second wave prepaid applications exhibit wide variability and are a country-by-country, segment-by-segment function. Closed loop transit based on smartcard technologies is often found as the initial second wave prepaid application and is growing widespread throughout Europe, Latin America, and Asia.
Other research predicts SEPA-compliance costs for European banks will exceed $10 Billion with a concomitant loss of payment revenues ranging from $23 - $37 Billion. This is an opening opportunity for third party payment processors to provide new capabilities including prepaid products. While others predict a strong drive by European banks for prepaid revenues to offset SEPA costs, Mercator Advisory Group believes the risk-averse nature of banks may limit the promised return of Poste Italiane, the Italian Post Office, and its Postepay card will certainly encourage other non-FIs to get in on the opportunity.
"There's no such thing as a global prepaid market - each country and each market segment within each country has to be addressed as a unique go-to-market proposition," said George Peabody, Research Manager at Mercator Advisory Group. "While mobile operators with their prepaid products opened up the prepaid payment vehicle, they, like banks, are just one of the providers now. Non-FIs could really dominate in prepaid provided their open debit products have association branding."
Longer term, silicon-based payment mechanisms, both smartcards and mobile handsets, are blurring the distinctions of what define prepaid cards. Their prevalence in international markets suggests that experience with US-based prepaid card product development and marketing will not readily translate to other nations and to Asia in particular.
One of the 12 Exhibits included in this report.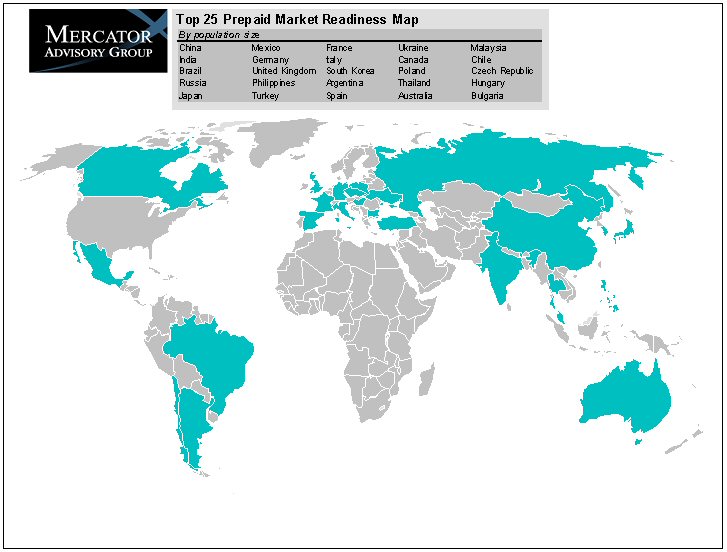 This report is 49 pages long and contains 12 exhibits.
Members of Mercator Advisory Group have access to this report as well as the upcoming research for the year ahead, presentations, analyst access, and other membership benefits. Please visit us online at www.mercatoradvisorygroup.com/.
For more information call Mercator Advisory Group's main line: 781-419-1700 or send email to info@mercatoradvisortygroup.com.
---
Interested In This Report