Overview
Boston, MA
August 2005
INNOVATIONS IN ONLINE BILL PAYMENT
NEW RESEARCH REPORT BY MERCATOR ADVISORY GROUP
From its inception, online bill payment has made waves in the industry.  The latest research from Mercator Advisory Group explores developments in online bill payment and their effects on the industry's future.  Beginning with a look at the two generally accepted bill payment models, direct-biller and consolidator, the report looks at how a new online bill model, the Direct-Aggregator is changing the billing game.  Direct-aggregators stand to capture significant customer attention and slow the growth of consolidator sites.
"Online bill payment is a complicated industry where small changes to infrastructure, business models and consumer behavior can have dramatic effects.  In the last year or so, both the rules for online bill payment and the players on the field have changed."  According to Mike Friedman, Director of Mercator Advisory Group's Emerging Technologies Service and lead analyst on the report.  "There is plenty of room for continued growth in online billing; however, the strategic playbook that was in place only a few years ago, may already be outdated."
In Innovations In Online Bill Payment, Mercator Advisory Group examines the three business models defining online bill payment in today's market.  The research also identifies the shifting strategic focus of online bill payment sites and how FSI's offering pay-anyone solutions will need to adjust.  With online bill payment being offered more and more as a free service by consolidators, the use of premium services and cost-saving measures will be critical to continued success.  The report examines both available premium services and the steps banks can undertake to lower the cost structure of their bill payment divisions.
The report also looks at the competitive landscape and discusses new products and features at leading online bill payment sites.  New businesses are entering the online bill payment space with innovative approaches to capture customer attention.  Drawing from refined understanding of consumer preferences, companies are tailoring their offerings to capture more specific and segmented demographics.
One of five exhibits included in this report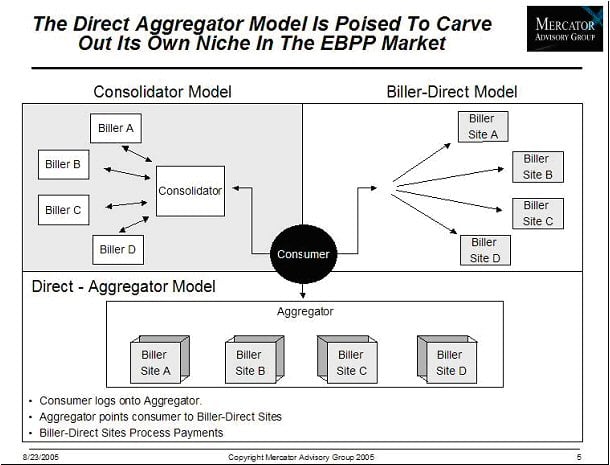 The report contains 26 pages and 5 exhibits.
Members of Mercator Advisory Group have access to these reports as well as the upcoming research for the year ahead, presentations, analyst access and other membership benefits. Please visit us online at www.mercatoradvisorygroup.com.
For more information call Mercator Advisory Group's main line: 781-419-1700 or send email to info@mercatoradvisorygroup.com.
---
Interested In This Report
Related content
With investment capital tighter in 2023, there's less interest in untested, unproven fintech startups and more of an emphasis on coming out of the chute with products that are read...
Wallet-based digital ID will create a wedge between universal wallets and payment apps, as embedded finance product offerings converge on feature parity over time.
For more than a decade, fintech startups and products have captured outsized attention and investment. In many ways, these companies have set the agenda for driving consumer expect...