Hungry For Adoption: Pay At Table Viewpoint And Wireless Point Of Sale Update
Author(s):
Mercator Research
Overview
Boston, MA
December 2006
Hungry For Adoption: Pay At Table Viewpoint and Wireless Point-Of-Sale Update
NEW RESEARCH REPORT BY MERCATOR ADVISORY GROUP
Handheld wireless point of sale solutions (wPOS) extend the reach of payment systems into the hands of previously unconnected merchants.  In 2005, Mercator Advisory Group estimated the potential market of wPOS terminals to be just greater than $1 billion.  In its latest research report, Mercator Advisory Group examines the current state of wPOS terminals in the US. 
With a specific look into Pay at Table, the report examines the arguments for and against adoption of wPOS in restaurants.  Discussed in the report are the benefits of providing PIN debit solutions to restaurant patrons including the potential savings a restaurant could observe based on an expected payment shift.  Also considered are the impact of wPOS terminals on operational efficiency, fraud, and theft."
"wPOS providers are still struggling with their wireless strategies in terms of serving specific US market segments.  Despite adding new features and applications to their devices, the value proposition of wPOS is still not being adequately communicated to the market," according to Michael Friedman, Director of Mercator Advisory Group's Emerging Technologies Practice.  
Market deployment and current trends in the development of wPOS terminals are explored with a focus on added value technologies and applications.  The report examines the impact of new communication standards including WiMax and the 802.11n draft standard.  The report concludes with a review of the competitive landscape for wPOS terminals.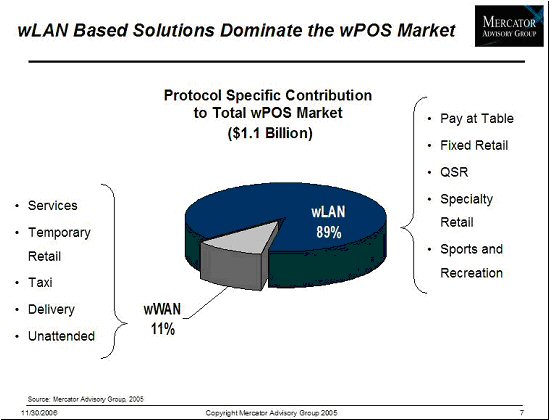 The report is 24 pages and contains 6 exhibits.
Members of Mercator Advisory Group have access to these reports as well as the upcoming research for the year ahead, presentations, analyst access and other membership benefits. Please visit us online at www.mercatoradvisorygroup.com.
For more information call Mercator Advisory Group's main line: 781-419-1700 or send email to info@mercatoradvisorygroup.com.
---
Interested In This Report