The Hidden Value of Analytics in Banking
Overview
Boston, MA – June 26, 2013 In this research report, The Hidden Value of Analytics in Banking, Mercator Advisory Group explores the important role analytics play in helping banks and other financial institutions better understand, serve, and engage with their customers in today's hypercompetitive retail banking market.
"Institutions are increasingly recognizing the importance of understanding their customers – not only their stated needs, but also the unspoken – which are sometimes unknown even to these customers. Analytics systems can help identify those customers who would be best-served by richer conversations with branch personnel, as well as identifying those customers who might be better-served by fewer branch visits but increased use of self-service and/or assisted self-service channels," comments Ed O'Brien, director of Mercator Advisory Group's Banking Channels Advisory Service and author of the report.
This report is 22 pages long and has 11 exhibits.
Organizations mentioned in this report include: Apache Hadoop, EMC (including Greenplum), Experian, FICO (Fair Isaac Corporation), IBM (including ILOG, SPSS, and Cognos), Informatica, Information Builders, Microsoft, MicroStrategy, NAB, Oracle (including banking, database, and Exadata products), Pegasystems, QlikTech, SAP (including Business Objects, Sybase, and banking products), SAS, Teradata, and Trillium (Harte-Hanks).
Members of Mercator Advisory Group's Banking Channels Advisory Service have access to this report as well as the upcoming research for the year ahead, presentations, analyst access and other membership benefits.
---
One of the exhibits included in this report: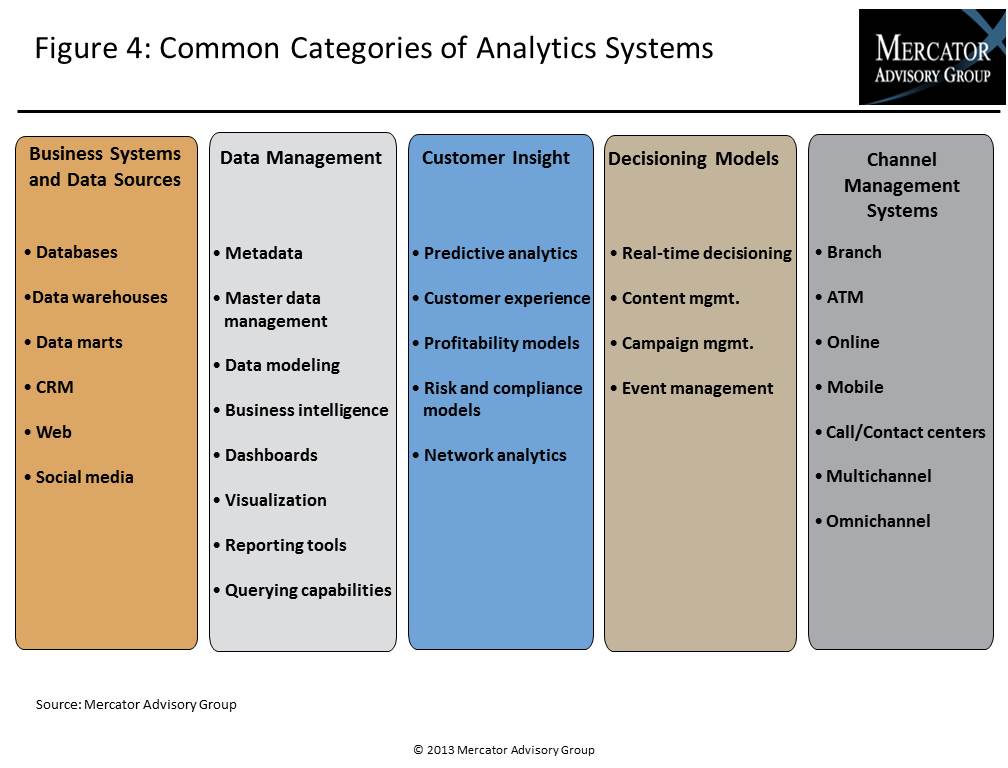 ---
Highlights of this report include:
The merits of analytics systems for financial institutions of all sizes

 

Trends in corporate data growth that necessitate analytics

 

The assignment of experts with analytics skills to FI lines of business or as part of marketing or analytics teams

 

Initiatives applying analytics in marketing that are delivering significant value and impressive ROI for institutions around the world 
Learn More About This Report & Javelin