Overview
The launch of ACH transactions that can be submitted and received within the same business day will begin its three-year roll-out cycle in the United States on September 16, 2016 when all Receiving Depository Financial Institutions are required to accept credit transactions that are assigned the current day's effective date.

Mercator Advisory Group's latest research note, Here Comes Same Day ACH, looks at how same day ACH is being introduced, its potential impact to the payments market, and issues that financial institutions are grappling with as they get ready to incorporate same day ACH into their sales and operations environments.

"Same Day ACH (SDA) may not be revolutionary in its technology, but making same day ACH widely available will impact new products that will use same-day to facilitate transactions. SDA has the potential to uproot or change the course of faster payments initiatives. Same Day ACH does not have all the attributes of a faster payment as defined by the Federal Reserve, but it may be fast enough for some payment scenarios, taking away potential business from still developing faster payments initiatives. Near ubiquity and a low price point make Same Day ACH very attractive," comments Sarah Grotta, Director, Debit Advisory Service at Mercator Advisory Group and author of the research note.

This report has 12 pages and 2 exhibits.

Companies mentioned in this document include: Bank of America, clearXchange, FIS, Fiserv, MasterCard, NICE Actimize, PayPal, U.S. Bank, Visa, and Wells Fargo.
---
One of the exhibits included in this report: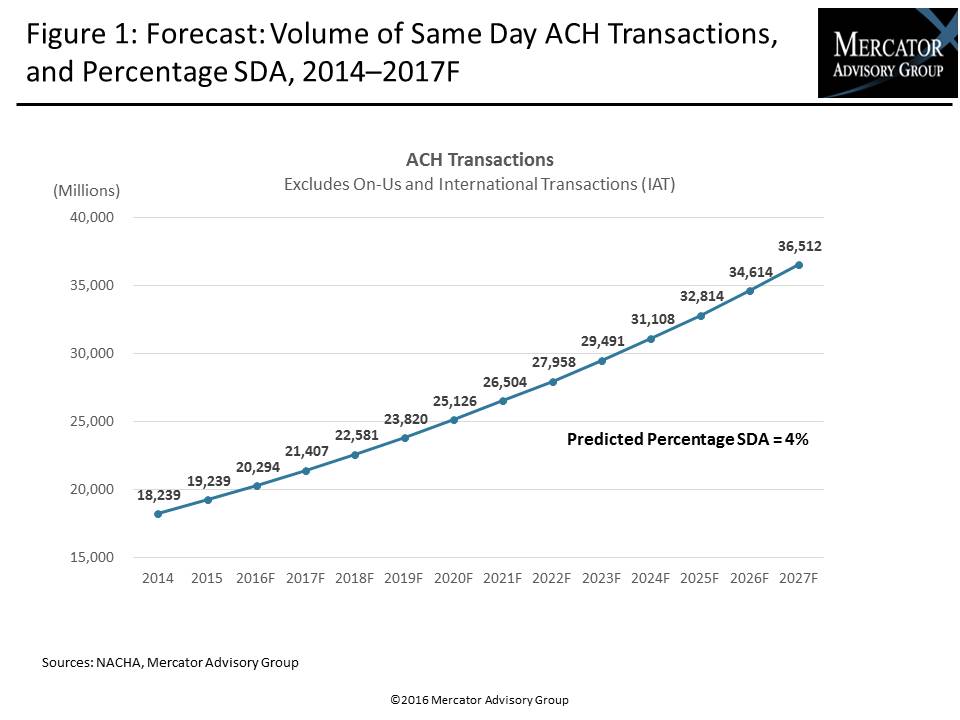 ---
Highlights of the research note include:

Details of the national Same Day ACH roll-out plan

How Same Day ACH compares with faster payments initiatives

The impact on financial institutions

Probable use cases where Same Day ACH will thrive
Learn More About This Report & Javelin