Healthcare Payments: Pay Now or Pay Later - Preparation Meets Opportunity
Author(s):
Mercator Research
Overview
Healthcare Payments:
Pay Now or Pay Later - Preparation Meets Opportunity
Boston, MA - March 9, 2010 -- As a result of the Obama Administration's aggressive push for healthcare reform, the healthcare industry is once again a front and center topic of discussion. Concurrently, the payments industry is undergoing an important shift as it pertains to form, accessibility, and the need to create new markets. These two dynamics may be the catalysts that cause the healthcare payments industry to begin reshaping itself around a consumer-centric model that emphasizes choice, convenience, and access to familiar electronic payment methods.
In Mercator Advisory Group's new report Healthcare Payments: Pay Now or Pay Later, Preparation Meets Opportunity, we examine the market in light of its highly charged past in an effort to determine what the future holds for investments already made and those yet to come. We quantify new market opportunities, examine solution providers, and discuss the product strategies that are emerging in support of healthcare payments, both pre and post-procedure.
"The largest market opportunity may lie in automating post-procedure medical billing and payment. A huge and largely untapped market is waiting for solution providers to step up and we are beginning to see investments being made to address the functionality gaps." Patricia Hewitt, Director of Mercator Advisory Group's Debit Advisory Service comments."Financial institutions that have already invested in sophisticated (and costly) bill payment and presentment applications should be examining this opportunity to see if it fits into their demographic and risk profiles."
Highlights of this report include:
A discussion of the opportunity prepaid healthcare accounts and in particular for those that address personal wellness incentives.

Market estimates on the opportunity in provider-to-consumer medical billing.

A review of healthcare payment initiatives and product delivery strategies including credit, debit, and prepaid cards.

An analysis of consumer out-of-pocket expenditures and spend conversion to electronic payment methods.
One of 18 exhibits in this report: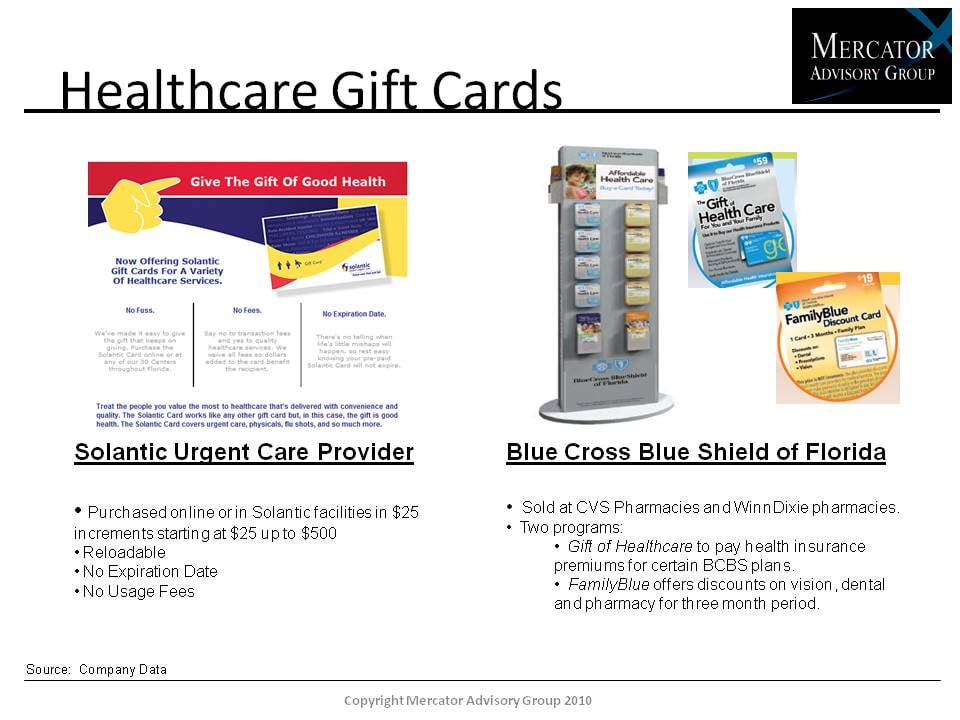 This report is 39 pages long and has 18 exhibits.
Companies mentioned in this report include: Evolution Benefits, InstaMed, OptumHealth Bank, FIS (Metavante), HSA Bank, FIS, Lighthouse 1, HealthRails, BlueCross Blue Shield of Florida, Solantic, JPMorgan Chase, WageWorks, US Bank.
Members of Mercator Advisory Group have access to these reports as well as the upcoming research for the year ahead, presentations, analyst access and other membership benefits.
Please visit us online at www.mercatoradvisorygroup.com.
For more information and media inquiries, please call Mercator Advisory Group's main line: (781) 419-1700 or send E-mail to info@mercatoradvisorygroup.com
Mercator Advisory Group is the leading, independent research and advisory services firm exclusively focused on the banking and payments industries. We deliver pragmatic and timely research and advice designed to help our clients uncover the most lucrative opportunities to maximize revenue growth and contain costs. Our clients range from the world's largest payment issuers, acquirers, processors, and associations to leading technology providers.
---
Learn More About This Report & Javelin