Growing P-Card Programs: Engaging with Suppliers
Author(s):
Patricia McGinnis
Overview
Growing P-Card Programs: Engaging with Suppliers
New research from Mercator Advisory Group examines changing
economics and mechanics of B2B payments
Boston, MA -- U.S. corporations continue to reduce their usage of paper checks, but to date, their electronic payment substitutes have been primarily ACH and wire transfer. This report examines the factors encouraging card-enabled payments of conventional accounts payable and those causing suppliers to resist card-enabled payments. In many instances, payments via card networks offer more efficient solutions than either ACH payments, which lack the ability to capture detailed remittance information, or comparatively high-priced wire transfers. The question is, when purchasing card solutions, whether physical or virtual, will gain a substantial share of the business-to-business (B2B) payment market.
Mercator's latest report, Growing P-Card Programs: Engaging with Suppliers, examines issues of supplier acceptance, the major constraint on potentially explosive growth of B2B card payment volume. The report describes recent developments with respect to transaction pricing, as well as technology-based enablement, which may lead to faster adoption in the next five years.
Highlights of the report include:
A revised estimate of growth in the P-card segment of commercial cards, assuming that current progress in supplier recruitment and enablement continues
A wholesale view of the value chain for merchant acquiring services and how it differs from the value chain for retail merchant acquiring
Identification of the several innovative technology solutions that meet the needs of different buyer segments or supplier segments, whether by size, frequency, or industry
Profiles of several firms staking a claim to a portion of the wholesale merchant acquiring value chain
Patricia McGinnis, author of the report and Director of the Commercial and Enterprise Payments Service, comments, "It is already frequently possible to make card-enabled trade the most desirable alternative for both counterparties. If the infrastructure players modify transaction pricing to recognize the different economics of higher value transactions, the win-win can apply to more buyer-supplier relationships."
One of the 12 exhibits included in this report: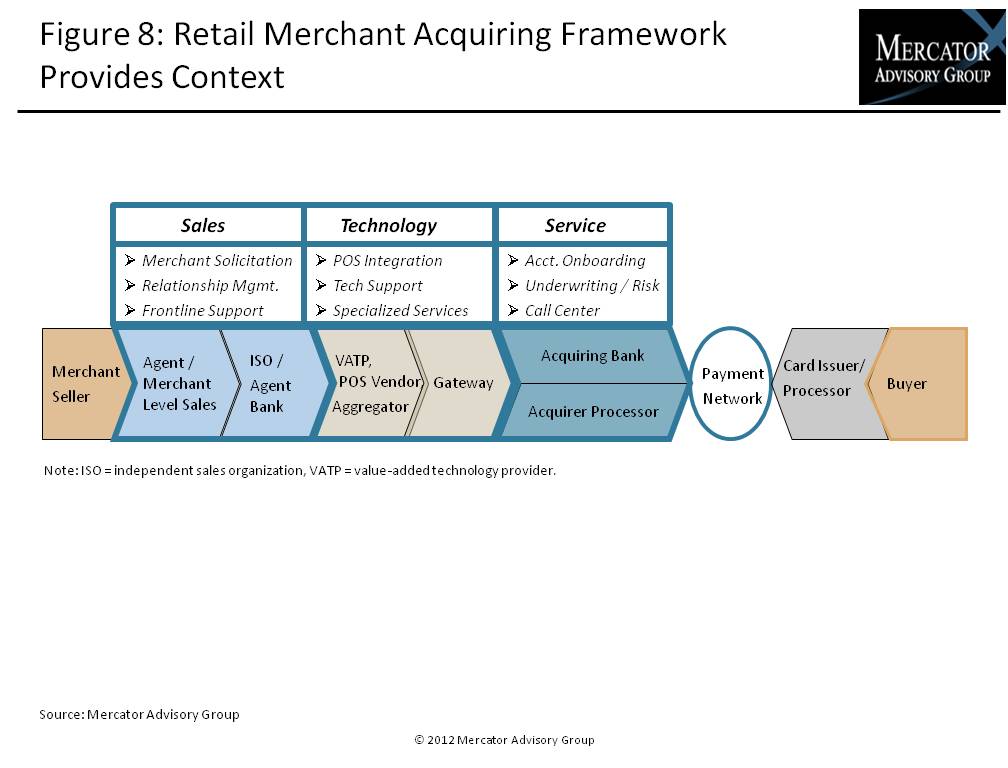 The report is 28 pages long and contains 12 exhibits.
Companies mentioned in this report include: American Express, AOC Solutions, Boost Payment Solutions, Bora Payment Systems, Direct Insite, Inc., Invapay Payment Solutions, MasterCard Inc., Solvit Software, Vendorin, Inc. Visa, 3 Delta Systems, and Fedac Processing.
Members of Mercator Advisory Group's Commercial and Enterprise Advisory Service have access to this report as well as the upcoming research for the year ahead, presentations, analyst access and other membership benefits.
Please visit us online at www.mercatoradvisorygroup.com.
For more information and media inquiries, please call Mercator Advisory Group's main line: (781) 419-1700, send E-mail to info@mercatoradvisorygroup.com. F
or free industry news, opinions, research, company information and more visit us at www.PaymentsJournal.com.
Follow us on Twitter @ http://twitter.com/MercatorAdvisor.
About Mercator Advisory Group
Mercator Advisory Group is the leading, independent research and advisory services firm exclusively focused on the payments and banking industries. We deliver pragmatic and timely research and advice designed to help our clients uncover the most lucrative opportunities to maximize revenue growth and contain costs. Our clients range from the world's largest payment issuers, acquirers, processors, merchants and associations to leading technology providers and investors. Mercator Advisory Group is also the publisher of the online payments and banking news and information portal PaymentsJournal.com.
---
Interested In This Report