Global Prepaid Card Market Potential Ranking 2010
Author(s):
Mercator Research
Overview
Global Prepaid Card Market Potential Ranking 2010
Breakthrough research from Mercator Advisory Group provides comprehensive overview of the top international prepaid card markets
Worldwide, prepaid cards have emerged as the fastest growing payment card segment with increased adoption by consumers, government agencies and businesses. A new report by Mercator Advisory Group provides a comprehensive overview and ranking of the top prepaid card markets globally by region and segments.
Despite the tremendous global potential for prepaid products, a comprehensive overview and systematic analysis of the market opportunities for prepaid card products and services has not existed. As a result major barriers have been created for global industry participants to carefully plan their international market strategies and the industry has been left wondering how large the global opportunity really is and where the most promising markets are for specific prepaid programs.
Mercator's Advisory Group's Global Prepaid Card Market Potential Ranking 2010 report answers these questions through a systematic and scientific survey of the global prepaid card market. This global opportunity analysis provides an evaluation and ranking of each of the world's top 50 economies using a combination of data points including economic and social development indicators, consumer spending levels and an evaluation of existing financial services within those markets.
The Global Prepaid Card Market Potential Ranking 2010 report includes:
The world's top 30 markets ranked by total prepaid card opportunities based on 2008 data
Top prepaid market markets by regions: North America, Latin America, Asia-Pac, and Europe
Top 20 markets ranked by each of the six major prepaid categories: government, store gift cards, Open/GPR, payroll, incentives, and campus cards
The world's top 20 markets ranked by total prepaid card opportunities based on market forecasts to 2011
Highlights of the report include:
In 2008, the top 30 markets in the world represent US$762.2 billion market opportunities for prepaid cards across six major segments, compared to the actual load of US$209.1 billion in the U.S. in 2008.
In these markets, government represents the largest segment with a total of US$425.3 billion opportunities, along with store gift cards (US$164.5 billion), Open/GPR cards (US$59.6 billion), payroll cards (US$51.8 billion), incentive cards (US$42.4 billion), and campus cards (US$18.6 billion).
Outside of U.S., Germany, Italy, France, U.K., and Spain are the world's most promising markets for prepaid cards, combined to represent US$405.9 billion opportunities.
"The global prepaid card market is highly heterogeneous. Combined with each industry participant's different strategic objectives, market positioning, strength and weakness, this has made it even more difficult for strategic market planning managers to figure out the most promising markets with the best match with their business plans," Terry Xie, Director of Mercator Advisory Group's International Advisory Service and principal analyst on the report comments. "This study will help them and many others in forming a comprehensive and market-segment-specific perspective of the global prepaid card markets."
One of the 15 Exhibits included in this report: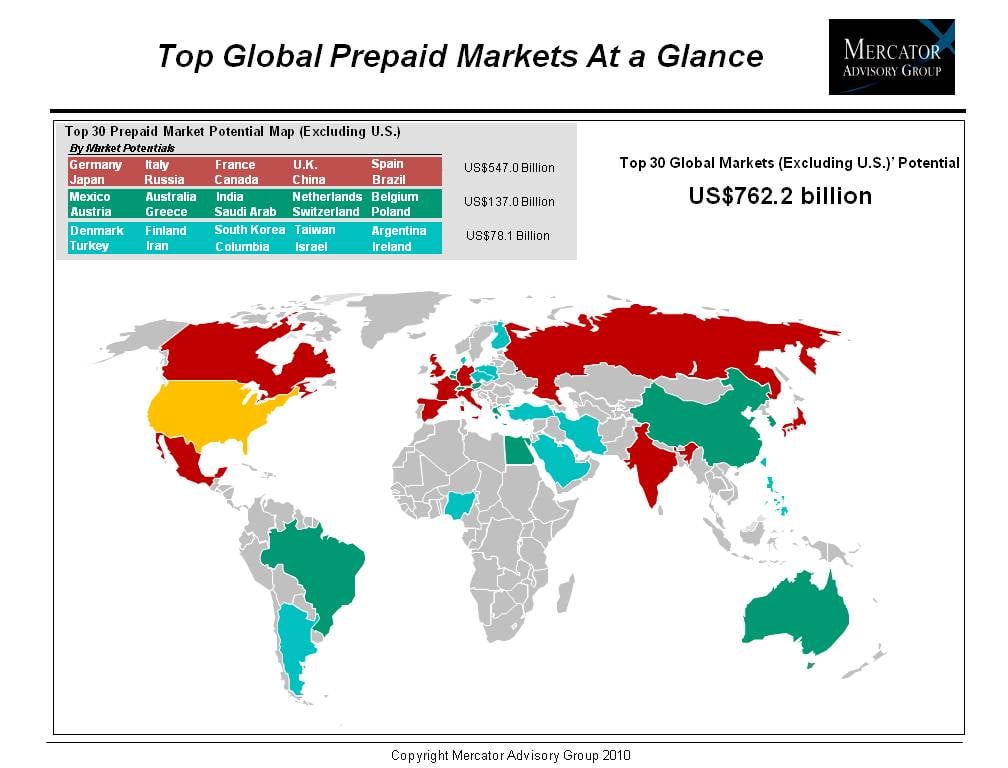 This report contains 34 pages and 15 exhibits.
Members of Mercator Advisory Group have access to this report as well as upcoming research for the year, presentations, analyst access and other membership benefits. Please visit us online at www.mercatoradvisorygroup.com.
For more information, please call Mercator Advisory Group's main line: 781-419-1700 or send email to info@mercatoradvisorygroup.com.
---
Learn More About This Report & Javelin