Overview
Boston, MA
February 2006
GLOBAL INITIATIVES:  IDENTIFYING KEY DRIVERS OF SMART CARD ADOPTION
NEW RESEARCH REPORT BY MERCATOR ADVISORY GROUP
Smart card deployment has proven to be a challenging process for many issuers.  In the United States, where EMV is not the standard, this problem is even more exacerbated.  In its latest research report, Global Initiatives:  Identifying Key Drives Of  Smart Card Adoption, Mercator Advisory Group identifies best practices and success factors in smart card deployment using case studies from the international community.
"Our research into three distinct international regions helped identify themes of smart card deployment relating to success in terms of customer and merchant adoption," according to Melanie Broad, Research Analyst in Mercator Advisory Group's Emerging Technologies Service and principal analyst on the report.  "We believe that these themes will help in the continued efforts to adopt EMV standards and smart cards around the world."
In Identifying Key Drives Of  Smart Card Adoption, Mercator Advisory Group examines the role of information transfer, standards, and loyalty in achieving smart card success.  Using the example of Tesco PLC's role in introducing smart cards to the UK, the report explores the need to obtain buy-in from all relevant stakeholders in the distribution of a non-traditional payment mechanism.  Thailand's Smart Purse provides a rich example of a multi-application card and the need to establish industry standards as a means of securing adoption on a wide scale.  Finally, the power of loyalty solutions enabled by smart cards is discussed with a review of the efforst of three institutions in the Middle East to develop a readily adopted smart card solution.
In addition to demonstrating the various impetuses and implementations of smart card offerings on a global scale, Mercator Advisory Group's latest report details the current state of the smart card applications to date.  Smart card unit sales are discussed, as are applications outside of payments in which smart cards are currently gaining traction.
One of the two exhibits included in this report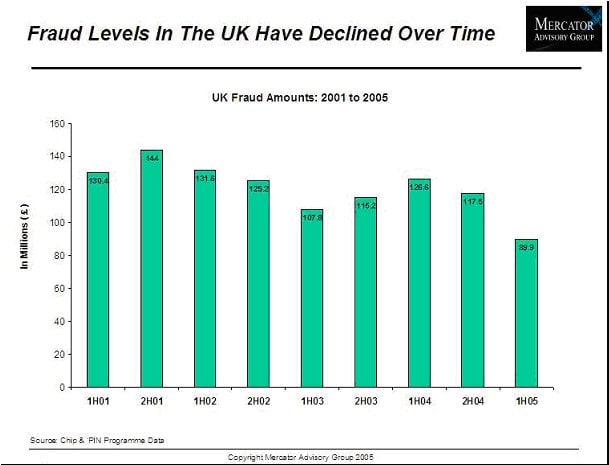 The report contains 23 pages and 2 exhibits.
Members of Mercator Advisory Group have access to these reports as well as the upcoming research for the year ahead, presentations, analyst access and other membership benefits. Please visit us online at www.mercatoradvisorygroup.com.
For more information call Mercator Advisory Group's main line: 781-419-1700 or send email to info@mercatoradvisorygroup.com.
---
Interested In This Report