Overview
Boston, MA
June 2007
Global EMV Migration Update:  Canada 
NEW RESEARCH REPORT BY MERCATOR ADVISORY GROUP

There are more than 1.53 Billion electronic payment credit and debit cards in use around the world.  Technologies supporting electronic purchases and transfers of funds range from magnetic stripe to microprocessor-based radio frequency (RF).  As with all facets of commerce, criminals and fraudsters abound, seeking illicit gain wherever weaknesses in payment systems can be found, and because the electronic payments is immensely complex and widespread, opportunities for abuse are easily discovered.   
Canada is no exception for this trend.  As the Canadian card market grew over the past 25 years, so did the number of cards reported lost or stolen and the number of cards that are fraudulently used.  The statistics from the Royal Canadian Mounted Police show credit card fraud has been growing since 2002 and is now a significant problem throughout the country and cost businesses hundreds of millions of dollar's.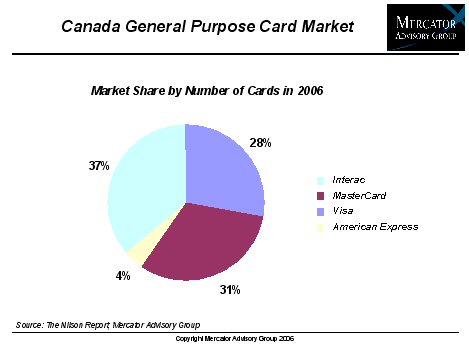 In order to address these challenges, the Canadian payments industry participants including the Interac Association, MasterCard Canada Inc., Visa Canada Association, and many of their respective card issuers and acquirers, announced a firm commitment to a broad industry migration to chip technology.
"From the most basic local produce market to the most complex financial market, many market structures around the globe are built on trust, and electronic payment markets are no exception.  As individual consumers get more connected with the help of modern communication technologies, mass and alternative media channels, negative news surrounding a payment method such as credit cards can reach credit card users in the blink of an eye.  Technologies that are designed to secure electronic payments such as the EMV smart card technology play an even more critical role in maintaining consumer confidence and protecting the trust factor in electronic payments in today's highly connected and information-rich environment", comments Evren BAYRI, Director of Mercator Advisory Group's International Payments Advisory Service.            
The most recent report from Mercator's International Payments Advisory Service discusses the shift from relatively vulnerable magnetic stripe payment cards to more secure microprocessor-based smart cards in the Canadian market.  The report provides an overview of the state of the payment card market in Canada, an analysis of the business case for Canada's EMV migration project, an in-depth analysis of the card fraud trends in the Canadian market, an alternative view into the cost of fraud and its impact on payment card markets, and a review of Canada's EMV migration project timeline.            
This report contains 25 pages and 12 exhibits.
Members of Mercator Advisory Group have access to these reports as well as the upcoming research for the year ahead, presentations, analyst access and other membership benefits.  Please visit us online at www.mercatoradvisorygroup.com.
For more information, please call Mercator Advisory Group's main line:  781-419-1700 or send email to info@mercatoradvisorygroup.com.
---
Interested In This Report