The Global Contactless Payment Card Market: Increased Adoption in Close Proximity?
Author(s):
Mercator Research
Overview
The Global Contactless Payment Card Market:
Increased Adoption in Close Proximity?
Research Examines Global Market for Contactless Cards
Boston, MA - November 24, 2009 -- Contactless payments, which have been threatening to be on the brink of wider adoption for some time now, have had the benefit of significant muscle put behind their broader marketing and implementation by a slew of issuers, a number of acquirers, the technology providers with a vested interest, metropolitan transit authorities trying to streamline operations and cut costs, as well as the card brands (whose mission has always been to replace cash and checks). The hope is that consumers will finally "tap" or "wave" their way to a purportedly faster or otherwise improved point of sale experience.
Whether or not the contactless chip (or contact-based EMV chip, for that matter) will ever fully replace the tried-and-true magnetic stripe worldwide is a question worth asking, though the likelihood of that coming to fruition anytime soon is seemingly slim. Even if the recalcitrant magstripe isn't going away any time soon, a large opportunity for expansion of contactless payments will come from the increasing global adoption of EMV cards.
Consumer complacency and glacial innovation aside, there have been bright spots of contactless payment activity despite the dimmer broad picture.
The Global Contactless Payment Card Market: Increased Adoption in Close Proximity? report explores the role of contactless payment cards in the global marketplace in recent years by reviewing major developments on both the issuing and merchant sides of the payments value chain. Mercator examines the ways in which mass transit agencies and users have catalyzed the proliferation of contactless payments both in the US and abroad. Using Mercator Advisory Group's proprietary primary research data, we also discuss survey results surrounding contactless adoption in the US and what the numbers say about the future of contactless payments. We provide estimates for how many contactless payment cards have been issued worldwide and how many of those are active on a regular basis domestically. Finally we discuss some of the strategies the industry is using (or should use) to broaden and deepen penetration of contactless payment instruments and facilities globally.
"Fortunately for its proponents, contactless bankcard payments have begun to penetrate the transit sphere, where the preference for a contactless option is so obvious that the consumer seemingly has no other choice," comments David Fish, Senior Analyst in Mercator Advisory Group's International Advisory Service and author of the report. "However, introduction of "no signature required" rules for transactions under the given regional threshold for both contactless and contact payments robs contactless of a potential differentiator. Points of interaction where contactless payment may not seem to be the "better" option, or where the consumer or merchant does not perceive any difference, are more challenging environments to introduce the new technology without specific and meaningful incentives for usage and acceptance."

Report Highlights Include:
The global contactless payment card marketplace has grown to almost 1% of all card-accepting merchants, and roughly 3.5% of all general purpose payment cards.

T

ransit has been the consumer incubator for contactless card usage - introduction of bankcard network-branded cards for transit has been the mode du jour within the transit space.

Merchants in retail verticals have been gradually adopting contactless bankcards, and banks have begun issuing contactless cards, but each side continues to wait for the other to make the first big move.

Semi-open loop contactless networks leveraging transit cards may prove to be a growth vector.

The future success of contactless depends on broader awareness and a more robust value proposition for the consumer.
One of the 8 Exhibits included in this report: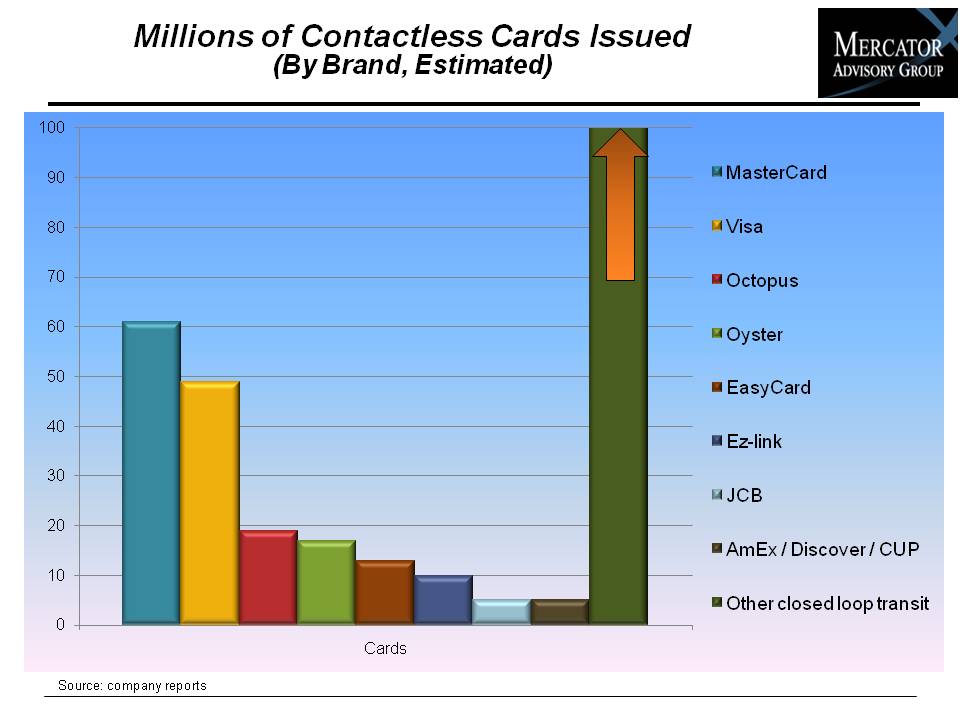 This report contains 24 pages and 8 exhibits

Companies Mentioned in This Report: Aduno Group; Akbank / Axess; American Express; Barclaycard; Carrefour; CharlieCard; Chicago Transit Authority; China Union Pay; Citibank; Commonwealth Bank; Discover; Garanti Bank; Gemalto; GuestLogix; Hang Seng Bank; Heartland Payment Systems; HSBC; ICBC; JCB; MasterCard; New York MTA; Octopus Holdings; Oyster / Transport for London; Poste Italiane; T-Money; Transys; Union Cash Register Company; Visa; Wal-Mart; Washington DC Metro; Wells Fargo; Wincor Nixdorf.
Members of Mercator Advisory Group have access to these reports as well as the upcoming research for the year ahead, presentations, analyst access, and other membership benefits.
Please visit us online at www.mercatoradvisorygroup.com.
For more information and media inquiries, please call Mercator Advisory Group's main line: 781-419-1700 or send email to info@mercatoradvisorygroup.com.
Mercator Advisory Group is the leading, independent research and advisory services firm exclusively focused on the payments and banking industries. We deliver pragmatic and timely research and advice designed to help our clients uncover the most lucrative opportunities to maximize revenue growth and contain costs. Our clients range from the world's largest payment issuers, acquirers, processors, merchants and associations to leading technology providers and investors.
---
Learn More About This Report & Javelin