Global Card Markets
Author(s):
Mercator Research
Overview
Boston, MA
May 2006
Global Card Markets 
NEW RESEARCH REPORT BY MERCATOR ADVISORY GROUP

General-purpose card charge and transaction volume continue to grow strongly at nearly 15% year-over-year rate around the world, driven by the increasing use of debit cards as well as credit cards.  Latin American was the fastest growing of the six global card regions, followed by Middle East and Africa, Asia Pacific, US, Europe, and Canada.  These double-digit growth rates coupled with other factors create attractive markets for US payment companies.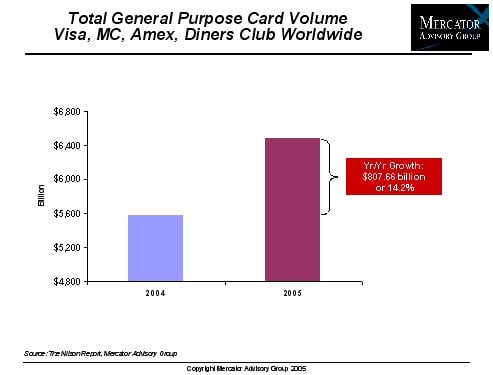 "We see a clear trend that US payments companies are investing in overseas markets at an increased rate," comments Evren Bayri, Director of Mercator Advisory Group's International Payments Advisory Service.  "While the slowing growth of US credit card accounts and receivables volume is a major driver of this trend, other factors that create favorable conditions for electronic payments and credit card lending in international markets are equally important."
This report examines the current state of the global general-purpose card market and the historical growth trends, and identifies some of the fastest growing regions.  It also discusses some of the developments that are happening outside the US and that affect local and foreign industry participants.

The report contains 21 pages and 14 exhibits.
Members of Mercator Advisory Group have access to this report as well as the upcoming research for the year ahead, presentations, analyst access and other membership benefits.  Please visit us online at www.mercatoradvisorygroup.com.

For more information call Mercator Advisory Group's main line: 781-419-1700 or send email to info@mercatoradvisorygroup.com.
---
Interested In This Report