Faster Payments: U.S. Forecast, 2017–2021
Overview

The Federal Reserve has challenged the U.S. payments industry to have a real-time faster payments solution in place by 2020. This is an aspirational deadline since a great number of issues are yet to be resolved. Nonetheless, payment platforms and products that offer the ability to send and receive transactions within seconds (or at least minutes) are beginning to be launched in the United States. Not since ACH and wire transfer became available has a truly new way to move money been introduced.

Mercator Advisory Group's new research report, Faster Payments: U.S. Forecast, 2017–2021, discusses progress to date in the United States on the faster payments initiative. Mercator offers its projections through 2021 of the dollar volumes for person-to-person (P2P), business-to-business (B2B), business-to-consumer (B2C), and consumer-to-business (C2B) transactions, stating that adoption will depend on the value that faster payments provides the counterparties, the comparative price of a faster payment option, and the number of competing options available in the market. The report discusses four leading faster payments solutions with compelling use cases: Zelle, Mastercard Send and Visa Direct push payments, The Clearing House RTP product, and same day ACH.

"Without a regulatory mandate requiring uniform adoption of a single platform for faster payments, the U.S. market is developing several solutions to move payments quickly. At this early stage of faster payments development, we have seen creative development for specific markets and use cases. This approach is fostering a competitive market with multiple options, but for financial institutions, processors, and other participants, it will be difficult to know when, how, and with which services to jump into the faster payments fray," comments Sarah Grotta, Director, Debit and Alternative Products Advisory Service at Mercator Advisory Group, and author of the report.

This report has 16 pages and 4 exhibits.

Companies mentioned in this report include: Bank of New York, Early Warning, Google, Mastercard, PayPal, The Clearing House, U.S. Bank, and Visa.
---
One of the exhibits included in this report: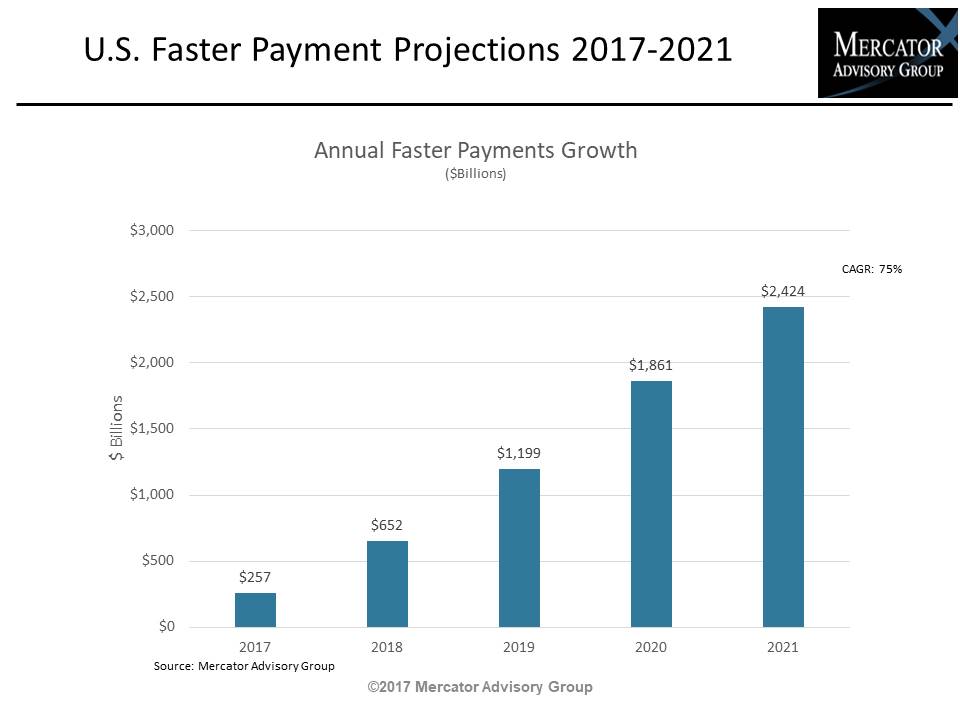 ---
Highlights of the report include: 
Projected volumes for the U.S. faster payments market by segment through 2021

 

Comparison of available solutions including data formats, relative market pricing levels, transaction limits, and other characteristics

 

Definition of the material differences between faster payments and real-time payments

 

Analysis of the potential for the Federal Reserve to play a more active role in support of this new payment type

 
Interested In This Report