Overview
New Research Explores the Market Dynamics Around Expedited Bill Pay
Expedited Bill Pay: Convenience and a Whole Lot More
Boston, MA -- September 15, 2009 - The ability to post a payment within 24 hours is fast becoming the new norm. What will comprise and drive expedited payments in the next decade is now being considered by stakeholders across this market. While much discussion has taken place regarding the tug-of-war between direct billers and financial institution aggregators, the emerging non-traditional financial services provider in the form of in-store money centers, has the potential to pull hard-fought market share away from these perennial service providers.
This is particularly true in the case of FI-aggregators when it comes to expedited bill payments for the simple reason that most financial institutions don't offer a means by which consumers can make a same day payment forcing consumers look elsewhere (and pay someone else) for these services. Are expedited payments the door that monetized bill pay services walks through for traditional financial services and if so, what are best practices around offering this specialized form of bill payment?
Mercator Advisory Group's the Expedited Bill Pay: Convenience and a Whole Lot More report explores the market dynamics that are driving consumers need to manage their financial resources more tightly, the impact of increasingly sophisticated bill payment networks to support this need, and how financial institutions can incorporate an expedited bill payment strategy into their current online banking toolset.
"While one might consider that the target population for an expedited payment would be those consumers who live on the fringe, we suggest this to be far from a true picture," Patricia Hewitt, Director of Mercator Advisory Group's Debit Advisory Service comments. "In fact, one could argue that the need for expedited payment processing will become greater than ever and impact a broader population than ever as we settle into an economy where indeed cash is king."
Highlights of this report include:
The expedited billing market is expanding, but financial institutions have been slow to adopt and promote these services and consumers are still wary of consolidators being able to deliver on payment-posting guarantees.

Bill pay solutions and billers have evolved their systems to be able to support multiple daily payment feeds, serving to tamp down demand for near-real time expedited payments.

Money center bill pay models offer convenience and low cost; a potential threat to online bill pay consolidators.

The market for expedited bill payments is expanding to include a broader demographic profile due to continued stress on consumer cash flow.

The ability to support mobile bill payment will become increasingly important, as the "smartphone" generation expand their bill pay requirements.
One of 12 exhibits in this report: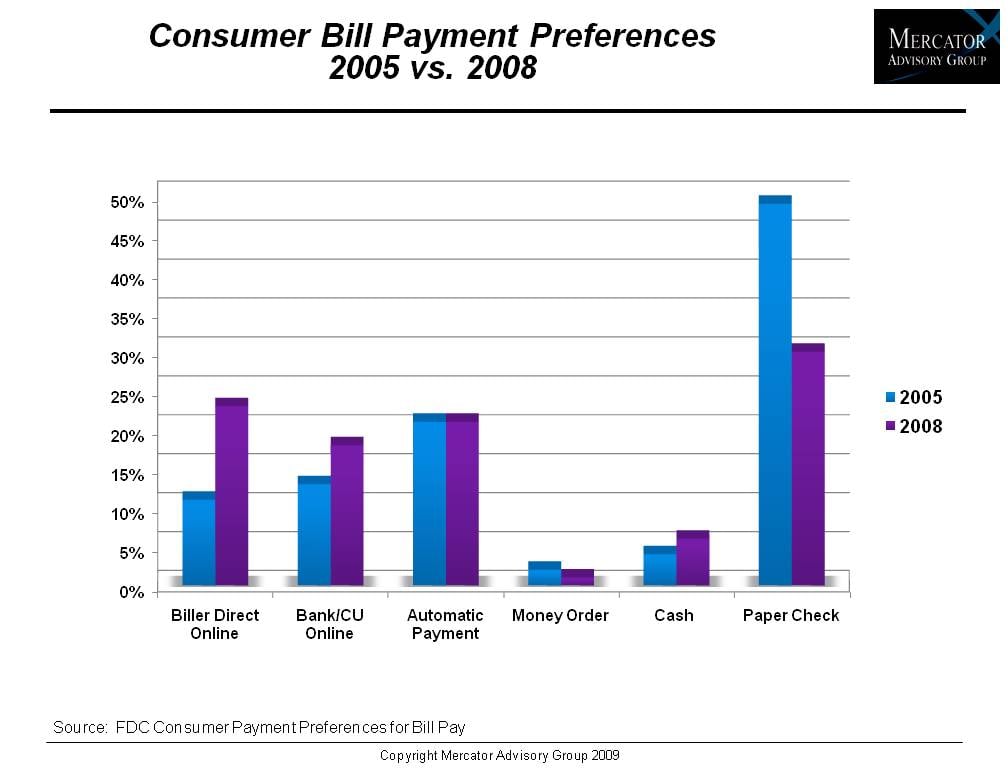 This report is 31 pages long and has 12 exhibits.
Companies mentioned in this report include: Billeo, Tio Network, Money Gram, Western Union, Metavante, Fidelity National Information Services, Jack Henry, Fiserv, Wal-Mart, Amscot, ACE Cash Express, MasterCard RPPS, Online Resources Corp.
Members of Mercator Advisory Group have access to these reports as well as the upcoming research for the year ahead, presentations, analyst access and other membership benefits. Please visit us online at www.mercatoradvisorygroup.com.
For more information and media inquiries, please call Mercator Advisory Group's main line: (781) 419-1700 or send E-mail to info@mercatoradvisorygroup.com.
About Mercator Advisory Group
Mercator Advisory Group is the leading independent research and advisory services firm exclusively focused on the payments and banking industries. We deliver pragmatic and timely research and advice designed to help our clients uncover the most lucrative opportunities to maximize revenue growth and contain costs. Our clients range from the world's largest payment issuers, acquirers, processors, merchants and associations to leading technology providers and investors.
---
Interested In This Report