Overview
When credit cards were introduced in Europe, the market was still very fragmented. For the most part, merchant acquiring was a low priority for the banking industry. The focus was on card issuance, and the acquiring business was treated as a utility with a domestic focus to facilitate those card-issuing businesses. In a fairly short time though, Europe has become a very competitive acquiring market. The Single Euro Payments Area (SEPA) initiative and regulation harmonizing cross-border payments facilitated new market entry and the evolution of new business models. The dust hasn't settled yet.
A new Mercator Advisory Group research report, Evolution of Merchant Acquiring in Europe, reviews how the European merchant acquiring market has developed to its current state and discusses what acquirers need to do to remain competitive.
This research report contains 36 pages and 21 exhibits.
Companies mentioned in this report include: Advent International and Bain Capital (CartaSi, Concardis), Adyen, BNP Paribas Fortis, B+S Card Service, card complete, CardProcess, First Data and ABN AMRO (EMS), Mastercard, Nets, PayLife Bank, SIX Group, UNICRE, Visa, Worldpay, and Worldline.
---
One of the exhibits included in this report: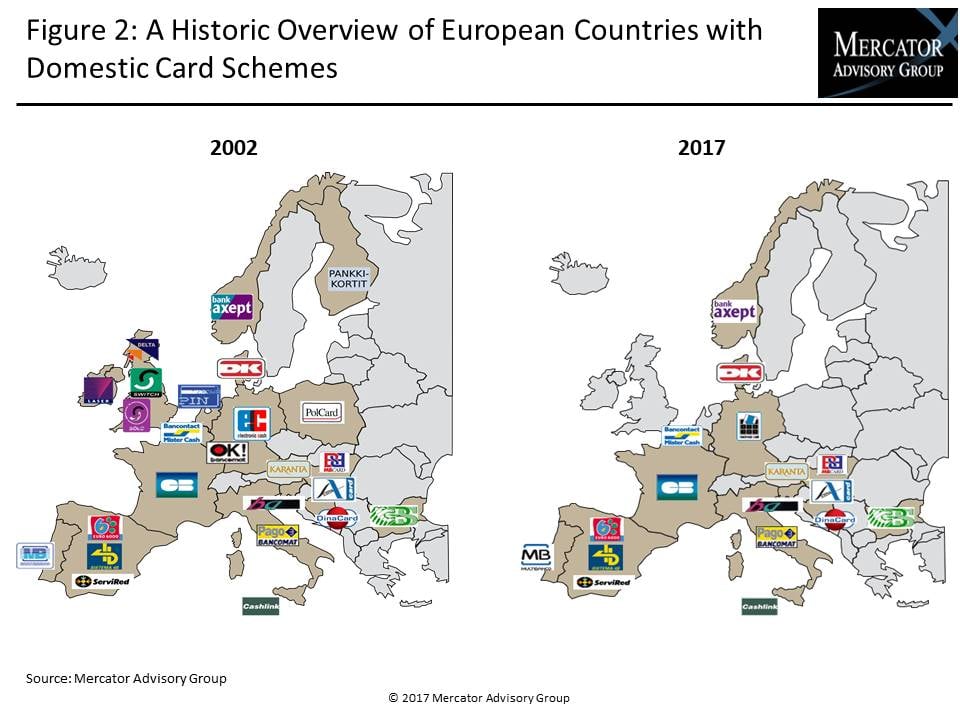 ---
Highlights of the research report include:

Historical context :from domestic interbank utilities to a competitive market, unbundling of Interpay, acquiring for international card schemes, domestic card schemes
Current credit and debit card landscape: mobile payments, card-not-present transactions, regulations (interchange, Payment Services Directive 2, authentication standard)
Other factors affecting acquirers: alternative payment methods, Payment Initiation Services, instant payments
Value chain shifts
Active market dynamics for acquirers: the players, joint ventures
Implications: Volume winner take all? Domestic focus or pan-European? sale of merchant portfolios and other options
Interested In This Report
Related content
Private-label credit cards are an essential part of the U.S. card market, but they are a product in slow decline and face several threats, including instant point-of-sale financing...
The cobranded card market is a way to generate loyalty, scale your portfolio, and service the next generation of cardholders.
The Credit Card Data Book is a two-part annual publication that covers the internal and external factors affecting the U.S. credit card market. The first part focuses on environmen...