European Mobile Person-to-Person Payment Systems: A Changing Environment
Author(s):
Tristan Hugo-Webb
Overview
Around Europe, consumers are increasingly turning to their mobile devices for a broader range of banking and payment functions. More than 50 mobile person-to-person (P2P) payment services have been launched in recent years to capitalize on this changing consumer preference. These systems or services generally have certain characteristics in common, including enabling payments to individuals or businesses, requiring a smartphone, and having a daily transfer limit. Some services in Europe allow customers to opt to make online payments via their mobile device, but most do not enable payment at the physical point of sale (POS) or cash withdrawals at an automated teller machine, and they tend to be limited to one market or select geographies.
Mercator Advisory Group's research note, European Mobile Person-to-Person Payment Systems: A Changing Environment, explores four different mobile P2P payment service models—the individual financial institution model, the bank consortium model, payment network/partner model, and alternative provider model—represented in Europe. The key advantages and disadvantages of each are compared and contrasted through specific examples already in operation in Europe including Barclays Pingit, the U.K.'s Paym, and continental services like DnB's Vipps (Norway) and Italy's Jiffy, among others.
"The broad range of available service models is likely to persist as organizations attribute different levels of importance to the models' inherent advantages and disadvantages. Furthermore, until consumer adoption of mobile P2P services gains true momentum, consolidation around one model is unlikely. Although future developments around pan-European harmonization of banking and payment systems could lead to a greatly different landscape, it is clear that today the various European mobile P2P payment systems are part of a changing payments environment" comments Tristan Hugo-Webb, Associate Director, Global Payments Advisory Service at Mercator Advisory Group and the primary author of the note.
This report contains 12 pages and 5 exhibits.
Companies mentioned in this report include: Barclays, DNB, MasterCard, Visa, PayPal, and mCash.
---
One of the exhibits included in this report: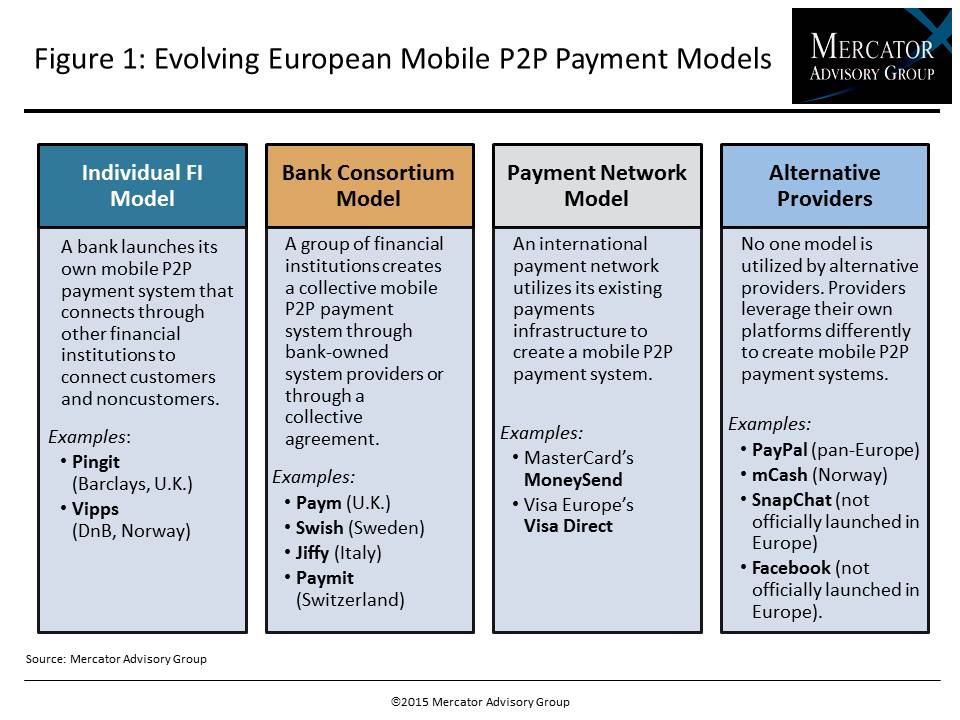 ---
Highlights of the note include:
Overview of different mobile P2P payments service models and the inherent advantages and disadvantages of deploying such models.

 

Consideration of the future trends and prospects likely to affect the mobile P2P service models in Europe. 
Learn More About This Report & Javelin