Overview
In Europe, card payments remain among the most popular payment methods for e-commerce transactions. However with increased safety concerns and high merchant costs, across the continent a growing number of consumers are turning to alternative payment methods to complete their transactions.
Mercator Advisory Group's research note, European E-Commerce Alternative Payment Providers Gaining Momentum, examines five of the leading alternative payment solutions for e-commerce transactions in Europe (excluding PayPal). The note describes the underlying business models and compares the solutions across indicators like customer and merchant acceptance network size, whether they operate in real time, and security features, highlighting the advantages or disadvantages of each solution.
"With growth opportunities present across the continent, the expansion of leading alternative e-commerce payment service providers into new markets is justifiable. These new service providers promise consumers and merchants a safe, convenient, and cost-effective means of completing e-commerce transactions. Their reported growth and popularity in select European markets means that they are becoming a viable alternative to the traditional e-commerce payment methods that use consumer debit, credit, or prepaid cards," comments Tristan Hugo-Webb, Associate Director of the Global Payments Advisory Service and the author of the note.
Companies mentioned in this research note include: iDEAL, Klarna, MasterCard, MyBank, PayPal, Sofort, Trustly, and Visa.
Members of Mercator Advisory Group's Global Payments Advisory Service have access to these reports as well as the upcoming research for the year ahead, presentations, analyst access, and other membership benefits.
---
One of the exhibits included in this report: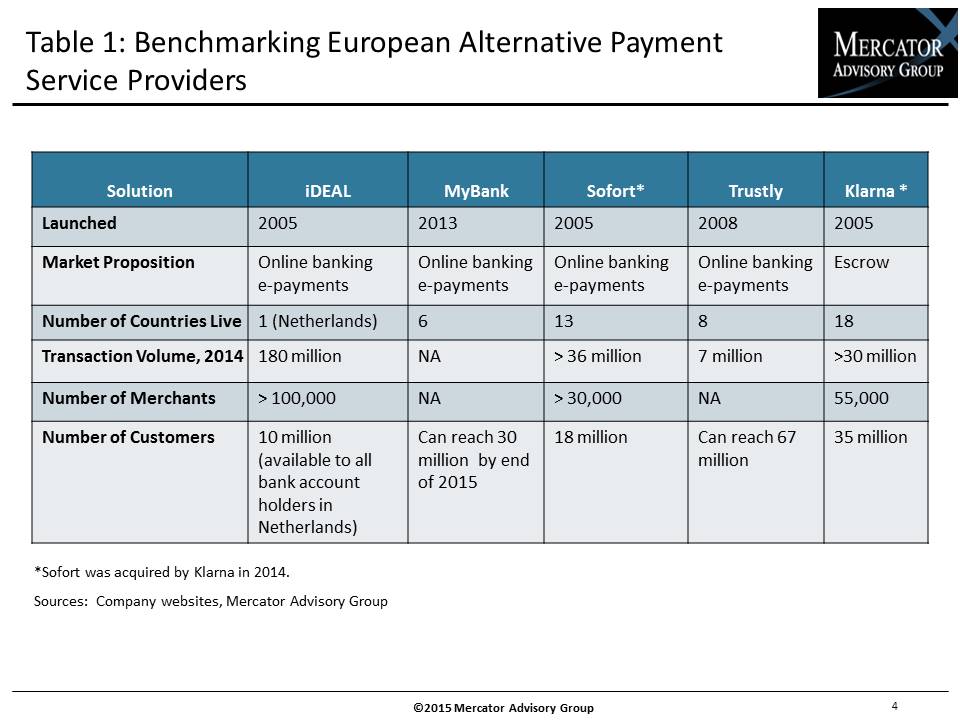 ---
Highlights of the research note include:
Statistics regarding the size and dynamics of the European e-commerce market as well as statistics on leading alternative payment service providers
Examination of the two operating models used by providers reviewed—online banking e-payment and escrow service—and their advantages and disadvantages
Commentary on the dynamics likely to impact the growth of alternative payment service providers and their potential to challenge cards as a primary payment method for e-commerce transactions
Interested In This Report