EU Data Protection and Privacy: Conflicts Simmer and Risks Grow
Author(s):
Patricia McGinnis
Overview
EU Data Protection and Privacy: Conflicts
Simmer and Risks Grow
Boston, MA -- The second of Mercator's reports on data protection and privacy concentrates on the practical challenges of compliance with European privacy law, highlighting the significant differences between U.S. practice and European expectations and requirements. Translating the multiple data protection "directives" released by the European Union into law within different national legislatures is a bumpy and frequently inconsistent process.
During this time, it has become abundantly clear that the European view of personal privacy differs substantially from the prevailing view in the United States. Mercator Advisory Group's new report EU Data Protection and Privacy: Conflicts Simmer and Risks Grow discusses the challenges facing all firms, including financial firms, with safeguarding consumer data and managing constantly-shifting compliance risks.
"In the European Union, unfettered consumer data collection is very much illegal, as exemplified by the recent generalized prohibition on the placement of cookies on individuals' PCs without explicit prior permission," states Patricia McGinnis, director in Mercator Advisory Group's Banking Group. "Those whose businesses depend on monetizing consumer data, and those who have invested in or financed such businesses, should proceed with extreme caution when making assumptions about future revenue streams. Many of the legal issues discussed in this report remain unresolved as new European legislation is tested in the courts."
Highlights of this report include:
The reasons all activities and business models driven by collection of, or access to, personally identifiable information (PII) face significant and growing challenges in working with European citizens.

The reasons European and American laws are already in conflict, and the ugly choices facing many American and European firms.

Which American firms do and do not legally have the right to import into the U.S. the personal data of EU citizens, and those which should exercise special caution.
An update on Google's privacy-related fights in over 30 countries worldwide.
One of seven exhibits in this report: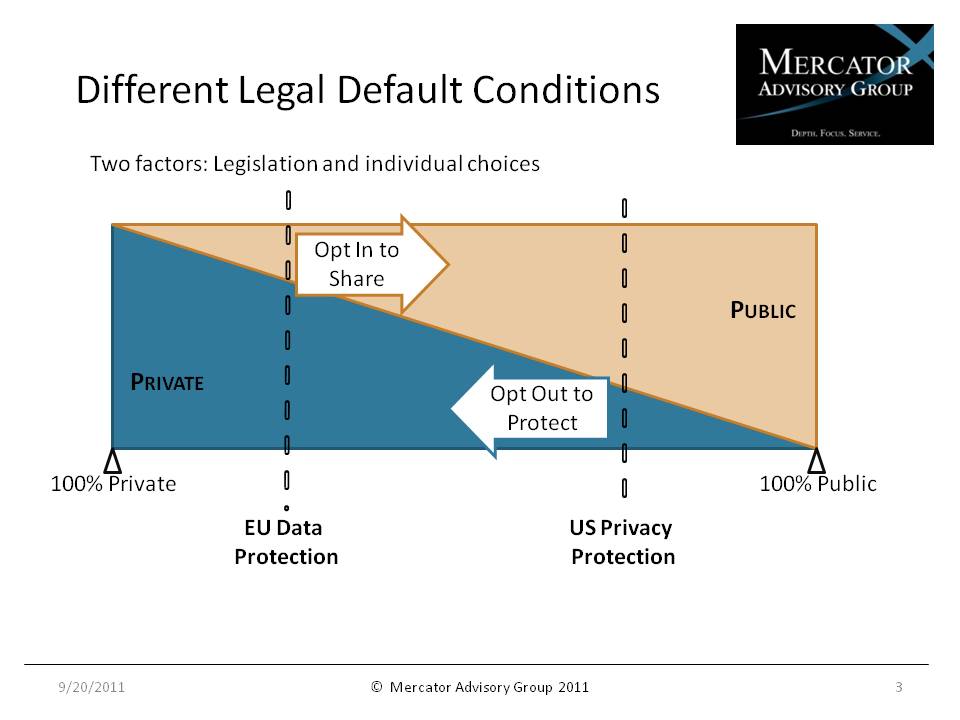 This report is 30 pages long and has seven exhibits.
Companies mentioned in this report include: Facebook, Google, JPMorgan Chase, Microsoft, Sony, Twitter and Yahoo. An extensive bibliography provides a valuable resource directing readers to sources and related material.
Members of Mercator Advisory Group have access to this report as well as the upcoming research for the year ahead, presentations, analyst access and other membership benefits.
Please visit us online at www.mercatoradvisorygroup.com.
For more information and media inquiries, please call Mercator Advisory Group's main line: (781) 419-1700, send E-mail to info@mercatoradvisorygroup.com.
For free industry news, opinions, research, company information and more visit us at www.PaymentsJournal.com.
Follow us on Twitter @ http://twitter.com/MercatorAdvisor.
About Mercator Advisory Group
Mercator Advisory Group is the leading, independent research and advisory services firm exclusively focused on the payments and banking industries. We deliver pragmatic and timely research and advice designed to help our clients uncover the most lucrative opportunities to maximize revenue growth and contain costs. Our clients range from the world's largest payment issuers, acquirers, processors, merchants and associations to leading technology providers and investors. Mercator Advisory Group is also the publisher of the online payments and banking news and information portal PaymentsJournal.com.
---
Interested In This Report