Enhancing T&E Card Programs: Analysis of Commercial Cards User Survey 2012
Author(s):
Tristan Hugo-Webb
Overview
As the travel and entertainment (T&E) card market grows, understanding and meeting the needs of cardholders becomes increasingly important to card issuers. In 2012 Mercator Advisory Group conducted the Commercial Cards User Survey 2012 in conjunction with TSYS and Commercial Payments International (CPI). This survey was designed to capture almost 1,000 business travelers' views on T&E cards, and specifically addressed concerns with cards while on the road, card experiences that caused stress while traveling and upon return from travel, and technological enhancements to card programs cardholders would value because they would improve the overall T&E card experience.
Mercator Advisory Group's new report, Enhancing T&E Card Programs: Analysis of Commercial Cards User Survey 2012, is a comprehensive review of subjects related to T&E cards. Based on the survey, the research provides insights into T&E card programs from the perspective of cardholders themselves. The study finds satisfaction with the programs but room for improvement, particularly by means of value-added services that could be implemented through widely available technology to address some of the travelers' primary complaints.
"As any business travel veteran will readily admit, meetings and sale pitches are just half the battle. Booking airline and hotel reservations, finding an adequate place to eat, paying taxi fares, keeping track of receipts, knowing how close expenditures are to the T&E card's credit limit, and determining whether or not the card will be accepted are arguably just as burdensome. For the T&E cardholder experience to be positive, the card must be useful and effective before, during, and even after the business trip is concluded," comments Tristan Hugo-Webb, analyst for the Commercial and Enterprise Advisory Service at Mercator Advisory Group and the primary author of the report.
---
One of the exhibits included in this report: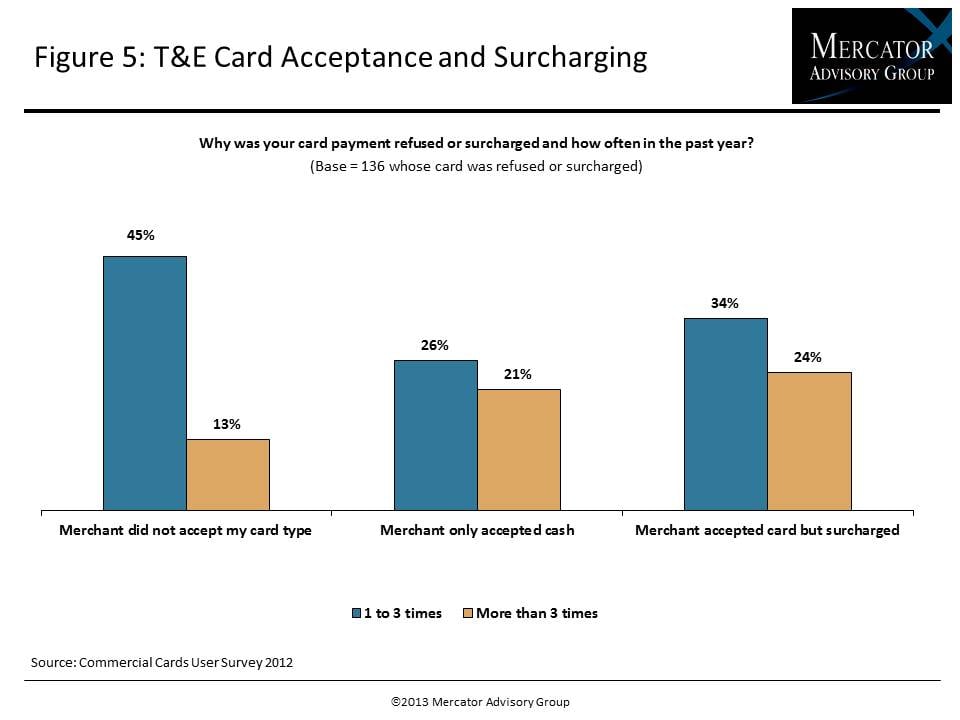 ---
Highlights of the report include:
Most popular payment instruments of the payment methods available
Most frequently cited concerns about T&E card during travel
Leading card-related factors that cause added stress for cardholders upon return from travel
Value-added services that business travelers highly desire
The report is 23 pages long and contains 13 exhibits.
Companies mentioned in this report include: American Express, CPI, Diners Club, MasterCard, TSYS, and Visa.
Members of Mercator Advisory Group's Commercial and Enterprise Payments Service have access to this report as well as the upcoming research for the year ahead, presentations, analyst access and other membership benefits.
For more information and media inquiries, please call Mercator Advisory Group's main line: (781) 419-1700, send E-mail to info@mercatoradvisorygroup.com.
Learn More About This Report & Javelin