End-to-End Encryption: The Acquiring Side Responds to Data Loss and PCI Compliance
Author(s):
Mercator Research
Overview
End-to-End Encryption: The Acquiring Side Responds to Data Loss and PCI Compliance
New Research Provides Guidance on End-to-End Encryption for Merchants and Processors
Boston, MA. - June 24, 2009 -- With the US payments system under continuous cyberattack and data breaches endemic, merchants and processors are scrambling to protect their data assets and cardholder data in particular. Card data encryption turns valuable data into worthless bits and bytes, eliminating the economic incentive for a cyberattack.
In a new report, End-to-End Encryption: The Acquiring Side Responds to Data Loss and PCI Compliance, Mercator Advisory Group explores end-to-end encryption (E2EE) in the hands of merchants, payment service providers and processors. In the face of the three bogies of PCI DSS compliance and penalties, reputational risk and direct financial loss, the acquiring half of the payments process is evaluating options for eliminating cleartext cardholder data from their systems. Tokenization (the subject of a recent Mercator report) and end-to-end encryption are the leading candidates. This report examines the complexity of E2EE within payments and enterprise security.
"End-to-end encryption's beauty is very much in the beholder's eye. If you're a Tier one merchant in no mood to risk the reputational crisis of a data breach, using E2EE to rid your network of card data is a good move," George Peabody, Director of Mercator Advisory Group's Emerging Technologies Advisory Service and principal analyst on the report comments. "E2EE also reduces the scope of PCI compliance audits and remediation costs but the beauty of encryption and card security will likely be lost on millions of Tier 4 merchants. Strong sales incentives and messaging will be required to have them join in the data protection fight."
Highlights of the report include:
End to end encryption (E2EE) is a long forestalled rational reaction to data breaches and PCI DSS audit costs.


The advantages to merchants of getting out from under a large set of PCI compliance burdens may make E2EE worthwhile.


Defining the "ends" in E2EE is a key step for every deployment.


The encryption zones under a processor's control - from the merchant's magstripe reader to the interconnection point with card brand or issuer - appear to be a manageable domain where the burdens of key management and new POS gear equal the benefits.


Standards development is in early days. A new working group under ASC X9 has brought together the key stakeholders, some of whom have sharply diverging goals.
An Exhibit included in this report: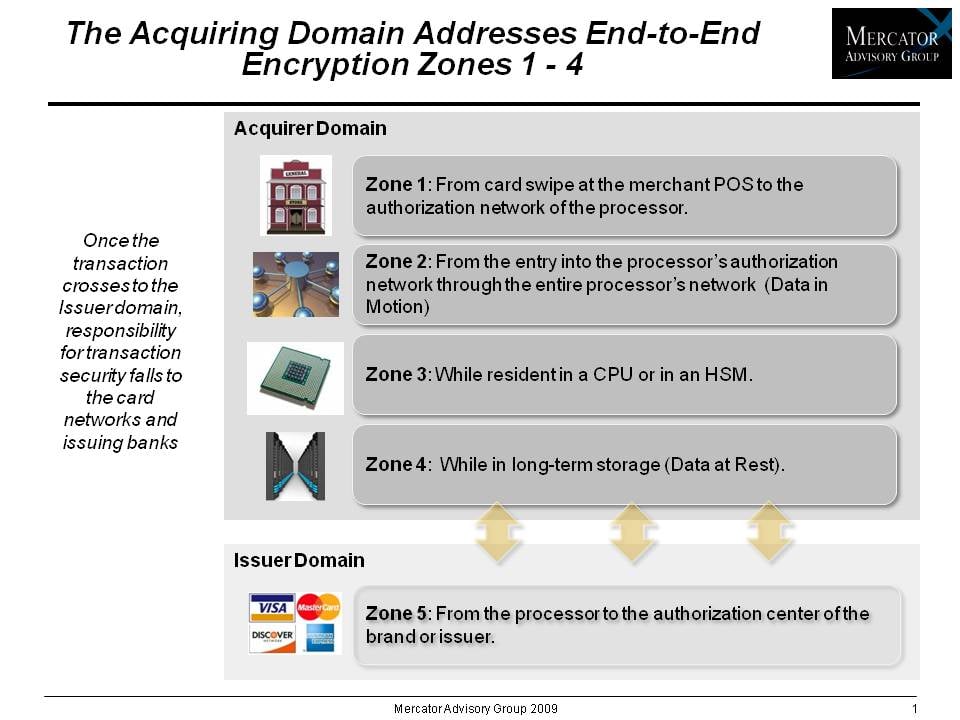 This report contains 36 pages and 7 exhibits.
Companies and programs mentioned in this report include: Hypercom, VeriFone, Ingenico, MagTek, Magensa, Heartland Payment Systems, Visa, MasterCard, RBS Worldpay, RSA, Prime Factors, Verizon Business, Voltage Security, Semtek, Futurex, SafeNet, Transaction Network Services (TNS), Thales, Atos Wordline, HP Attala, Banco de Credito e Inversiones, Propay, Fifth Third Bancorp, and EMVCo.
Members of Mercator Advisory Group have access to these reports as well as the upcoming research for the year ahead, presentations, analyst access and other membership benefits. Please visit us online at www.mercatoradvisorygroup.com.
For more information and media inquiries, please call Mercator Advisory Group's main line: 781-419-1700 or send E-mail to info@mercatoradvisorygroup.com.
Mercator Advisory Group is the leading, independent research and advisory services firm exclusively focused on the payments and banking industries. We deliver pragmatic and timely research and advice designed to help our clients uncover the most lucrative opportunities to maximize revenue growth and contain costs. Our clients range from the world's largest payment issuers, acquirers, processors, merchants and associations to leading technology providers and investors.
---
Interested In This Report