Overview
Card networks and merchants have had an adversarial relationship over the past 10 years. This has obstructed the deployment of more secure and convenient payment technologies at the point of sale, including EMV "smart cards," mobile wallets equipped with Near Field Communication (NFC) technology, and contactless cards. Merchants have gone their own way on mobile wallets, preferring Quick Response (QR) Code-based mobile wallets to the NFC-based mobile wallets championed by the networks, banks, and mobile device manufacturers. Online retailers, for their part, complain that EMV has merely shifted fraud from the physical point of sale to the e-commerce site.

Mercator Advisory Group's latest research report, EMV Technology Update: EMV Classic, Faster EMV, and Now QR Code EMV, goes into detail on how these technologies work, and what card issuers need to do to ensure that EMV QR codes meet a friendlier reception than other network-backed standards.

"EMV got off to an extremely rough start in the United States," comments Tim Sloane, Vice President, Payments Innovation, at Mercator Advisory Group, author of the report. "While the networks were able to improve the EMV experience by streamlining the process flow, a considerable amount of ill will built up, endangering the reception of a technology that normally merchants would welcome, since it greatly resembles the technology they themselves have adopted. Concentrating on the major pain point of e-commerce fraud would help give EMV QR Code the best chance of success, along with applicability in countries where the point-of-sale infrastructure is underdeveloped relative to the availability of mobile phones."

This document contains 15 pages and 4 exhibits.

Companies mentioned in this research report include: American Express, Apple, Discover, Google (Android), Mastercard, NYCE, Pulse Star, Starbucks, and Visa.
---
One of the exhibits included in this report: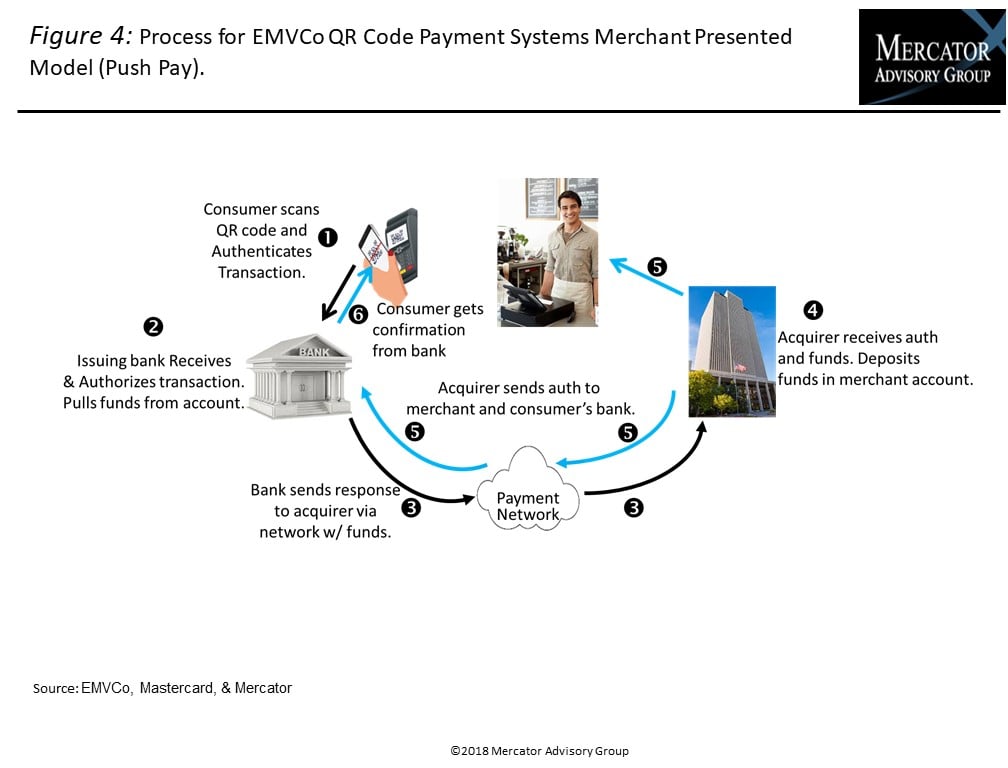 ---
Highlights of the research report include:
A brief history of efforts to improve the security and customer experience at the point of sale
Detailed process flows for EMV, "quick" EMV, and consumer-presented and merchant-presented EMV QR Code
Analysis of why NFC has not taken off in the United States and what might be done to change this
Recommendations on how EMV QR could best be brought to market
Interested In This Report
Related content
Generative artificial intelligence is not just hype. It is a high-impact technology that requires the attention of leaders in every industry. Payments and financial services produc...
With investment capital tighter in 2023, there's less interest in untested, unproven fintech startups and more of an emphasis on coming out of the chute with products that are read...
Wallet-based digital ID will create a wedge between universal wallets and payment apps, as embedded finance product offerings converge on feature parity over time.