The Electronification of Paper Checks: Conversion, Truncation and Other Mechanisms for Resuscitation
Author(s):
Mercator Research
Overview
Boston, MA
May 2005
The Electronification of Paper Checks: Conversion, Truncation and Other Mechanisms for Resuscitation
NEW RESEARCH REPORT BY MERCATOR ADVISORY GROUP
At many levels, check electronification is necessary -- the decline in paper check volume along with the fixed costs associated with the transportation of paper checks has meant that the entities supporting these have had to rethink their strategies for survival.  However, more payments are made by check than any other medium and while in decline, checks are still at volumes that would be impossible to shft from in the near future.
Nick Holland, Director of the Emerging Technologies Advisory Service and co-author of the report sees check electronification as a vital mechanism to cope with the continued popularity of paper checks in the US:
"When you consider that checks account for 46% of PCE in the US, you realize that this is not a payment mechanism that can easily be displaced.  The decline in check volume is certainly happening, but checks are not going to disappear overnight..."
ARC and POP Transaction Volume 2004, One of Twelve Exhibits in this Report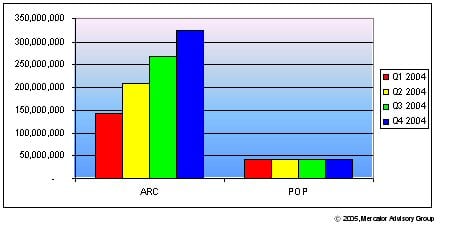 This conundrum is being addressed by check electronification -- checks are either converted to pure electronic messages, as is the case with ACH check conversion, or they are imaged in a process known as 'truncation' to become documents that can be sent electronically and then, if necessary, be reconverted to paper check equivalents. 
The need for check electronification at the POS is going to grow as a result of merchants being caught between a rock and a hard place.  Holland states:
"With pressures exerted by financial institutions on the one side and the continued popularity of checks with the consumer on the other, merchants will increasingly see the case for check electronification as a way of continuing to accept checks profitably.  This will present considerable opportunities for check imaging hardware vendors in the next couple of years as they capitalize on this."
The report is 23 pages and contains 12 exhibits.
Members of Mercator Advisory Group have access to these reports as well as the upcoming research for the year ahead, presentations, analyst access and other membership benefits. Please visit us online at www.mercatoradvisorygroup.com.
For more information call Mercator Advisory Group's main line: 508-845-5400 or send email to info@mercatoradvisorygroup.com.
---
Interested In This Report