The Durbin Amendment: No Looking Back
Author(s):
Patricia Hewitt
Overview
The Durbin Amendment: No Looking Back
New research from Mercator Advisory Group examines the impact of Durbin on debit and illustrates shifts in EFT network market share
Boston, MA October 18, 2012 - The Durbin Amendment has forced dramatic change onto the debit card market. With most of the final regulations now operating, we are beginning to see their impact on traditional stakeholders. Yet, in such a complex market, no one dynamic should be taken out of context.
In a new report, The Durbin Amendment: No Looking Back, Mercator Advisory Group analyzes these changes on the national and global level. During that analysis, we found that similar regulatory changes are taking place in other regions and networks have found themselves in the middle of one of the most opportunistic and challenging environments they have faced, perhaps since the emergence of the modern electronic payments market.
"The Durbin Amendment has taken on the role of the designated authority in the debit market which has allowed it to pass the fail safe point and as a result, there is no going back to its previous state," comments Patricia Hewitt, director of Mercator Advisory Group's Debit Advisory Service and author of the report.
Major highlights of this report include:
- New estimates of the market share shift between leading EFT Networks
- A review of leading issuer prepaid card programs and corresponding fee structures A discussion of global regulatory changes and an analysis of shifts in focus for regulatory agencies as they react to results of the recession and new economic realities
- An analysis of recent consumer reactions to new fee schemes and the changing attitudes consumers are displaying toward for-fee financial services
- A review of non-interest income trends and their impact on financial institution segments in the United States
One of 12 exhibits in this report: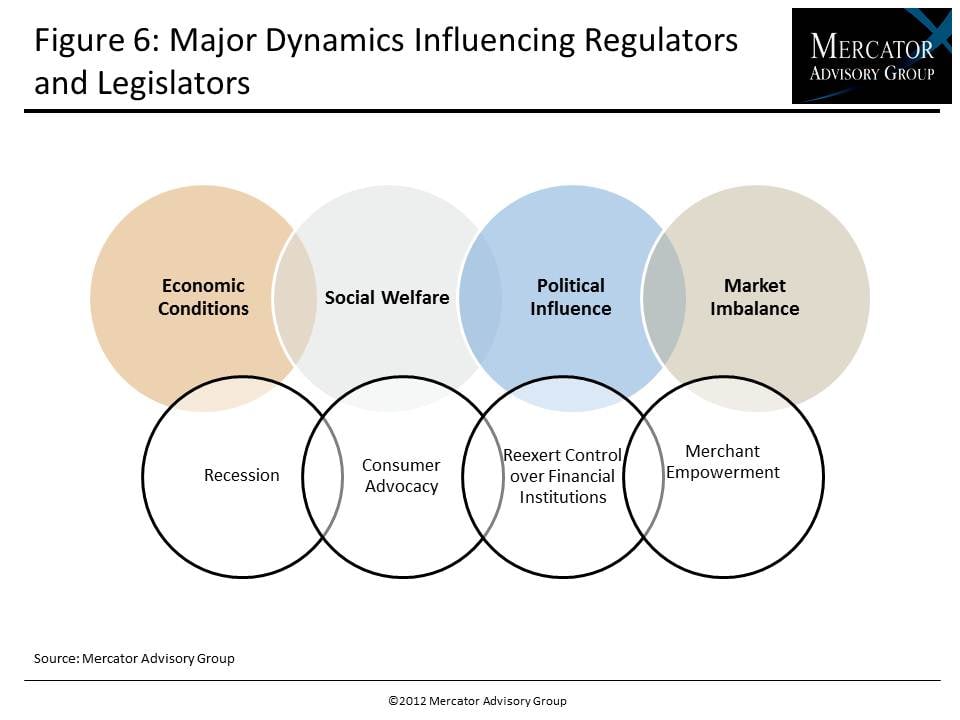 This report is 24 pages long and has 12 exhibits.
Entities mentioned in this report include: Visa, MasterCard, Discover, Interlink, Maestro, PULSE, Accel/Exchange, NYCE, Star, First Data, Federal Reserve, and Consumer Financial Protection Bureau.
Members of Mercator Advisory Group have access to this report as well as the upcoming research for the year ahead, presentations, analyst access and other membership benefits.
Please visit us online at www.mercatoradvisorygroup.com.
For more information and media inquiries, please call Mercator Advisory Group's main line: (781) 419-1700, send E-mail to info@mercatoradvisorygroup.com.
For free industry news, opinions, research, company information and more visit us at www.PaymentsJournal.com.
Follow us on Twitter @ http://twitter.com/MercatorAdvisor.
About Mercator Advisory Group
Mercator Advisory Group is the leading, independent research and advisory services firm exclusively focused on the payments and banking industries. We deliver pragmatic and timely research and advice designed to help our clients uncover the most lucrative opportunities to maximize revenue growth and contain costs. Our clients range from the world's largest payment issuers, acquirers, processors, merchants and associations to leading technology providers and investors. Mercator Advisory Group is also the publisher of the online payments and banking news and information portal PaymentsJournal.com.
---
Interested In This Report