Driving Up the Value of Commercial Card Acceptance for Suppliers
Overview
Corporations, their suppliers, and the banks that issuer commercial cards all stand to gain from commercial card use. The benefits of commercial card acceptance by suppliers have been well publicized—process efficiencies, improved working capital management, strengthened customer relationships, and more. Yet, suppliers are not always happy about accepting cards for business-to-business (B2B) payments. Their reluctance may stem from their lack of knowledge of how to maximize the efficiencies of card acceptance and thereby reduce costs, both hard and soft dollar. Banks that issue commercial cards stand to reap the benefit of increased commercial card processing volumes if they improve the level of knowledge they impart to suppliers, both directly and in collaboration with their corporate clients, which are typically the buying organizations.
Mercator Advisory Group's research note, Driving Up the Value of Commercial Card Acceptance for Suppliers, recommends that issuers inform suppliers of the steps they can take to make commercial cards a win for themselves and their customers. The document presents details on the combination of factors that affects the relative value of commercial card acceptance, including interchange strategies, incremental benefits of electronic accounts payable (EAP) and cash flow impacts for all parties involved.
"There is a tremendous upside to card scheme acceptance, for which banks and buyers hold the keys," comments Richard Hall, Director of Mercator Advisory Group's Commercial and Enterprise Payments Advisory Service and principal author of the report.
The research note is 10 pages long and contains 7 exhibits.
Companies mentioned in the document are MasterCard and Visa.
---
One of the exhibits included in this report: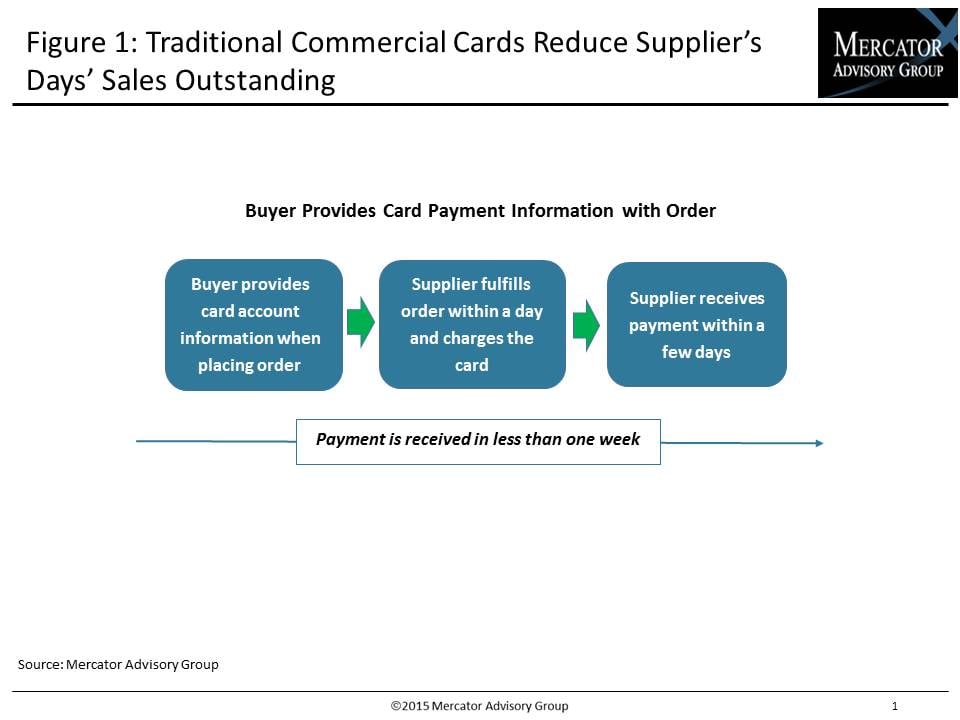 ---
Highlights of the research note include:
Differences between supplier-processed and buyer-processed commercial card options

 

Calculations showing how card product and purchase-to-pay process affect value

 

Implications of payment timing
Interested In This Report