Distributed and Self-Sovereign Identity Solutions: Part 2, Implementations and Suppliers
Overview
Mercator Advisory Group has released Part 2 of a report describing new identity and authentication technology that would collapse identity platforms and authentication platforms into a single solution designed to implement the principles of self-sovereign identity (SSI). The report, Distributed and Self-Sovereign Identity Solutions: Part 2, Implementations and Suppliers, focuses on major participants in development of SSI and the approach they are taking.
The companion report, released by Mercator in August, Distributed and Self-Sovereign Identity Solutions: Part 1, Technology Overview, describes new technologies including Secure DNS, decentralized IDs, and self-sovereign identity, which is an identity and authentication model currently adopted by IBM, Microsoft, and Mastercard.
Mercator Advisory Group sees self-sovereign identity (SSI) as a major revenue opportunity for financial institutions, enabling them to monetize their customer authentication processes and data without compromising customer privacy. However, deciding which of the various rival implementations should be supported is a challenge, and this report is intended to help by profiling the technology providers in this market space.
"Self-sovereign identity (SSI) is a major business opportunity, one that places financial institutions back at the center of their customers' lives and provides value beyond simple deposit, transaction, and lending services. Even better, this position is highly defensible since, once customers have selected a solution, network effects will make it very difficult for them to switch," commented the author of the report, Tim Sloane, VP, Payments Innovation, and Director, Emerging Technologies Advisory Service at Mercator Advisory Group.
This research report has 21 pages and 4 exhibits.
Companies and other organizations mentioned in this report include: Absa, ABN AMRO, Accenture, Aetna, ANZ Bank, Barclaycard, Blockchain, BNY Mellon, [Province of] British Columbia, Calastone, Cisco, Civic, CLS, CME Group, Coinplug, ConsenSys, Credits, CULedger, Depository Trust & Clearing Corporation (DTCC), Desert FCU, Deutsche Börse Group, Digital Asset Holdings, Evernym, Fujitsu Limited, Guardtime, Hitachi, Hu-manity.co, Hyperledger Indy, IBM, Illinois Blockchain Initiative, Intel, IntellectEU, iRespond, J.P. Morgan, Korea Post, Linux Foundation, MADANA, Mastercard, Metadium, Microsoft, NEC, NewBanking, NTT DATA, OrgBook, R3, Red Hat, Royal CU, SITA, Sovrin Foundation, State Street, SWIFT, Symbiont, Unity Technologies, USAA, Veridium, VMware, and Wells Fargo.
---
One of the exhibits included in this report: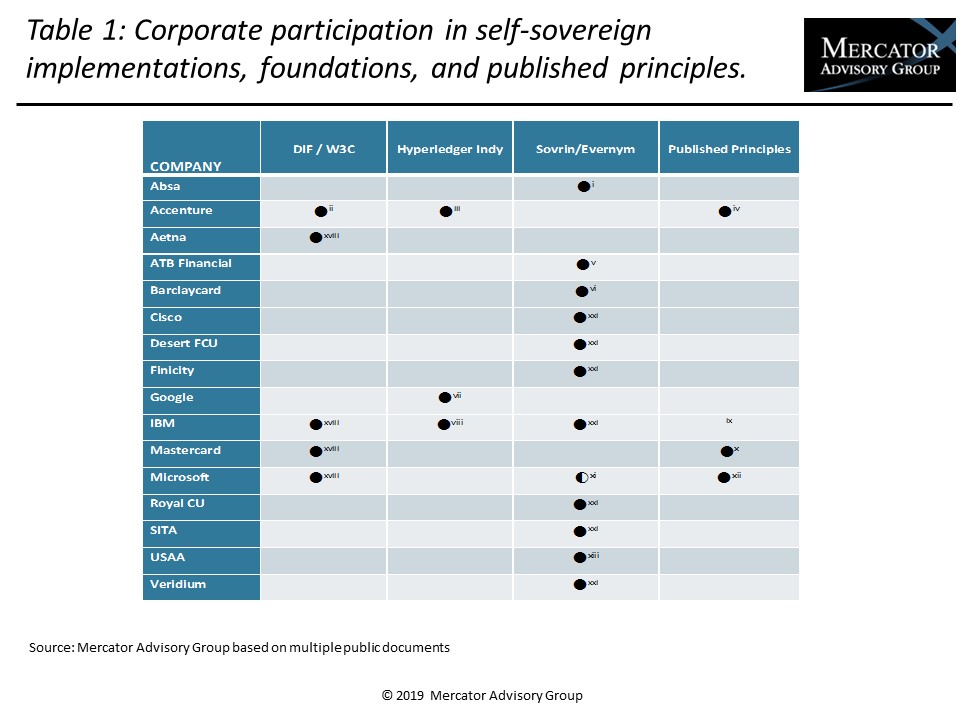 ---
Highlights of the research report:
Evernym, Hyperledger Indy, and Sovrin Foundation: Weaving SSI
The Hyperledger Project
SSI technology suppliers
SSI Implementations
Government implementations in operation today
Other market participants
Opportunity for financial institutions
Interested In This Report
Related content
Generative artificial intelligence is not just hype. It is a high-impact technology that requires the attention of leaders in every industry. Payments and financial services produc...
With investment capital tighter in 2023, there's less interest in untested, unproven fintech startups and more of an emphasis on coming out of the chute with products that are read...
Wallet-based digital ID will create a wedge between universal wallets and payment apps, as embedded finance product offerings converge on feature parity over time.