The Disruptive Potential of Marketplace Lending in the U.S. Consumer Credit Market
Overview
10 years ago, the concept of marketplace lending was a quirky idea that intrigued a few venture capitalists. Today, marketplace lenders are some of the fastest growing, most innovative firms in the U.S. financial industry. Through the sophisticated application of technology, these new lenders are driving tremendous operational efficiencies and profitably fulfilling consumer lending needs that have historically been underserved by traditional banks. With an overwhelming amount of investment money and publicity flowing into the marketplace lending industry and regulation slowly coming into focus, it is clear that this new class of financial service providers is set to fundamentally disrupt the status quo.
Mercator Advisory Group's research report, The Disruptive Potential of Marketplace Lending in the U.S. Consumer Credit Market, explores what exactly that disruption will look like, both in terms of the impact to the $3.4 trillion U.S. consumer credit market as well as the broader strategic implications for established banks and credit card issuers.
"The success of marketplace lenders has captured attention," comments Alex Johnson, Senior Analyst at Mercator Advisory Group and one of the authors of the report. "Marketplace lenders are to lending technology what Google is to self-driving cars, a wake-up call for incumbents in their industry."
This report contains 27 pages and 11 exhibits.
Companies mentioned in this report include: Affirm, Amazon.com, AuxMoney, AvantCredit, Billfloat, BitBond, Blackhawk Investments, C2F0, Capital for Merchants, CBAC, CBW Bank, CircleBack Lending, CommonBond, Contigo Financial, Cozy, DriverUp, FairFinTech, FastPay, Financeit, FOLIOfn, FundingCircle, Genesis Financial, Green Note, GreenSky, Groundfloor, Jimubox, Kabbage, Kiva, Kreditech, Leaf, Leaseo, Lenddo, Lending Club, LendingHome, LendInvest, LendKey, LendSocial, Lendup, Lighter Capital, Millennium Trust Company, Money360, Nexkap, OnDeck Capital, Orchard, PayPal, Peerform, Prosper, Puddle, QuarterSpot, Realty Mogul, Rong360, Sequorum, SmallKnot, SocietyOne, SoFi, SpringLeaf, Square, StreetShores, Swift Capital, The Bancorp Bank, The Recievables Exchange, Think Finance, UpgradeUSA, WebBank, Wonga, YadYap, Zest Finance, and Zopa.
---
One of the exhibits included in this report: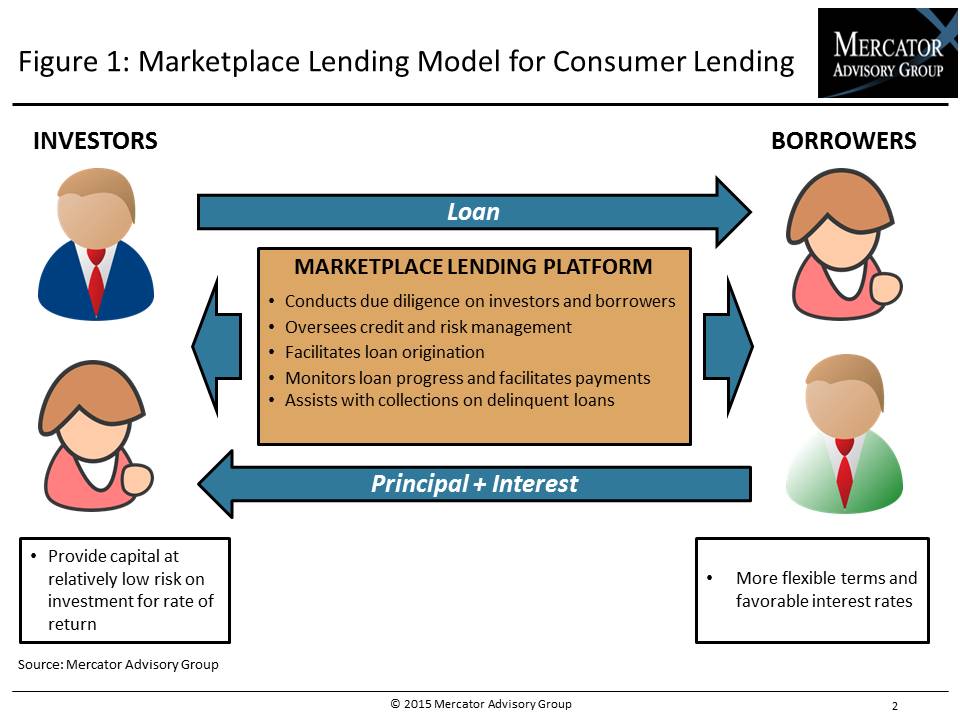 ---
Highlights of this Research Report include:
Introduction to the marketplace lending model utilized by the largest platforms in the U.S
Profiles of the two most successful marketplace lending platforms in the U.S., Lending Club and Prosper
Comparisons of the U.S. and European marketplace lending industries, with a focus on what U.S. firms could learn from their European counterparts
Analysis of the current state of the marketplace lending and its place in the broader alternative lending ecosystem
Overviews of the current regulatory environment for marketplace lenders and likely future regulatory frameworks
Projected development paths for the evolution of marketplace lending platforms and an overview of the strategic implications of those development paths for industry incumbents
Interested In This Report
Related content
Private-label credit cards are an essential part of the U.S. card market, but they are a product in slow decline and face several threats, including instant point-of-sale financing...
The cobranded card market is a way to generate loyalty, scale your portfolio, and service the next generation of cardholders.
The Credit Card Data Book is a two-part annual publication that covers the internal and external factors affecting the U.S. credit card market. The first part focuses on environmen...