Digital Banking: Improvements Needed to Compete with Fintech
Author(s):
Karen Augustine
Overview
The most recent Insight Summary Report from Mercator Advisory Group's CustomerMonitor Survey Series reveals that mobile banking is growing rapidly in the United States. According to the report, titled Digital Banking: Improvements Needed to Compete with Fintech, 64% of U.S. consumers with at least one account at a bank, credit union, or other financial institution perform mobile banking activities, but they are more likely to banking via their mobile device using the financial institution's website than a mobile banking app.
Mobile banking app users report high satisfaction with the app, particularly for its ease of use and convenience. In fact, 89% of U.S. adults who use a mobile banking app downloaded from a financial institution are satisfied or very satisfied with the app, including 52% who are very satisfied with the app. Yet, users are least satisfied with the range of transactions able to be performed in the app (43% are very satisfied) or the speed of access to the information needed (49% are very satisfied) and most satisfied with the ease of use or convenience it lends (55% are very satisfied).
One of the features that mobile banking app users consider most important but fewer have is quick and easy login and authentication, considered important by 9 in 10 mobile banking app users though less than half say their mobile app offers this feature. Mobile banking users want quick and easy access to mobile banking and the features they need to perform. When asked how they unlock their device, 9 in 10 say they still use passwords. Biometrics use, particularly as the only form of authentication, is still in early stages of development.
Mercator's survey findings suggest that consumers would be interested in using mobile banking if it were better integrated into applications they already use, such as conversational interfaces in the form of either voice-activated virtual assistants or text-based chatbots. Nearly half of respondents already use these interfaces, and 2 in 3 of them have bought goods or services, paid household bills, or sent money to another person using such an interface. Another 1 in 3 users of such virtual assistant claim to have received banking information or made banking transactions using these interfaces.
The survey findings are based on responses from a sample of 3,000 U.S. adults with banking relationships which were collected in the company's CustomerMonitor Survey Series annual online Banking and Channels survey, conducted in November 2017.
The report, Digital Banking: Improvements Needed to Compete with Fintech, reveals that security issues are U.S. consumers' primary reason for not making mobile banking transactions. Nevertheless, more consumers perform more banking activities online and by mobile, especially by smartphone, engaging more often with their financial institution, expanding and deepening the banking relationship and thereby becoming more loyal customers.
The report highlights trends in use of online banking via computer and mobile platforms, communication methods with financial institutions, use of personal financial management (PFM) tools, alerts, online bill-payment methods and electronic billing, person-to-person (P2P) money transfers, and the demographics of recent account openers. The study evaluates the account opening process online, use of mobile banking app compared to online banking by computer and mobile devices, U.S. consumers' preferences of platform for making bank transactions, and their use and interest in voice-activated conversational interfaces.
"Mobile banking is becoming more widespread, and users are more engaged with their financial institutions when they interact via mobile. Yet, mobile banking app use remains limited, as consumers report features they want but don't yet have on their mobile app. Consumers want a more user-friendly experience and enhanced security features with less friction or waiting to access their accounts, open new ones, or make just-in-time payments wherever needed at their convenience from their mobile device," commented Karen Augustine, author of the report and Senior Manager, Primary Data Services at Mercator Advisory Group, which includes the CustomerMonitor Survey Series.
The report is 88 pages long and contains 44 exhibits.
---
One of the exhibits included in this report: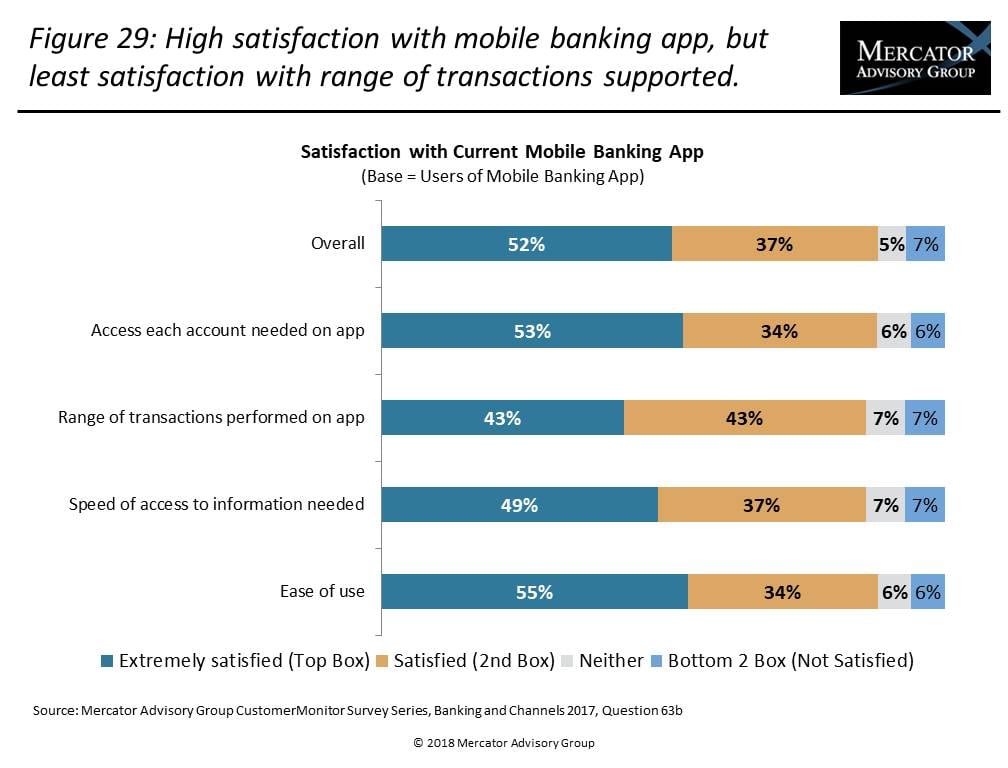 ---
Highlights of this Insight Summary Report include:

Shifts in preferred methods of communicating with financial institutions and frequency of use of the various methods
Trends in use of banking activities performed by computer and mobile platforms
Usage breakdown of electronic payments, e-billing, and financial management tools, tax preparation, and personal financial management (PFM) software, and changes in use of PFM tools
Usage of person-to-person (P2P) money transfer to another person's account domestically and internationally and willingness to pay for same-day transfer.
Use and preference for the consumer's primary financial institution versus other types of provider for P2P transfers, and the brands of P2P services used
Usage of mobile check deposit, and expected changes in use
Usage of voice-activated conversational interfaces and comfort level using them for banking transactions and if ever used for e-commerce, bill-pay, P2P, or banking
Authentication process used to access mobile banking app
Mobile app features and importance, satisfaction with mobile banking app, and importance of mobile app to banking relationship
Demographics of recent account openers, online vs. mobile and other methods, satisfaction with online account opening, and need for additional assistance
Interested In This Report