A Different Way of Offering Credit: Islamic Payment Cards' Potential in the Global Economy 2009
Author(s):
Mercator Research
Overview
A Different Way of Offering Credit:Islamic Payment Cards' Potential in the Global Economy 2009
Research Examines Islamic Banking and Payments
Boston, MA - Nov. 1, 2009 -- A combination of new global banking environment and the emerging demand for Islamic products and services are creating historic opportunities for Islamic card products around the world.
As consumers and credit card issuers worldwide are rethinking about their ways of using and offering consumer credits through credit cards at a time of global economic crisis and credit crunch, more and more are turning to the Islamic credit cards who offer credits at competitive terms without incurring interest. Though Islamic credit cards, together with other Islamic card products and general banking products, were initially created to meet the payment and banking needs of billion of Muslim consumers worldwide, today they offer a new perspective and approach towards offering credit to the general consumers.
"Islamic credit cards and the Islamic banking concepts behind them offer new ways of how credit is structured and marketed to consumers with risks and profits shared among parties involved. And the implications are by no means limited to the 1.6 billion Muslims worldwide who spend more than US$2.6 trillion a year. Credit card issuers worldwide are facing mounting challenges in a difficult economic climate and credit environment," Terry Xie, Director of Mercator Advisory Group's International Advisory Service and principal analyst on the report, comments.
A Different Way of Offering Credit: Islamic Payment Cards' Potential in the Global Economy 2009, the latest report from Mercator provides a comprehensive overview and introduction to the concepts and practices of Islamic banking and payment cards. Opportunities in the global Muslim markets, Islamic view of money, concepts of modern Islamic banking, structure of modern Islamic financial institutions, the status of Islamic banking worldwide, as well as Islamic banking's outlook in today's global banking industry are discussed. The report's focus is on Islamic payment cards, especially credit cards. The Muslim consumer's need for convenient payment methods, financing and business models for Islamic credit cards, recent trends in different Islamic card segments and their growth potentials are examined in depth. The report concludes with issues and challenges facing Islamic banking and cards, as well as strategic advice for new players entering these markets.
Highlights of the report include:
T

he 1.6 billion Muslims in developing and developed countries around the world and their about US$2.6 trillion annual spending power represent a huge market largely untapped by the global banking industry.

Islamic banking products and services, such as Islamic cards, are facing a historic opportunity to evolve into the next level even in today's global credit crunch. However, it requires worldwide resources and coordination and cannot be done solely by banks in Muslim countries.

Lack of global standards for Islamic banking, together with other regulatory, cultural, and political challenges are among the major barriers for Islamic banking industry world-wide.

The concept behind Islamic banking is not limited to Muslim consumers and is attracting attention and interest from non-Muslim consumers and banks due to their inherently stronger risk controls and transparency.

Financial institutions and other companies interested in the Islamic banking opportunities need to set the right expectations and strategic objectives.
One of the 5 Exhibits included in this report: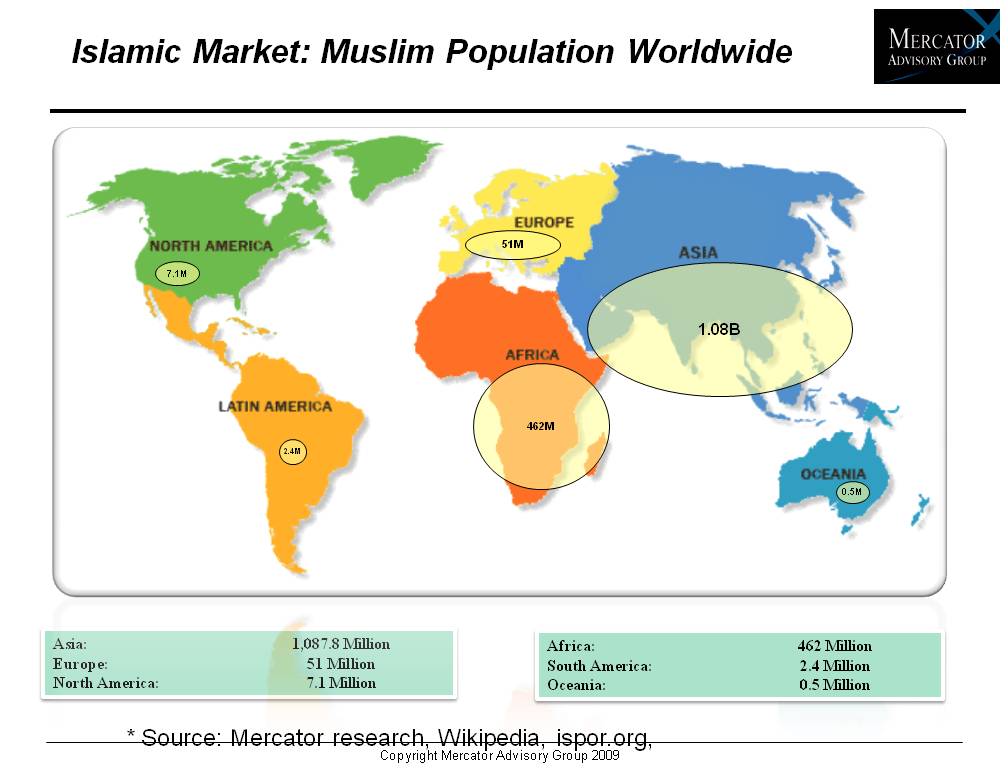 This report contains 35 pages and 5 exhibits.
Companies covered in this report include: MasterCard, Visa, Bank Islam (Malaysia), Emirates Islamic Bank (UAE), SABB (Saudi Arabia), Danamon BNI (Indonesia), Abu Dhabi Islamic Bank (Saudi Arabia), Devon Bank (U.S.), HSBC Amanah, Citibank, First Data, TSYS, ACI Worldwide, and BPC, among others.
Members of Mercator Advisory Group have access to these reports as well as the upcoming research for the year ahead, presentations, analyst access and other membership benefits.
Please visit us online at www.mercatoradvisorygroup.com.
For more information, please call Mercator Advisory Group's main line: 781-419-1700 or send email to info@mercatoradvisorygroup.com.
Mercator Advisory Group is the leading independent research and advisory services firm exclusively focused on the payments and banking industries. We deliver pragmatic and timely research and advice designed to help our clients uncover the most lucrative opportunities to maximize revenue growth and contain costs. Our clients range from the world's largest payment issuers, acquirers, processors, merchants and associations to leading technology providers and investors.
---
Learn More About This Report & Javelin