Credit Card as a Service: Vendors You Need to Know
Overview
Credit Card as a Service Products Are Changing the Payments Landscape
Mercator Advisory Group released a report covering vendors in the emerging Credit Card as a Service (CCaaS) market, titled Credit Card as a Service: Vendors You Need to Know. The research explains the current credit market and forecast, discusses the latest in credit products, such as Buy Now, Pay Later (BNPL) lending, and examines the effects of the COVID-19 pandemic on the consumer credit industry. Further, this research examines how companies are offering embedded finance products such as CCaaS to allow customers the ability to offer their own credit card product. By way of four evaluative criteria, general advice is provided for those seeking a relationship with a fintech provider.
"Exploring a partnership with a fintech is a viable option for launching new products, testing and evaluation," comments Ben Danner, Analyst at Mercator Advisory Group and the author of the research report. Through API integrations, partners can easily integrate new financial service technologies into their existing portfolio to respond quickly to changing consumer demand.
This document contains 17 pages and 3 exhibits.
Companies mentioned in this research note include: Alphabet, Inc., Amazon, Chime, Federal Reserve Bank, Galileo, i2C, Inc., Marqeta, Microsoft, Zeta.
---
One of the exhibits included in this report: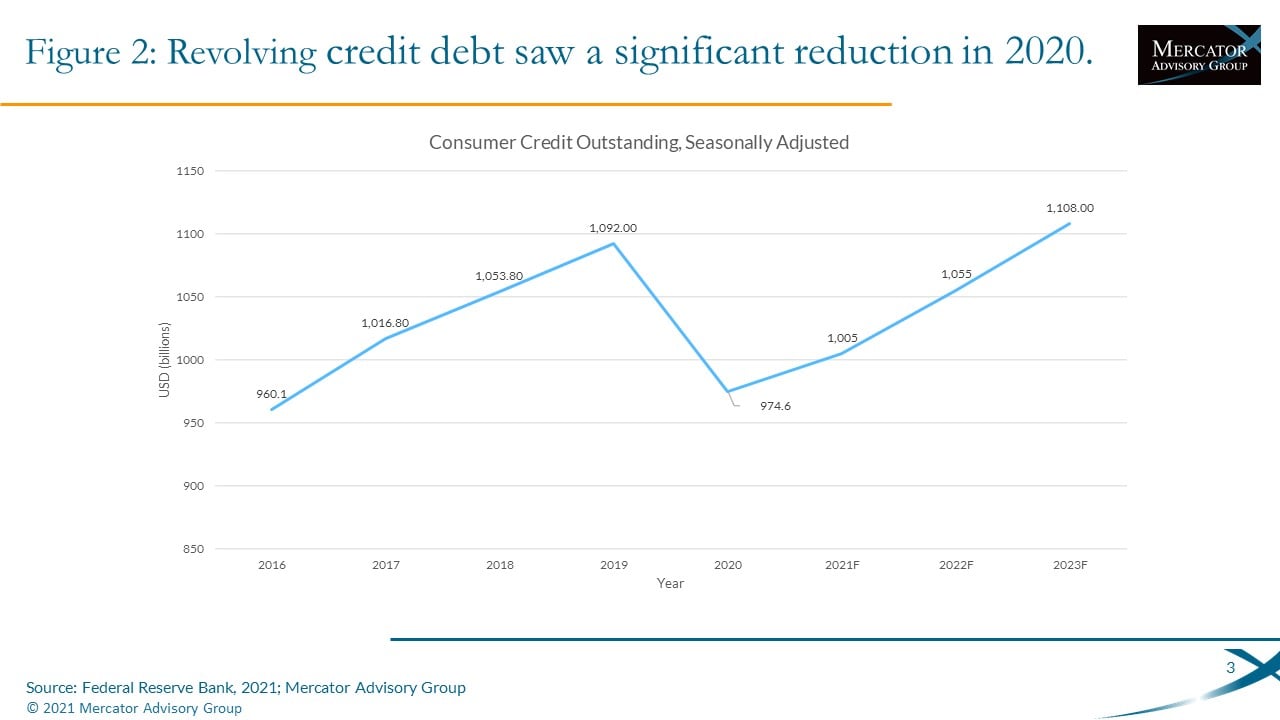 ---
Highlights of the research note include:
Effects of COVID-19 on the consumer credit industry
U.S. credit and debit purchase transactions
Consumer trends and forecast for Buy Now, Pay Later (BNPL) lending
An overview of some CCaaS vendors in the market
Advice for evaluating a fintech partnership
Interested In This Report
Related content
The cobranded card market is a way to generate loyalty, scale your portfolio, and service the next generation of cardholders.
The Credit Card Data Book is a two-part annual publication that covers the internal and external factors affecting the U.S. credit card market. The first part focuses on environmen...
The U.S. credit market continued its path toward stabilization in 2022 but faced several hurdles, including rising interest rates, strained household budgets, and a highly competit...