Credit Card Risk, Protracted Pandemic, and the Household Budget: Advice for Issuers
Overview
Credit card issuers must prepare for another COVID wave.
Mercator Advisory Group released a report covering the credit card issuer risks in a world of COVID variants, titled Credit Card Risk, Protracted Pandemic, and the Household Budget: Advice for Issuers. The research explains current credit card risk and the impact on household budgets as inflation grows, interest rates increase, and the workplace continues to be disrupted.
The research explains why the latest COVID variation may affect consumers and their spending habits differently than it did in 2020.
"The economic relief programs offered by the U.S. and many other countries might be impossible if the pandemic rebounds," comments Brian Riley, Director, Credit Advisory, at Mercator Advisory Group, and the author of the research note. Riley continues: "Credit card issuers must keep a keen eye on the impact of inflation, rising interest rates, and employment. Issuers underwrite with higher spreads than ever, but the interest opportunity may not be sufficient if credit losses shift."
This document contains 20 pages and 10 exhibits.
Companies mentioned in this research note include: American Express, Capital One, Chase, Citi, FICO, FIS, Fiserv, Mastercard, TSYS, Visa.
---
One of the exhibits included in this report: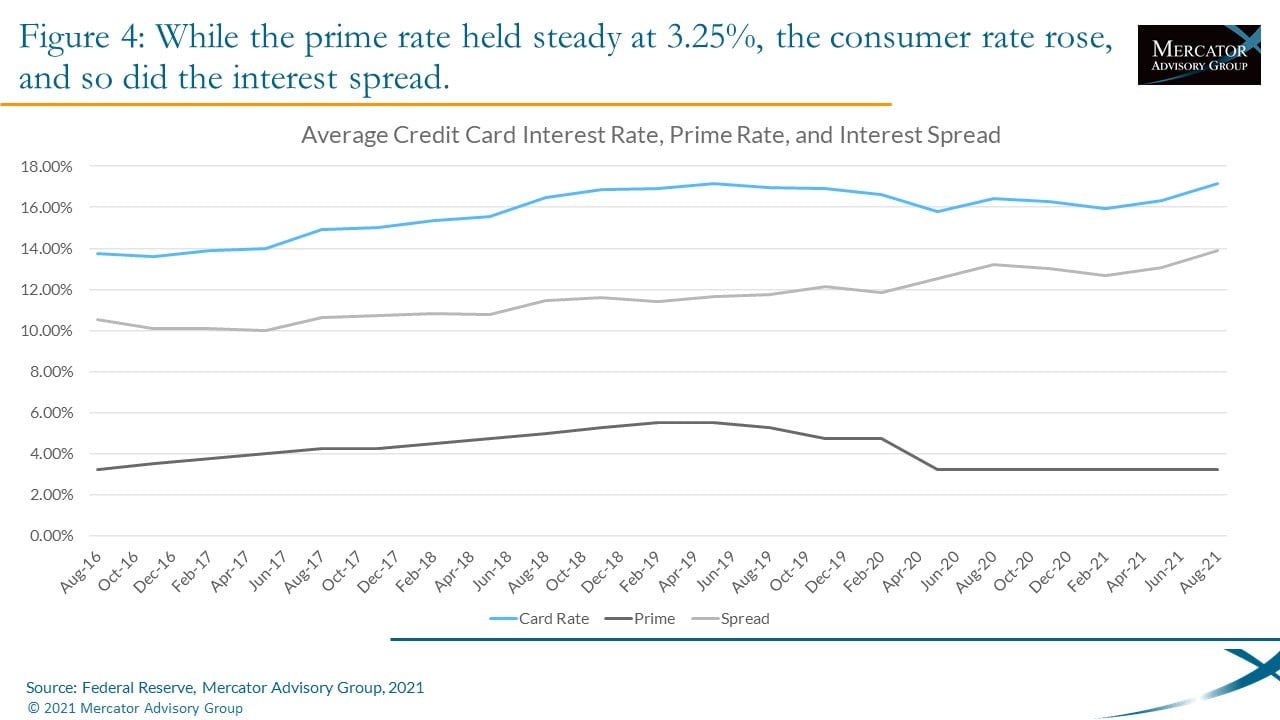 ---
Highlights of the research note include:

Explanation of current issues surrounding revolving debt
Illustration of rising consumer interest rates while the prime rate sits at 2%
Discussion of new credit card accounts and delinquency rates
Review of the household budget and the capacity to repay as interest and inflation rise
An action plan for credit managers
Interested In This Report
Related content
The cobranded card market is a way to generate loyalty, scale your portfolio, and service the next generation of cardholders.
The Credit Card Data Book is a two-part annual publication that covers the internal and external factors affecting the U.S. credit card market. The first part focuses on environmen...
The U.S. credit market continued its path toward stabilization in 2022 but faced several hurdles, including rising interest rates, strained household budgets, and a highly competit...