Credit Card Issuer Processing: State of the Industry
Author(s):
Mercator Research
Overview
NEW RESEARCH REPORT BY MERCATOR ADVISORY GROUP
Credit Card Issuer Processing: State of the Industry
This report from Mercator Advisory Group, "Credit Card Issuer Processing: State of the Industry" is a review and discussion of the current state of the credit card processing service bureau industry in the United States. In this study, the major account management service providers to the credit card issuing industry are reviewed, including both traditional service bureaus and agent bank service bureaus. The history of the major players is examined, as are emerging solution providers.
The research indicates that a prolonged period of software development and acquisition is over, signaling a new era of product innovation based on customer-centric products and services. Professional services in the form of strategic product consulting is being used to create increased value from the issuer/processor relationship, as service providers strive to become their clients trusted advisor and confidant in all aspects of portfolio management.
Patricia Hewitt, author of the report, states: "As the largest issuers only get larger, what will the impact be on the next tier issuers? The competition for a larger share of the mid-sized issuer segment will only become fiercer and in turn, these lenders will require more highly competitive products than ever before. In addition, the revenue model changes being forced on the industry by regulators will result in issuers looking for an increased ability to reduce risk, improve profitability, and derive more value out of their existing account base."
One of the 14 Figures included in this report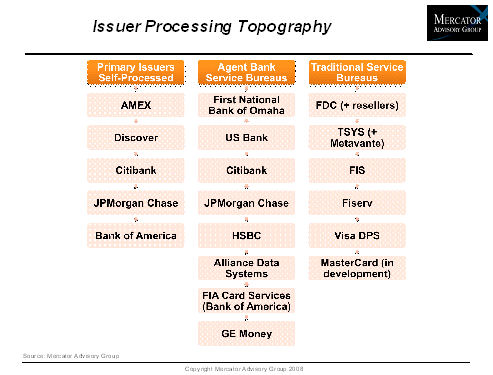 This report contains 40 pages and has 13 exhibits.
Other recent reports from the Mercator Credit Advisory Service:
Members of Mercator Advisory Group have access to this report as well as the upcoming research for the year ahead, presentations, analyst access and other membership benefits.
Please visit us online at http://www.mercatoradvisorygroup.com/.
For more information call Mercator Advisory Group's main line: 781-419-1700 or send email to info@mercatoradvisorygroup.com.
---
Interested In This Report
Related content
Private-label credit cards are an essential part of the U.S. card market, but they are a product in slow decline and face several threats, including instant point-of-sale financing...
The cobranded card market is a way to generate loyalty, scale your portfolio, and service the next generation of cardholders.
The Credit Card Data Book is a two-part annual publication that covers the internal and external factors affecting the U.S. credit card market. The first part focuses on environmen...