Credit Card Collections: The Foundation for Safe and Sound Card Portfolio Management
Overview
Mercator Advisory Group released its latest research report, Credit Card Collections: The Foundation for Safe and Sound Card Portfolio Management. The report, the second in a series of three on collections, explains the importance of preparing collections operations for the next economic cycle, a downturn that is long overdue. It also gives an overview of the U.S. revolving debt market and defines strategies for each stage of credit card delinquency.
This report complements an earlier report on back-end collections, Credit Card Charge-Off Collections Takes Brains not Brawn. The pair give credit card managers a comprehensive view of credit card collections from cradle to grave. A forthcoming report in early 2020 will discuss underlying technologies that support this market space and will compare the vendors listed in this report.
"The U.S. market is long overdue for a recession. Unemployment levels are low, gasoline is cheap, inflation is at bay, but the indicators have been good for too long," comments the author of the research report, Brian Riley, Director, Credit Advisory Service at Mercator Advisory Group. "Experience shows that the best time to hone collections is when times are good. It is much better to test strategies when you don't need to than have to react as the economy shifts."
This document contains 17 pages and 10 exhibits.
Companies and other organizations mentioned in this research report include: ACI Worldwide, A.R.M Solutions, CGI, Equifax, Experian, edgeverve, FICO, Infosys, Lending Solutions, SkyCom, TransUnion
---
One of the exhibits included in this report: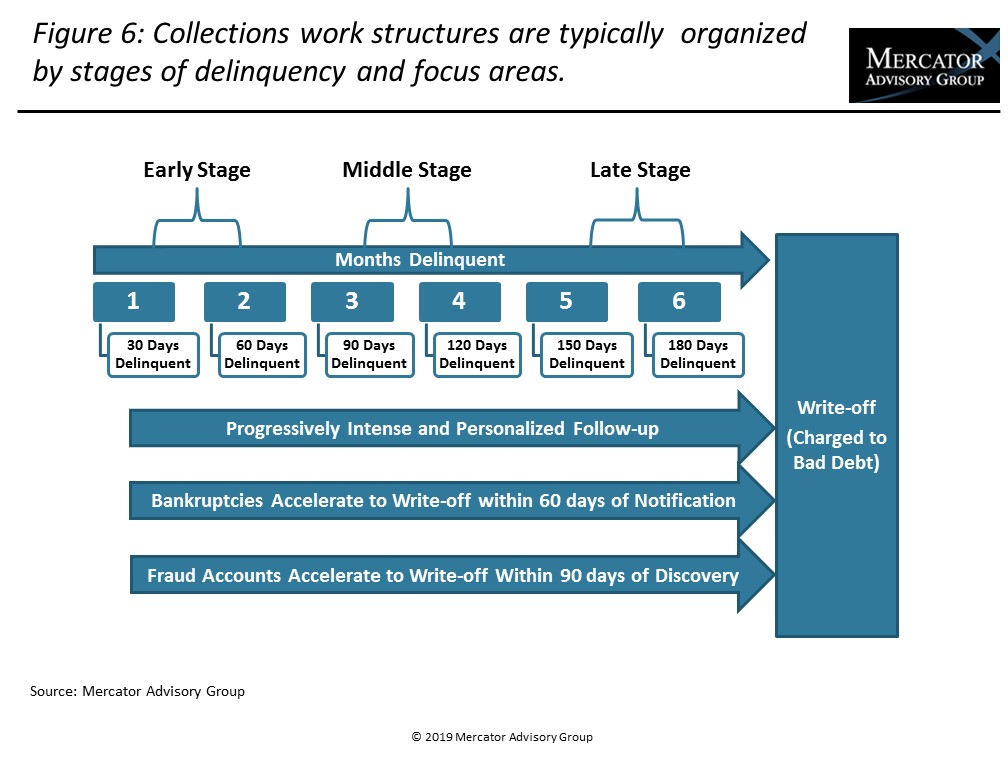 ---
Highlights of the research report include:
Revolving debt estimates, U.S. market
Average credit card debt volumes
Credit card delinquency trends
The importance of technology and how it needs to drive the process
Collection aging strategies
Using third-party resources to manage overflow and diversion
Top collection systems
Interested In This Report
Related content
Private-label credit cards are an essential part of the U.S. card market, but they are a product in slow decline and face several threats, including instant point-of-sale financing...
The cobranded card market is a way to generate loyalty, scale your portfolio, and service the next generation of cardholders.
The Credit Card Data Book is a two-part annual publication that covers the internal and external factors affecting the U.S. credit card market. The first part focuses on environmen...