Credit Card Acquisitions: Maximizing Results amid Change
Overview
With U.S. credit card attrition rates at 15%, issuers need to book that amount just to keep interest-generating portfolios on par. The credit card acquisition function is the payments lifeblood, essential to grow the business and offset cardholder attrition. High customer attrition rates require credit card issuers to adapt to a changing market. They also must keep the credit card value proposition attractive to retain accounts.

Credit card issuers in the U.S. market booked 66.6 million new accounts in 2017, but the total volume of accounts grew by only 2.3 million because of account attrition. Mercator Advisory Group's latest research report, Credit Card Acquisitions: Maximizing Results amid Change, discusses the high volume of account attrition and the industry trend toward digital acquisitions, projects how the credit card acquisition model will shift through 2022, and recommends practical strategies for credit card issuers to adapt to a changing market.

"Issuers in the U.S. credit card industry should be urgently concerned," commented Brian Riley, Director, Credit Advisory, at Mercator Advisory Group and author of the research note. "Issuers continue to open large volumes of new accounts. Since 2015, we have seen more than 60 million new accounts annually in the U.S. market, but total account growth occurs at a snail's pace. This means cardholders are leaving their issuers almost as quickly as issuers book new accounts. As can be observed from many issuers' loss numbers, accounts in the portfolios have not seasoned, so risk and delinquency are high. Also, these results show that the rewards model is flawed. Could it be that consumers have outfoxed the rewards incentive model? Have they outfoxed the issuers by shifting their loyalty to the best introductory offer? In a 2017 report, Mercator Advisory Group identified how the return on asset (ROA) metric for credit cards in the U.S. plummeted from 7.65% in 2006 to a projected 3.74% in 2017. One of the driving factors is net revenue per account, and attrition is an obvious component."

This research report contains 14 pages and 6 exhibits.

Companies mentioned in this research report include: Bank of America, BB&T, Capital One, Chase, Citi, Discover, FICO, First Data, FIS, Fiserv, Mastercard, PNC, SunTrust, TSYS, and Visa.
---
One of the exhibits included in this report: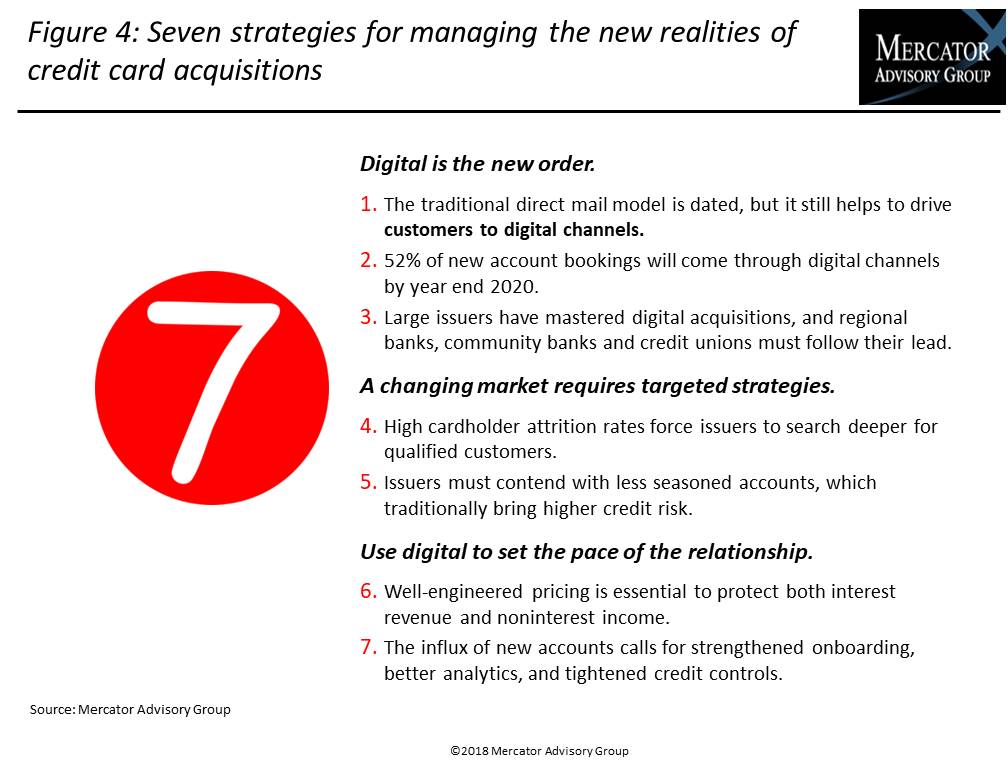 ---
Highlights of the research note include:

U.S. cardholder attrition rates
Total numbers of new accounts
New account bookings by year
Sources of U.S. card acquisitions
Projected card acquisition volumes by channel through 2022
Interested In This Report
Related content
Private-label credit cards are an essential part of the U.S. card market, but they are a product in slow decline and face several threats, including instant point-of-sale financing...
The cobranded card market is a way to generate loyalty, scale your portfolio, and service the next generation of cardholders.
The Credit Card Data Book is a two-part annual publication that covers the internal and external factors affecting the U.S. credit card market. The first part focuses on environmen...