Overview
Boston, MA
May 2004
Credit Bureaus and Financial Privacy
In the EU Countries
NEW RESEARCH REPORT BY MERCATOR ADVISORY GROUP

Credit bureaus play a critical role in today's credit markets.  The credit history information provided by the credit bureaus helps lenders assess and monitor the risk of lending, and hence make more informed and profitable business decisions.  Taking a closer look at the European credit bureaus and understanding the current structure of the credit information industry, along with the financial privacy laws can help lenders and credit bureaus developing strategies to position themselves in the single European credit market.
 Credit Bureaus Covered in this Report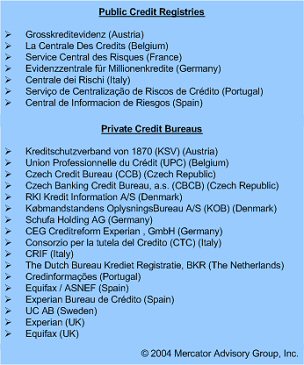 Evren Bayri, Director for Mercator Advisory Group's Credit Advisory Service, comments, "While the EU states typically have credit bureau(s), the exchange of information among them occurs at a marginal level.  Some important reasons for this trend are the sluggish development of the European cross-border credit market, technical challenges that arise from differences among the credit bureaus and privacy regulation-related issues.  As the mobility of the EU population increases and consumers start to shop around for cross-border credit, the demand for cross-border credit and hence the demand for cross-border credit information will increase.  This will occurr regionally in the short run, where compatibility in privacy laws, lower languange barriers, and the more consumer mobility create favorable conditions for cross-border lending and information sharing."
This report puts the European credit bureaus and the state of the cross-border credit information sharing under the magnifying glass by providing:


A discussion on the public credit registers (PCRs) in the EU

A discussion on the private credit bureaus in the EU

A look at the cross-border information sharing and implications for the EU consumer credit market

A discussion on the regulation in financial privacy in the EU, and

A look at the types of information managed by teh EU credit bureaus
The report contains 28 pages and 4 exhibits.
Members of Mercator Advisory Group have access to this report as well as the upcoming research for the year ahead, presentations, analyst access and other membership benefits.  Please visit us online at www.mercatoradvisorygroup.com.

For more information call Mercator Advisory Group's main line: 508-845-5400 or send email to info@mercatoradvisorygroup.com.
---
Interested In This Report
Related content
The cobranded card market is a way to generate loyalty, scale your portfolio, and service the next generation of cardholders.
The Credit Card Data Book is a two-part annual publication that covers the internal and external factors affecting the U.S. credit card market. The first part focuses on environmen...
The U.S. credit market continued its path toward stabilization in 2022 but faced several hurdles, including rising interest rates, strained household budgets, and a highly competit...