Credit Account Origination Systems Vendor Review: Beyond Cards
Author(s):
Mercator Research
Overview
Research Explores New Developments in
Credit Card Account Origination
Credit Account Origination Systems Vendor Review:
Beyond Cards
Boston, MA Financial institutions and credit card issuers are just beginning to catch up from the compliance marathon they've completed and more sprints are looming. Growth opportunities for credit card issuers have stalled and risk models are being recalibrated across the lending spectrum. Within the dynamic and unstable market, credit applications still have to be decisioned.
Mercator Advisory Groups new report Credit Account Origination Systems, Vendor Review: Beyond Cards, examined is the manner in which credit card origination and decisioning systems are developing as a next generation mix of multi-account, multi-function user-enabled toolsets designed to support complex and comprehensive acquisition and account assessment strategies.
"As we've seen in other segments of the payment card industry, solution providers have not been standing still waiting for the market to tell them what to do. Almost every company we spoke to for this report has or is undergoing major new version updates to their existing systems and/or announcing new product alliances." states Patricia Hewitt, Director of Mercator Advisory Group's Debit Advisory Service.
Highlights of this report include:
Review of significant market solutions for credit card and account origination and decisioning.
Speed to market and decisioning flexibility are key business drivers for systems development investments.
Credit card applications have multiple entry points, requiring varying degrees of automation, but requiring a consistent applicant experience.
Material feature functionality gaps between products no longer exist - developers compete on how well they leverage corporate core competencies.
One of 10 exhibits in this report: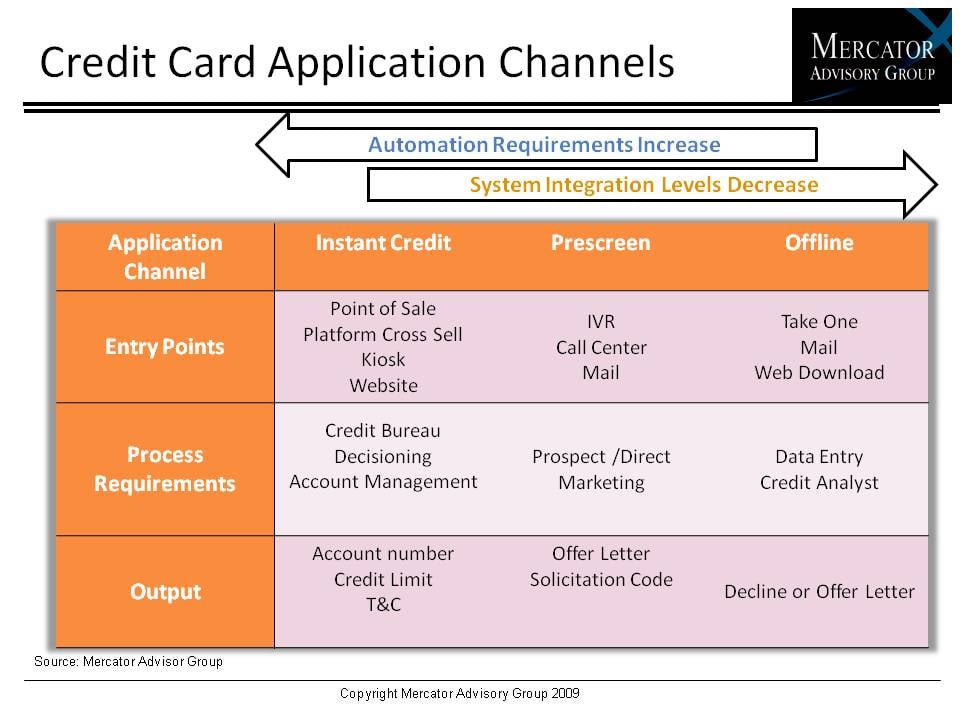 This report is 31 pages long and has 10 exhibits.
Companies mentioned in this report include: FIS, FICO, Equifax, Fiserv, Experian, CGI, Magnum Communications, Zoot, Versatile, Ali Solutions, TSYS.
Members of Mercator Advisory Group have access to reports as well as research for the year ahead, presentations, analyst access and other membership benefits. Please visit us online at www.mercatoradvisorygroup.com.
Please visit us online at www.mercatoradvisorygroup.com.
For more information and media inquiries, please call Mercator Advisory Group's main line: (781) 419-1700 or send E-mail to info@mercatoradvisorygroup.com

About Mercator Advisory Group
Mercator Advisory Group is the leading, independent research and advisory services firm exclusively focused on the payments industry. We deliver pragmatic and timely research and advice designed to help our clients uncover the most lucrative opportunities to maximize revenue growth and contain costs. Our clients range from the world's largest payment issuers, acquirers, processors, merchants and associations to leading technology providers and investors.
---
Interested In This Report