Overview
Boston, MA
July 2006
Countdown To SEPA:  The Clock is Ticking   
NEW RESEARCH REPORT BY MERCATOR ADVISORY GROUP

As of 2006, we have entered the implementation and deployment phase of the SEPA (Single Euro Payments Area) project, scheduled to be completed by 2010.  According to the European Payments Council Roadmap (EPC), the 2006-07 period includes the implementation and deployment activities, and 2009-10 period includes the co-existence and gradual adoption or otherwise process SCF (SEPA Cards Framework) compliant payment cards.(1)   By the beginning of 2011, all general purpose payment cards in circulation and issued by SEPA banks will be SCF compliant.(2)   By this time, there will be no domestic or cross-border card program within the euro area.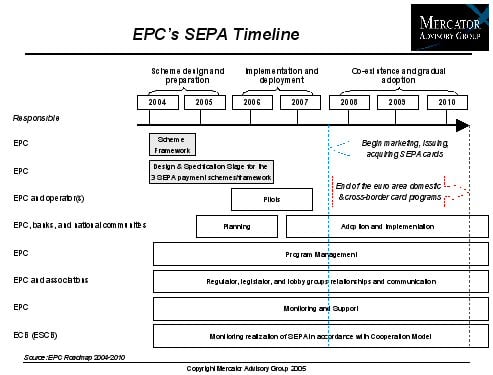 "There are a number of strategic options that SEPA banks and card programs can choose to pursue for SEPA compliance", comments Evren Bayri, Director of Mercator Advisory Group's International Payments Advisory         Service.  "The early signals from the market show us that a mix of these strategic options will be implemented and that provides us an early picture as to how the European card market would look like after SEPA.      
The report provides insight into the future of the European Card market.  It provides information on the history, the current state, and the future of SEPA for the Cards project.  It identifies the stakeholders and examines what they need to do to become SEPA compliant in light of the consultative documents published by authorities and related parties.  It also discusses a number of scenarios based on what we know about SEPA so far and what some of the the stakeholders have signaled to the market.         
This report contains 22 pages and 7 exhibits.
Members of Mercator Advisory Group have access to this report as well as the upcoming research for the year ahead, presentations, analyst access and other membership benefits.  Please visit us online at www.mercatoradvisorygroup.com.

For more information call Mercator Advisory Group's main line: 508-845-5400 or send email to info@mercatoradvisorygroup.com.
(1)  SEPA Cards Framework Version 2.0
(2)  SEPA Cards Framework Version 2.0                                                                                                                             
---
Interested In This Report