Contactless Devices at the POS: A Tsunami on the Horizon
Author(s):
Mercator Research
Overview
Boston, MA
November 2003
Contactless Payments at the POS:
A Tsunami on the Horizon

NEW RESEARCH REPORT BY MERCATOR ADVISORY GROUP

The potential for greater throughput at the POS has always been high on the list for merchants, issuers and associations, but with the proven effectiveness of the contactless initiatives such as ExxonMobil Speedpass, the reality of 'ultra-fast' service in all retail and service envrionments has become within reach.  Numerous stakeholders are looking at the exciting potential that can be unleased with the combination of wireless communication and smart card technologies at checkout.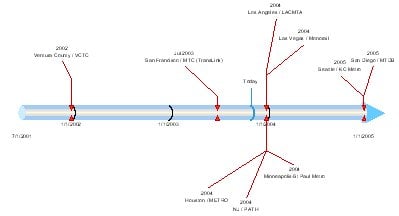 "Contactless Payments at the POS: A Tsunami on the Horizon" examines several pilots underway by the major assocations and others which test the viability and popularity of 'touch and go'.  The early results have been extremely promising and since there is no specific need for the technology to be card shaped, there are a whole host of pioneering ideas being tried out.  "The interesting thing about the technology is the completely 'blank canvas' for creative new form factors and models in the US...", states Nick Holland, the report's author and the Director of Mercator Advisory Group's Emerging Technologies Advisory Service, "...we're seeing experiments imbedding payment devices in phones, wrist watches and many other devices we might typically wear on a trip to the shopping mall.  The race is on to find the perfect bank 'card', one that we will always have about our person."
The report investigates various technologies competing for the 'killer app' crown, from simple RFID tages to complex smartcards, and who stands to benefit.  The report also investigates the organic growth of contactless smart card usage by mass transit operators and their evolution here and abroad.  Nick sees the contactless smart card fast sneaking into widespread public acceptance for more than just turnstile operations, "Less time spent in line and more time getting where you want to go has got to be a good thing.  However, we're seing the tip of the iceberg in terms of the potential of the card being so much more than just an electronic ticket.  This is undoubtedly going to be an exciting area to watch as card issuers and merchants discover innovative new ways to push the capabilities of the technology, and increase revenues in multiple areas through joint marketing initiatives on a single card -- the future's bright for contactless in the US..."
Mercator Advisory Group's Emerging Technologies Advisory Service keeps a close eye on this and a wide range of other technological developments in the consumer payments arena.  They examine how a wide range of technologies from Bluetooth to Biometrics impact the existing business models with an emphasis on the practical applicability of the technology.
This report contains 28 pages and 4 exhibits.
Members of Mercator Advisory Group have access to this report as well as the upcoming research for the year ahead, presentations, analyst access and other membership benefits. Please visit us online at www.mercatoradvisorygroup.com
For more information call Mercator Advisory Group's main line: 508-845-5400 or send email to info@mercatoradvisorygroup.com.
---
Interested In This Report
Related content
Generative artificial intelligence is not just hype. It is a high-impact technology that requires the attention of leaders in every industry. Payments and financial services produc...
With investment capital tighter in 2023, there's less interest in untested, unproven fintech startups and more of an emphasis on coming out of the chute with products that are read...
Wallet-based digital ID will create a wedge between universal wallets and payment apps, as embedded finance product offerings converge on feature parity over time.