Contact Centers: A Critical Component for Customer Satisfaction in Banking
Overview
Banking contact centers have evolved beyond basic telephone-based call centers to more sales- and service-focused centers that support 24x7 interaction with customers across banking channels and lines of business. Today's contact center is central to the movement toward omnichannel banking, and promises heightened levels of customer satisfaction.
In this research note, Contact Centers: A Critical Component for Customer Satisfaction in Banking, Mercator Advisory Group reviews the opportunities and challenges for banks, credit unions, and other financial institutions in transitioning their monochannel call centers to omnichannel contact centers. Mercator Advisory Group survey data is presented as evidence of U.S. adults' willingness to try new methods of communication with financial institutions. The research note discusses staff training requirements and some examples of contact center technology solutions from vendors.
"Following a strategy used to assess branch efficiency and improve performance, financial institutions are reviewing and reconfiguring their call and contact centers to include capabilities beyond basic functions like providing account balances and handling complaints. Today's contact centers represent assets that can be leveraged as a critical component of the move to omnichannel banking," comments Ed O'Brien, director of Mercator Advisory Group's Banking Channels Advisory Service and author of the research note.
This research note is 12 pages long and has 8 exhibits.
Companies mentioned in this research note include: Contact Solutions, Enghouse Interactive, and NCR
Members of Mercator Advisory Group Banking Channels Advisory Service have access to this research note as well as the upcoming research for the year ahead, presentations, analyst access and other membership benefits.
---
One of the exhibits included in this report: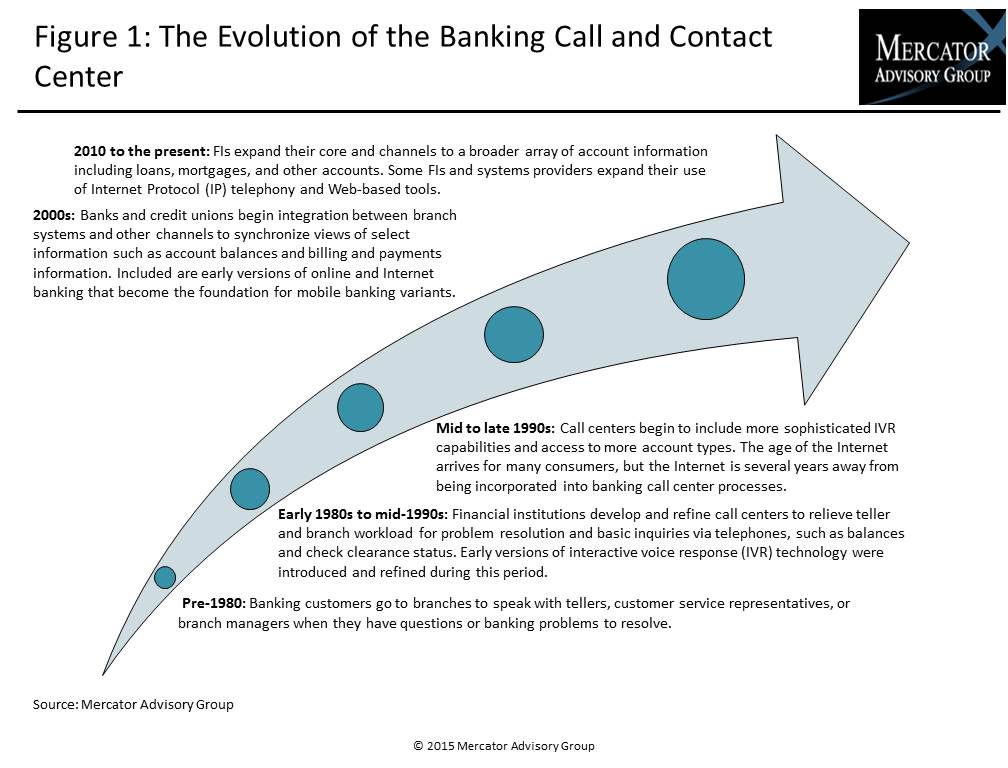 ---
Highlights of this research note include:

Evolution of the contact center propelled by advances in online and mobile banking and their convergence in digital banking solutions

 

Data from Mercator Advisory Group CustomerMonitor Survey Series that is evidence of U.S. banking customers' interest in new approaches to customer contact and banking

 

Requirements for training of banking personnel for the modern contact center

 

Examples of vendors' technology solutions for use in contact centers
Learn More About This Report & Javelin