Consumers Push Prepaid Cards in New Directions Despite Ongoing Scrutiny - CrossTabs
Overview
Consumers Provide Direction With Prepaid Under Scrutiny
First of Eight Reports From Mercator's 2010 Customer Monitor Survey Series Outlines Dynamic Consumer Adoption and Usage of Prepaid Cards
Boston, MA -- Today, consumers from all walks of life are driving the prepaid card market to new highs with increased adoption and variable usage patterns that is setting the course for future product developments.
First in a series of eight topical consumer survey reports examining payment and banking topics, Mercator Advisory Group's Consumers Provide Direction With Prepaid Under Scrutiny provides a unique view as to who uses prepaid cards and highlights consumers' growing and evolving purposes for using gift/prepaid cards at a time when prepaid and other card types are under regulatory scrutiny.
Based on a national sample of 1,009 online consumer survey responses completed between May 10-14, the Consumers Provide Direction with Prepaid Under Scrutiny report outlines consumer patterns of prepaid card usage and purchase patterns critical for issuers, program managers, and program sponsors in this dynamic payment segment.
Highlights of the Consumers Provide Direction with Prepaid Under Scrutiny report include:
The base of consumers purchasing prepaid cards in the previous 12 months reached nearly half of U.S. adult consumers, up from Mercator's 2009 consumer survey.
In an examination of consumer concerns about using prepaid cards, the top product concerns among prepaid buyers focus on card expiration, fees, and retailer bankruptcy, but relatively few had actually experienced these negative outcomes.
Consumers' use of prepaid cards for household budgeting purposes continues to focus on using non-reloadable retailer and general purpose gift cards.
The concept of restricted authorization (RAN) cards shows surprisingly high awareness among closed loop store gift card buyers, as well as preference over single retailer cards.
General purpose reloadable card reload frequency remains low, but there is a devoted core of frequent reloaders. Users past and present are concerned primarily about fees and privacy characteristics of these products.
"Consumers continue to find more reasons to use prepaid cards. And while many may have concerns about the terms and conditions or the risks of using prepaid cards, the incidence of actual difficulties is more modest," Ken Paterson, VP for Research Operations at Mercator Advisory Group and the author of the report comments. "Whether purchasing a prepaid card or spending on a prepaid card, consumer perceptions and motivations will be the most important drivers of card usage."
One of the 18 Exhibits included in this report: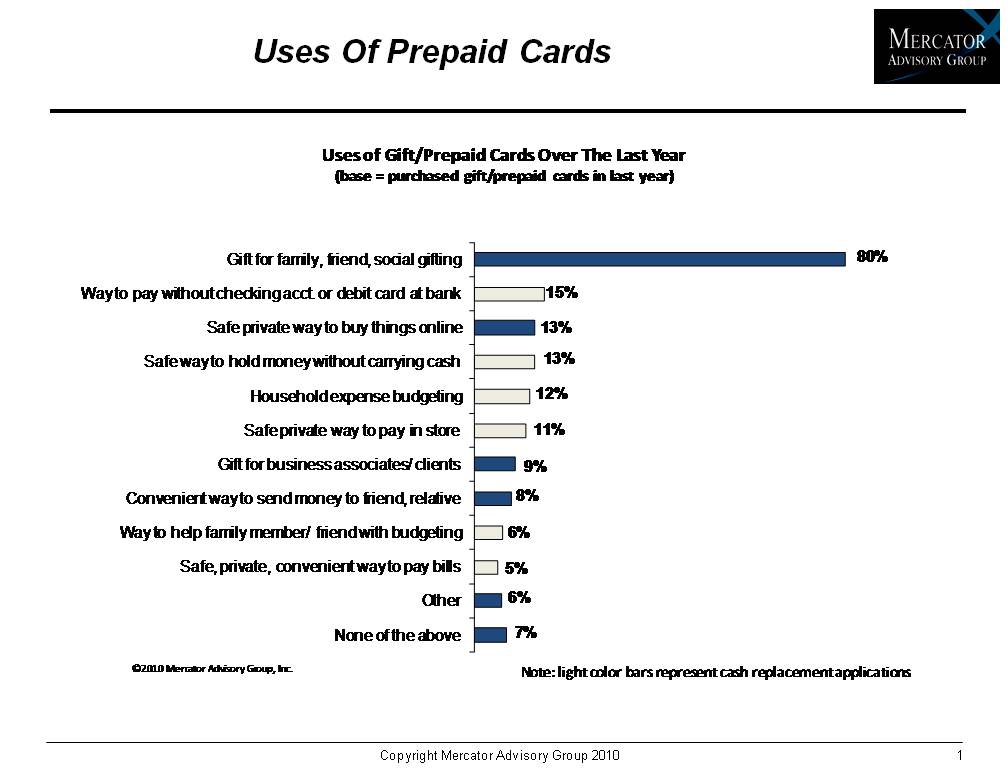 This report is 45 pages long and contains 18 exhibits.
The CustomerMonitor Survey Series (CMSS) tracks and monitors evolving customer attitudes and behaviors related to payment products and channel usage. The CMSS is based on customized surveys with a nationally representative sample size that are fielded through a leading research panel firm. This innovative service is designed for Product Managers, Strategic Planners, Business Development executives, Marketing Leaders and other professionals who seek of timely and actionable data on topics that are critical to the payments and banking industries.
Members of Mercator Advisory Group have access to this report as well as the upcoming research for the year ahead, presentations, analyst access and other membership benefits.
Please visit us online at www.mercatoradvisorygroup.com.
For more information and media inquiries, please call Mercator Advisory Group's main line: (781) 419-1700 or send E-mail to info@mercatoradvisorygroup.com.
About Mercator Advisory Group
Mercator Advisory Group is the leading, independent research and advisory services firm exclusively focused on the payments and banking industries. We deliver pragmatic and timely research and advice designed to help our clients uncover the most lucrative opportunities to maximize revenue growth and contain costs. Our clients range from the world's largest payment issuers, acquirers, processors, merchants and associations to leading technology providers and investors.
---
Interested In This Report