Consumers and Prepaid: Young, Mobile, and Affluent Drive Growth
Author(s):
Karen Augustine
Overview
Mercator Advisory Group's Insight Summary Report, based on the annual Payments survey in the CustomerMonitor Survey Series, conducted in June 2015, reveals that U.S. consumers who purchase general purpose reloadable (GPR) prepaid cards and those who pay using a smartphone or other mobile device are 4 times as likely as average to have been turned down for a new bank account within the preceding year. And young adults, especially 25–34 year olds, are more likely than older adults to have been turned down for a new checking or savings account over the past year. Bank policies have become strict, and 9% of survey respondents indicated they had been turned down for a new account. This may be the reason for some of the growth in prepaid cards.
The survey finds that 61% of U.S. adults bought prepaid cards in year preceding the June 2015 survey, up from 56% in 2014. Prepaid buyers are increasingly younger (77% of 25–34 year olds bought any type of prepaid card in the past year), more affluent (71% of households earning $100,000 a year bought any type of prepaid card in the past year), and mobile-enabled (91% of mobile payers bought any type of prepaid card in the past year). As prepaid cards become more available and accessible online and by mobile device, prepaid cards are becoming a primary payment tool, and not just used for gifts.
Consumers and Prepaid: Young, Mobile, and Affluent Drive Growth, the latest report from Mercator Advisory Group, presents survey findings based on responses to an online survey of 3,008 U.S. adults conducted in June 2015 as part of the CustomerMonitor Survey Series. The report examines a demographic shift of prepaid card and virtual card buyers and the changing landscape of prepaid card use and recalled loads, highlighting seven categories of prepaid card types. Survey findings cover usage, frequency, distribution channels, the relative importance of feature sets and fees, and brand awareness and current or previous use of 10 major brands of general purpose reloadable cards, as well as awareness that these GPR cards can be reloaded or funded through direct deposit.
"With the flurry of data breaches, consumers are becoming more security conscious, and prepaid cards are a way of limiting exposure when more transactions are made online and by mobile. The young adults are leading this mobile revolution and to the extent that prepaid cards and virtual cards facilitate mobile transactions, prepaid cards will continue to gain importance as a money management tool," states Karen Augustine, manager of CustomerMonitor Survey Series at Mercator Advisory Group and the author of the report. "Prepaid buyers are more likely to be younger, mobile-enabled, and are more attracted now by enhanced security and mobile banking features."
The report is 64 pages long and contains 30 exhibits.
Companies mentioned in this report are: American Express, Chase, Green Dot, H&R Block, NetSpend, PayPower, Rush, and Walmart.
---
One of the exhibits included in this report: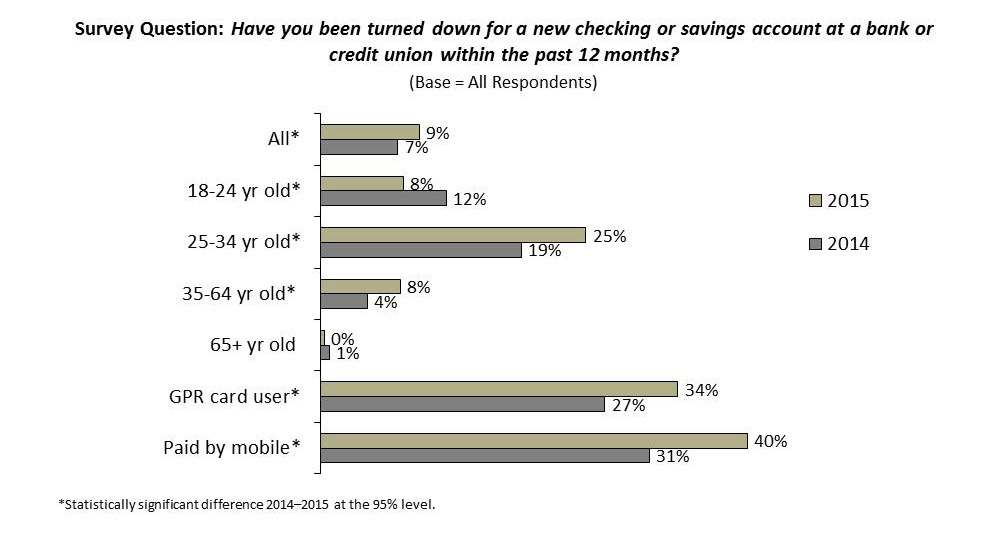 ---
Highlights of this survey and report include:
Year-over-year trending of prepaid card use by seven categories of prepaid cards (including retailer-specific, general purpose, and reloadable cards) and consumers' recollection of cards purchased and monthly load volume

 

Shifts in the demographics of prepaid card and virtual card users, the ways consumers are using them

 

Locations used to buy prepaid cards and virtual cards, for self and as gifts

 

Awareness and use of online gift card exchanges

 

Purchase behavior regarding GPR cards, including length of time card is in use, load frequency, and awareness and use of direct deposit to GPR cards

 

Brand awareness, purchase, timing, and current use of 10 GPR card brands
Interested In This Report