Consumers and Prepaid 2011: Don't Forget The Gifts
Overview
Consumers and Prepaid 2011: Don't Forget The Gifts
Third report from 2011 CustomerMonitor Survey Series probes consumer attitudes and current use of prepaid
Boston, MA -- The third in a series of eight consumer survey reports examining payment and banking topics, Mercator Advisory Group's new report, Consumers and Prepaid 2011: Don't Forget The Gifts, offers:
A unique view regarding consumer purchase patterns of prepaid

 

Perspective on the general purpose reloadable card usage

A focus on closed-loop gift card purchasing and new gift card concepts

 
The fast-changing U.S. market for prepaid continues to evolve, with more consumers than ever purchasing prepaid cards. In this year's CustomerMonitor survey, Mercator continued its analysis of consumer usage of key prepaid card types and distribution channels, and focused in part on the long-established but still-growing closed-loop retailer gift card.
This report is based on a national sample of 1,012 online consumer survey responses completed between May 19-24, 2011.
Highlights of this report include:

Year of year trending of the U.S adults purchasing gift cards, and those purchasing closed-loop retailer cards

 

Shifts in purchase patterns for retailer gift cards and the major purchase channels

 

Motivations and gender differences that affected gift card purchasing

Gift card concepts that offered strong consumer value
"As we examined opportunities to expand gift card sales, we noted that growth will likely come from an array of segmented offerings, rather than a single revolutionary concept. Gift giving taps many motivations, as well as different perceptions of added value for both giver and receiver," states Ken Paterson, VP for Research Operations at Mercator Advisory Group and the author of the report. "We came away from this year's survey with renewed appreciation for the variety of cards, applications, and consumer viewpoints on using these cards."
One of 18 exhibits in this report: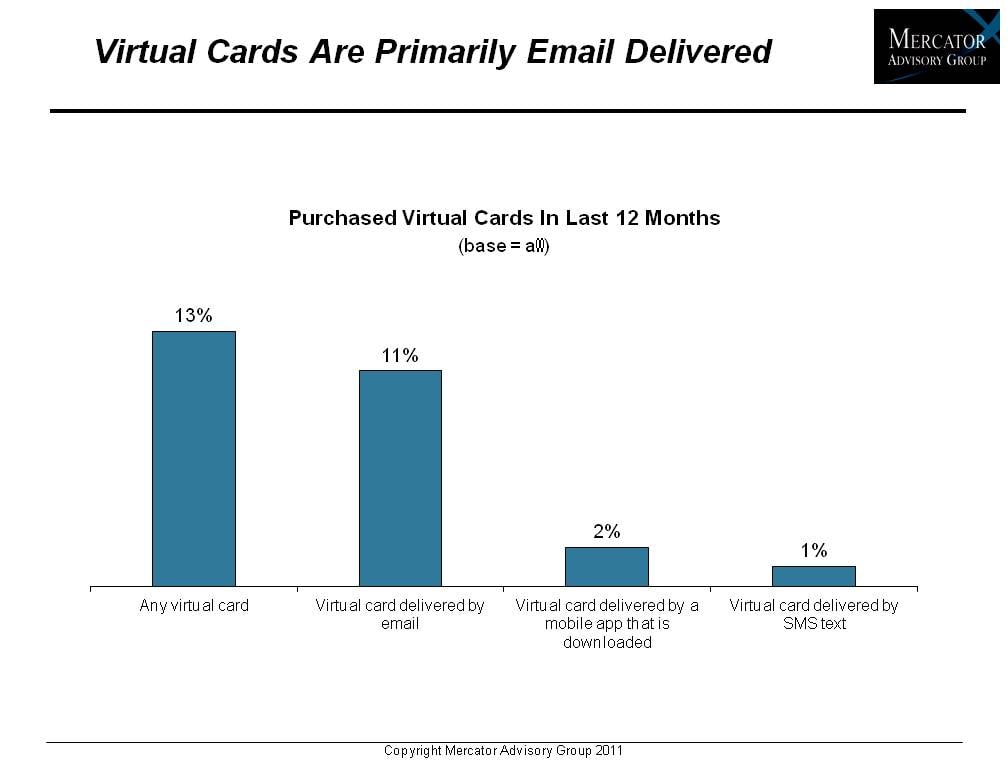 This report is 35 pages long and contains 18 exhibits.
Members of Mercator Advisory Group's CustomerMonitor Survey Series have access to this report as well as the upcoming research for the year ahead, presentations, analyst access and other membership benefits.
Please visit us online at www.mercatoradvisorygroup.com.
For more information and media inquiries, please call Mercator Advisory Group's main line: (781) 419-1700, send E-mail to info@mercatoradvisorygroup.com. For free industry news, opinions, research, company information and more visit us at www.PaymentsJournal.com.
Follow us on Twitter @ http://twitter.com/MercatorAdvisor.
About Mercator Advisory Group
Mercator Advisory Group is the leading, independent research and advisory services firm exclusively focused on the payments and banking industries. We deliver pragmatic and timely research and advice designed to help our clients uncover the most lucrative opportunities to maximize revenue growth and contain costs. Our clients range from the world's largest payment issuers, acquirers, processors, merchants and associations to leading technology providers and investors. Mercator Advisory Group is also the publisher of the online payments and banking news and information portal PaymentsJournal.com.
---
Interested In This Report