Consumers and Personal Finance: Don't Overlook the Basics
Author(s):
Karen Augustine
Overview
Mercator Advisory Group's most recent Insight Summary Report, Consumers and Personal Finance: Don't Overlook the Basics, from the bi-annual CustomerMonitor Survey Series, reveals that at least 53% of U.S. consumers are interested in having their primary financial institution provide support for household budgeting such as setting a budget to meet their financial goals and tracking their progress toward meeting their goals. Young adults and business owners are especially interested in such services from their financial institutions, as mentioned by at least 4 in 5 of them. More popular than budgeting among U.S. consumers is even basic personal financial management solutions such as credit monitoring and automatic savings deposited into self-directed accounts designed to meet specific financial goals, indicated by 3 in 5 consumers.
Consumers desperately need support to manage their finances and the logical choice would be from their primary financial institution. Yet, just 27% of respondents said they have ever discussed their financial goals with their primary financial institution and another 11% said they have never done so but wished that their primary financial institution had asked them and could provide financial advice for them. Consumers who have discussed their financial goals with their primary FI are twice as likely as average to have opened up a defined, goal-oriented account to save for specific financial goals at their primary FI. More consumers recognize that they need help to reach their financial goals.

Consumers and Personal Finance: Don't Overlook the Basics, the latest Insight Summary Report from Mercator Advisory Group's Primary Data Service, is based on a sample of 3,000 U.S. adults surveyed in the annual online Banking and Channels survey of Mercator's CustomerMonitor Survey Series, conducted in November 2016.
The study highlights consumers' use and interest in setting household budgets, defining financial goals and services that financial institutions can provide to help their customers reach their goals and build their wealth. It examines the opportunity for financial institutions to offer financial advice and identifies the types of financial advice they currently use, and the demographics of consumers most interested in budgeting and personal finance in terms of use of personal financial management (PFM) tools, mobile and online banking activities performed, new account opening, and interest in specific services that may mobile-based personalized services.
"Consumers need support to manage their finances to achieve their financial goals and would benefit from services and advice to help build their wealth. Today's traditional, full service banks often neglect to discuss customers' real financial needs and long-term goals, overlooking an opportunity to help promote their financial health which would ultimately lead to greater profitability for themselves and their customers," stated the author of the report, Karen Augustine, manager of Primary Data Services at Mercator Advisory Group, which includes the CustomerMonitor Survey Series.
The report is 61 pages long and contains 30 exhibits.
---
One of the exhibits included in this report: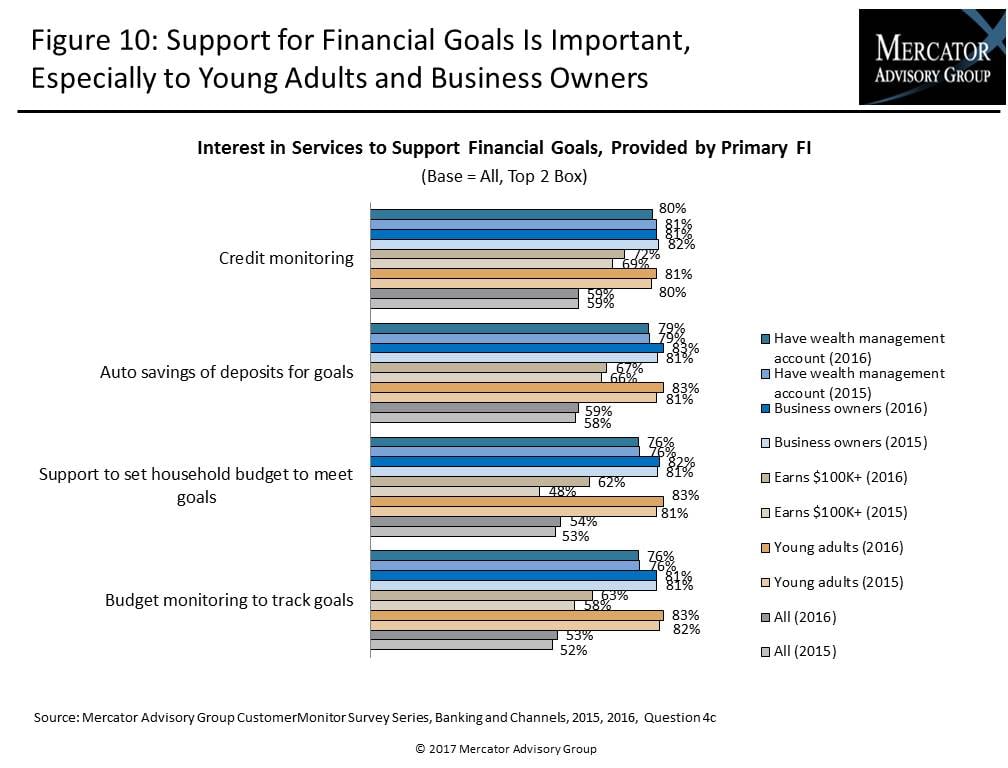 ---
Highlights of this report include:
Type of financial institutions used and those considered primary
Profile of business owners, by demographics, part-time vs. full-time, and revenue generated
Use of financial advisors including robo-advisors by type and customer segment
Consumers' interest in credit monitoring and support for budgeting and other support for financial goal setting from their respective primary financial institution
Personal financial management habits such as adhering to household budget, designating separate accounts to reach specific financial goals, and use of personal financial management (PFM) tools
Channels preferred by banking customers to communicate with their financial institutions
Interest in mobile-based personalized banking services
Demographic profile of customer segments most interested in financial advice
Interested In This Report