Consumers and Online Bill Management
Author(s):
David Kaminsky
Overview
Consumers and Online Bill Management
Final Installment of Mercator's CustomerMonitor Survey Series Provides Insight on Consumers' Online Bill Management Practices
Boston, MA -- Online bill management, which consists primarily of online bill pay and bill presentment, has become largely popular in the United States. Among Americans with Internet access, a little less than three-quarters have performed at least one aspect of bill management online. As computer ownership in recent years has become near ubiquitous, the profit potential has increased greatly for merchants who bill customers directly and third-parties (including financial institutions) who facilitate convenient online bill management.
Based on a national sample of 1,010 online consumer survey panel survey responses completed in September 2010, Mercator Advisory Group's new report, Consumers and Online Bill Management, considers Americans' propensity towards online bill pay and presentment. Trending amongst various demographics (including gender, age, income, and others) regarding proclivity towards online bill management is analyzed. Additionally, in response to increasing smartphone penetration in the U.S. market, the report examines the current status of mobile bill management as a viable alternative to online bill management via a home computer.
Highlights of the report include:
In-depth analysis of who is using online bill management, the reasons those who choose not to manage their bills online make that choice, and potential solutions to change their minds

Side-by-side comparison of the most commonly used independent (i.e. unrelated to a financial institution) third-party online bill management sites, including the costs to the consumer and which merchants accept payments from each program

An interpretation of the current status of mobile bill management, an analysis of the causes of its successes and failures, and a viability forecast of mobile's future as a bill management platform

Conclusions on the causes of resistance to online bill pay and potential solutions that would help to ease such resistance
"As commerce continues to become more dependent upon the Internet, the demand for online bill management has followed in kind," Dave Kaminsky, analyst in Mercator's Emerging Technologies Service, and author of the report, comments. "For consumers, there are a number of advantages to reducing the need to receive paper bills or pay recurring bills either by mailing a check or by establishing an automatic debit...Online bill pay [and presentment] provide [consumers] cost savings...increased control...[and] more convenient record keeping."
One of 16 exhibits in this report: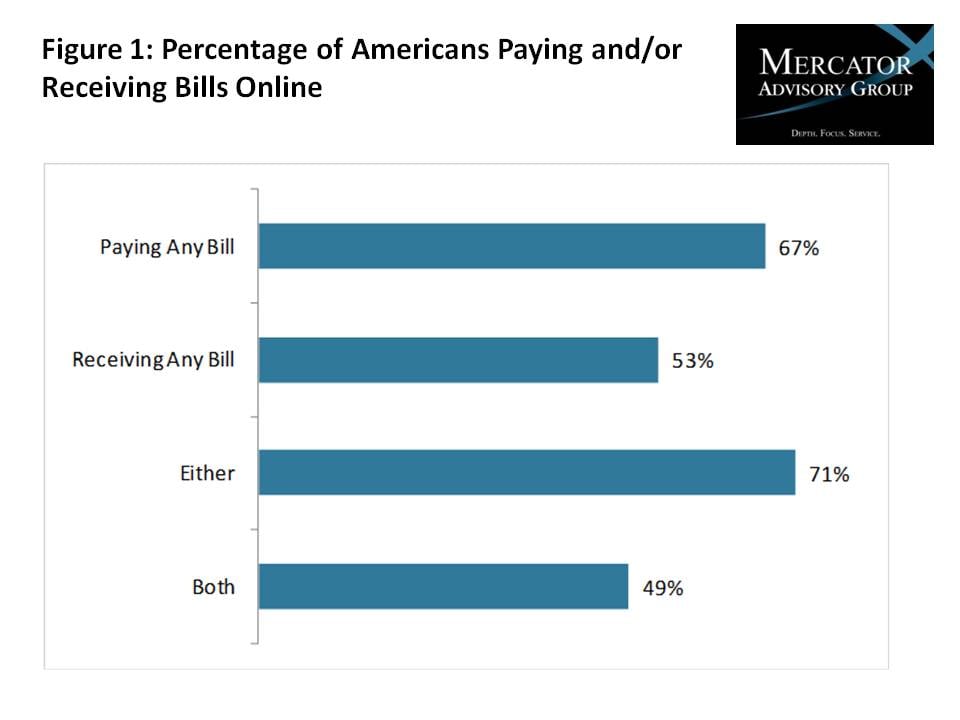 This report is 25 pages long with 16 exhibits.
Companies mentioned in this report include: MyCheckFree, Intuit, Xpress, MSN, and MyEZBills.
Members of Mercator Advisory Group have access to this report as well as the upcoming research for the year ahead, presentations, analyst access and other membership benefits.
Please visit us online at www.mercatoradvisorygroup.com.
For more information and media inquiries, please call Mercator Advisory Group's main line: (781) 419-1700, send E-mail to info@mercatoradvisorygroup.com.
For free industry news, opinions, research, company information and more visit us at www.PaymentsJournal.com.
Follow us on Twitter @ http://twitter.com/MercatorAdvisor.

About Mercator Advisory Group
Mercator Advisory Group is the leading, independent research and advisory services firm exclusively focused on the payments and banking industries. We deliver pragmatic and timely research and advice designed to help our clients uncover the most lucrative opportunities to maximize revenue growth and contain costs. Our clients range from the world's largest payment issuers, acquirers, processors, merchants and associations to leading technology providers and investors. Mercator Advisory Group is also the publisher of the online payments and banking news and information portal PaymentsJournal.com.
---
Interested In This Report