Consumers and Mobile Payments: Familiarity Paving the Way
Overview
Consumers and Mobile Payments: Familiarity Paving the Way
Second of eight reports from Mercator Advisory Group's 2011 CustomerMonitor Survey Series probes consumer attitudes toward and current use of mobile phones for payments
Boston, MA -- The payments and banking industries are abuzz with interest in mobile payments, but the consumer outlook continues to be cautious. With little current experience, consumers are slow to embrace the concept of mobile payments, and harbor concerns regarding security and reliability. On the other hand, consumers' growing mobile experiences, especially with smartphones, are chipping away at resistance. The second in a series of eight topical consumer survey reports examining payment and banking topics, Mercator Advisory Group's new report, Consumers And Mobile Payments: Familiarity Paving The Way, provides a unique view regarding current use of mobile payment apps, receptivity to payment concepts, and interest and use of merchant apps such as e-receipts and e-coupons.
The report is based on a national sample of 1,012 online consumer survey responses completed between May 19-24.
Highlights of this report include:
The most and least common payment transactions executed on phones today

The shifts in mobile phone owners expressing high confidence and those expressing concern in the mobile channel for payments

Trending in consumer confidence of the reliability of mobile devices for payments

The app that attracts higher smartphone owner interest than payment apps
"As we saw with last year's survey, merchants continue to have an early lead in consumer interest for mobile apps -- mostly related to couponing and receipting functions rather than payments," states Ken Paterson, VP for Research Operations at Mercator Advisory Group and the author of the report. "Their ultimate deployment of point-of-sale acceptance devices will be the defining component for mobile payments. But it is notable that merchants are building relationships and trust through their merchandising apps today."
One of 17 exhibits in this report: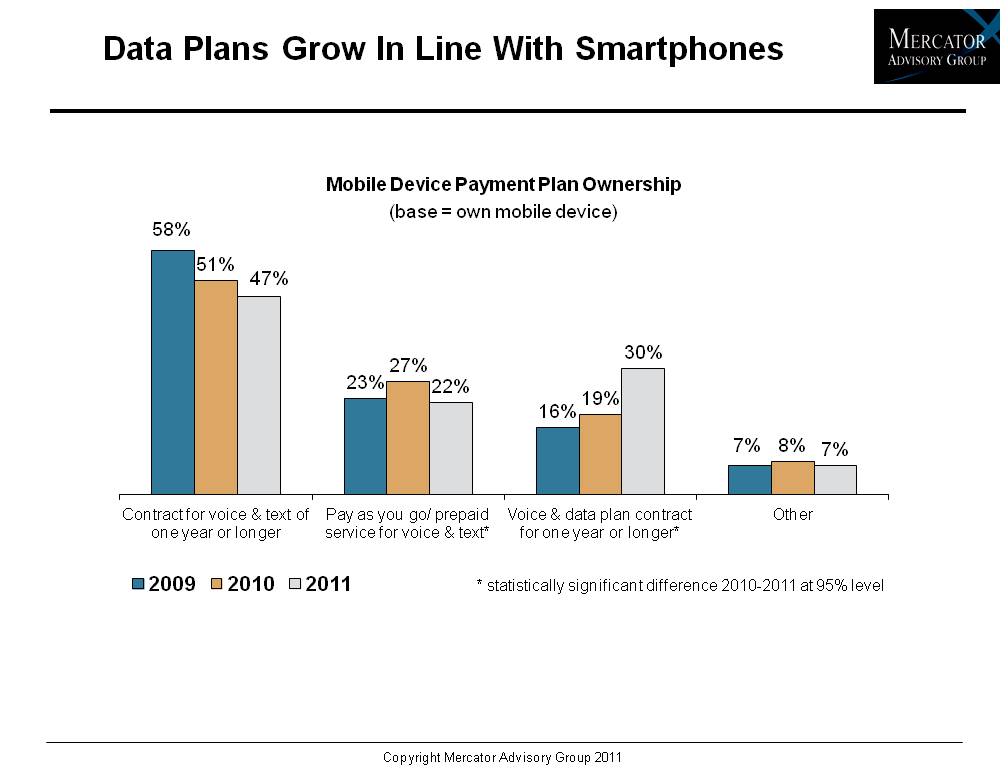 The report is 31 pages long and contains 17 exhibits.
Members of Mercator Advisory Group have access to this report as well as the upcoming research for the year ahead, presentations, analyst access and other membership benefits.
Please visit us online at www.mercatoradvisorygroup.com.
For more information and media inquiries, please call Mercator Advisory Group's main line: (781) 419-1700, send E-mail to info@mercatoradvisorygroup.com.
For free industry news, opinions, research, company information and more visit us at www.PaymentsJournal.com.
Follow us on Twitter @ http://twitter.com/MercatorAdvisor.
About Mercator Advisory Group
Mercator Advisory Group is the leading, independent research and advisory services firm exclusively focused on the payments and banking industries. We deliver pragmatic and timely research and advice designed to help our clients uncover the most lucrative opportunities to maximize revenue growth and contain costs. Our clients range from the world's largest payment issuers, acquirers, processors, merchants and associations to leading technology providers and investors. Mercator Advisory Group is also the publisher of the online payments and banking news and information portal PaymentsJournal.com.
---
Interested In This Report