Consumers and Debit in the U.S.: Rising Demand for New Services
Author(s):
Karen Augustine
Overview
The Insight Report from Mercator Advisory Group's CustomerMonitor Survey Series reveals that while debit card use is holding steady, there is a significant opportunity for issuers to increase card activation and stimulate greater debit card transaction volume by offering new value-added services. The report, Consumers and Debit in the U.S.: Rising Demand for New Services, presents the findings of an online survey of 3,002 U.S. adults conducted in June 2014.
"Consumers are demanding more services for their debit cards if they are to activate and use them more often. Concerns about security, particularly online, and lack of rewards are potential inhibitors to greater debit card use," states Karen Augustine, author of the report and manager of Primary Data Services at Mercator Advisory Group, which includes the CustomerMonitor Survey Series.
More than 50% of respondents expressed interest in a valuable debit card rewards program and enhanced security, found to be the two most desirable services for debit cards of the eight the survey listed, and nearly 50% would be willing to pay for these services.
Consumer interest is growing in every value-added service asked about in both 2014 and 2013 survey, and this year's respondents are more willing to pay for each service, with security and identity theft protection topping the list.
Mercator Advisory Group projects the gross revenue potential for each service for a portfolio of 100,000 debit cards based on these responses. The services with the greatest gross revenue potential are found to be enhanced security and identity theft protection, collision/damage waiver and personal liability insurance for auto rentals, and travel insurance, each estimated to be capable of generating nearly $700,000 of revenue for issuers based on a 100,000 debit card portfolio. A significant portion of this revenue is expected to come from debit card holders who do not currently use their debit card, but will use it to obtain these services.
The report is 70 pages long and contains 35 exhibits
Members of Mercator Advisory Group CustomerMonitor Survey Series Service have access to this report as well as the upcoming research for the year ahead, presentations, analyst access and other membership benefits.
---
One of the exhibits included in this report: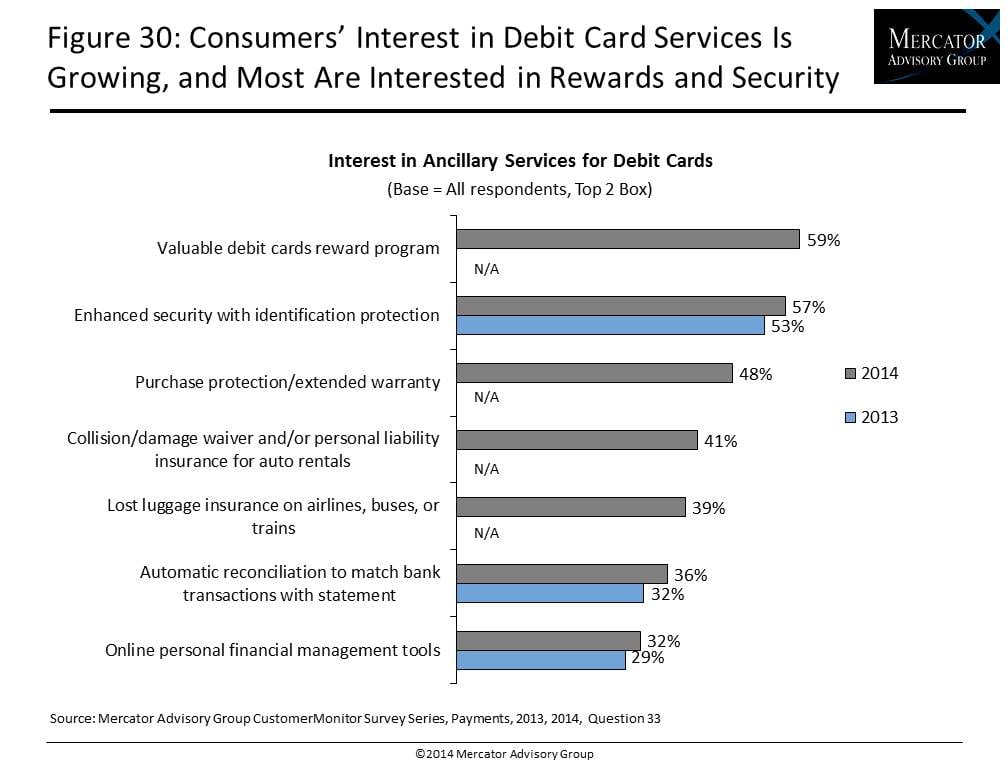 ---
Highlights of this report include:
Year-over-year trending of payment type used in households, including debit card use in the U.S. and the ways that consumers use debit cards

 

Ownership of EMV chip cards by type, use in U.S. and abroad where chip cards are recognized and experience in using the chip cards

 

Comparison of debit card ownership to debit card use

 

A shift in demographics of debit cardholders

 

Use of person-to-person payments and online payment services by brand and primary reasons for using online payment services

 

Comparison of use of financial institutions of specific payment services with use of alternative services initiated in supermarkets, discount stores, and other outlets

 

Account opening experiences, awareness of new fees on checking accounts, and reactions to these fees

 

Cash spending and reasons for cash use
Interested In This Report