Consumers and Debit 2012: Cardholders Settle Down and Take Action
Author(s):
Karen Augustine
Overview
Consumers and Debit 2012: Cardholders
Settle Down and Take Action
First report from Mercator Advisory Group's 2012 CustomerMonitor Survey Series probes consumer attitudes toward debit usage
and alternative payment types
Boston, MA -- In the aftermath of the Durbin Amendment enactment, financial institutions are ironing out their plans to readjust their business to maintain profitability. Now consumers are finally taking heed of new changes to their accounts and modifying their banking behavior.
Consumers and Debit 2012: Cardholders Settle Down and Take Action, the latest report from Mercator Advisory Group, is the first in a series of eight consumer survey reports examining payment and banking use and evolving trends as consumers react to new fees enacted by financial institutions, re-evaluate their banking relationships and consider the use of alternative financial services.
The report findings are based Mercator's CustomerMonitor Survey Series. The foundation of the series is data obtained during a national sample of 1,003 online consumer survey responses completed between June 8 and June 19, 2012.
Highlights of the report include:
Consumer experiences and reaction to both fee and feature changes in their checking accounts
Trends in current household payment types and use of debit cards versus cash and checks
Use of common financial services at banks and credit unions versus discount retailers, convenience stores, supermarkets, and specialty outlets
Primary payment types for small business owners
"We will mark 2012 as the year U.S debit cardholder attitudes toward checking account changes shift into action," states Karen Augustine, manager, CustomerMonitor Survey Series at Mercator Advisory Group and the author of the report. "Debit card penetration is shifting as consumers change the ways they use their debit cards, particularly the types of transactions. Consumers are reacting to the changes financial institutions are making and either forging deeper relationships or seeking alternative financial services."
One of 16 exhibits in this report: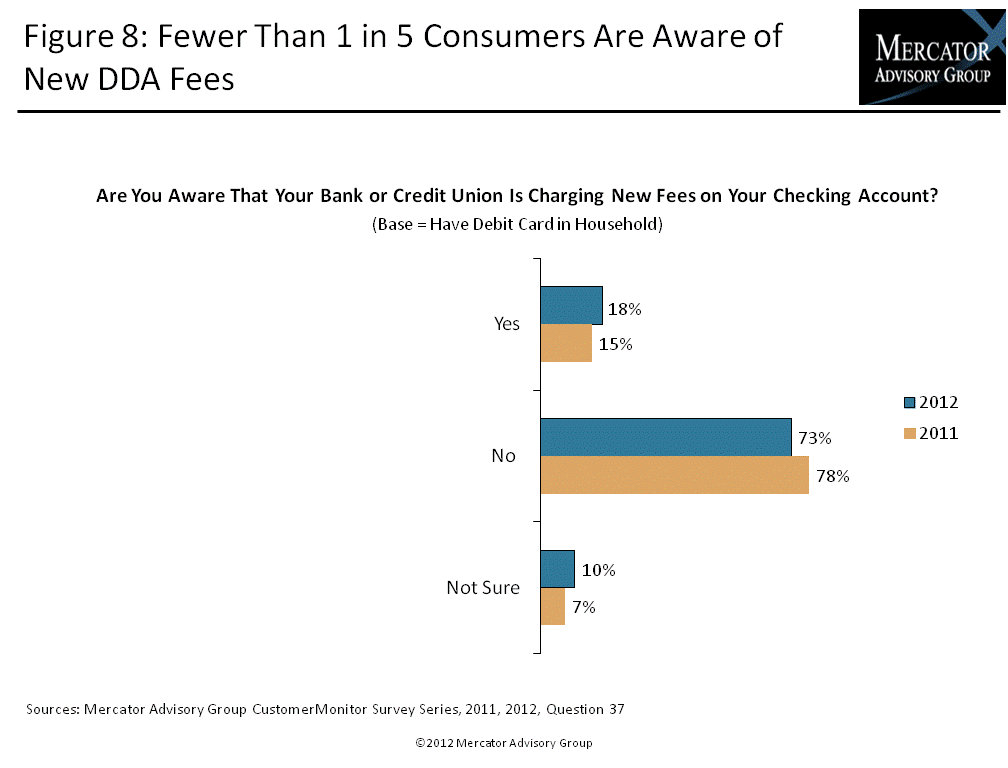 The report is 32 pages long and contains 16 exhibits.
Members of Mercator Advisory Group's CustomerMonitor Survey Series have access to this report as well as the upcoming research for the year ahead, presentations, analyst access and other membership benefits
Please visit us online at www.mercatoradvisorygroup.com.
For more information and media inquiries, please call Mercator Advisory Group's main line: (781) 419-1700, send E-mail to info@mercatoradvisorygroup.com.
For free industry news, opinions, research, company information and more visit us at www.PaymentsJournal.com.
Follow us on Twitter @ http://twitter.com/MercatorAdvisor.
About Mercator Advisory Group
Mercator Advisory Group is the leading, independent research and advisory services firm exclusively focused on the payments and banking industries. We deliver pragmatic and timely research and advice designed to help our clients uncover the most lucrative opportunities to maximize revenue growth and contain costs. Our clients range from the world's largest payment issuers, acquirers, processors, merchants and associations to leading technology providers and investors. Mercator Advisory Group is also the publisher of the online payments and banking news and information portal PaymentsJournal.com.
---
Interested In This Report