Consumers and Credit 2012: Come Back, Young Cardholders - Cross Tabs
Author(s):
Karen Augustine
Overview
Fourth report from Mercator Advisory Group's 2012 CustomerMonitor Survey Series probes customer and merchant "rules," attitudes, and credit card usage.
While consumer credit card use is holding steady, a full recovery to historical credit card spending levels appears to be thwarted by young adults, aged 18 to 35. This demographic is less likely than older adults to have credit cards (59% of young adults surveyed, compared to 70% of seniors surveyed) and three times more likely than seniors to reduce their credit card use in favor of debit cards (36% of young adults, compared to 12% of seniors).
The report is the fourth of eight consumer survey reports whose are based Mercator's CustomerMonitor Survey Series. The foundation of the series is data obtained during a national sample of 1,003 online consumer survey responses completed between June 8 and June 19, 2012.
---
One of the exhibits included in this report: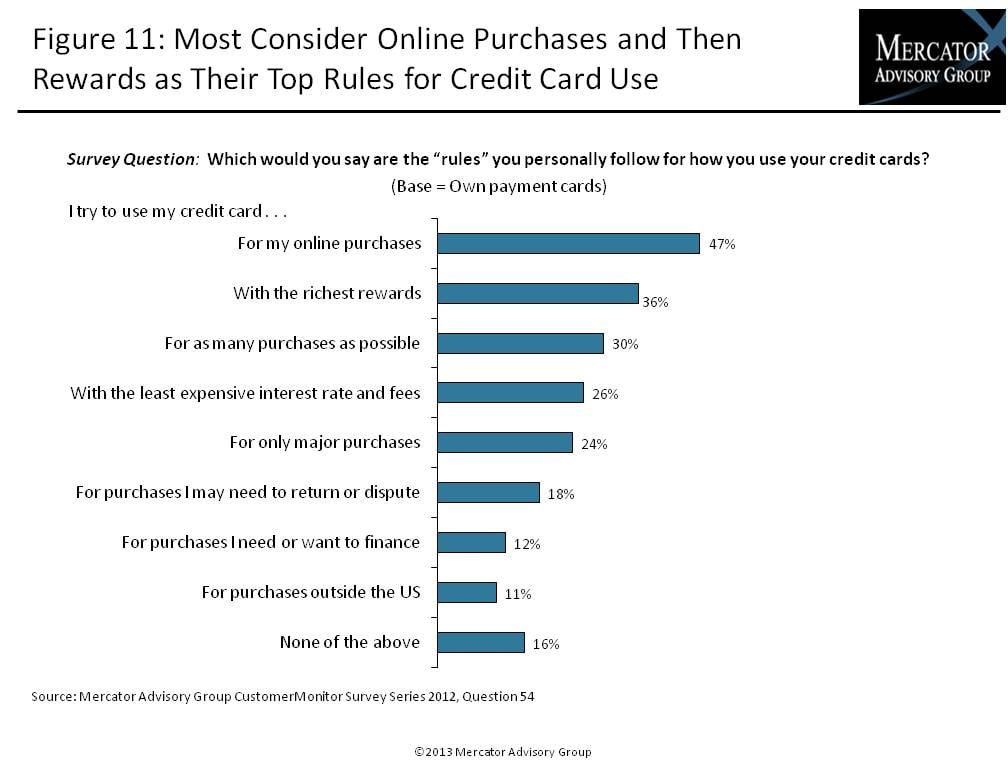 ---
- Year-over-year trending of U.S cardholder penetration, cardholder behavior and changes to features, credit limits, APR, applications and results
- Shifts in applications for prepaid cards and corresponding channels
- Rules consumers follow for credit card usageConsumer perception and expected reaction to merchant rules for credit card use
- Credit cards usage outside of the United States and acceptance levels
- Usage of payment accounts on file at online retailers and the key payment type used
One of 17 exhibits in this report:
The report is 42 pages long and contains 17 exhibits.
Learn More About This Report & Javelin